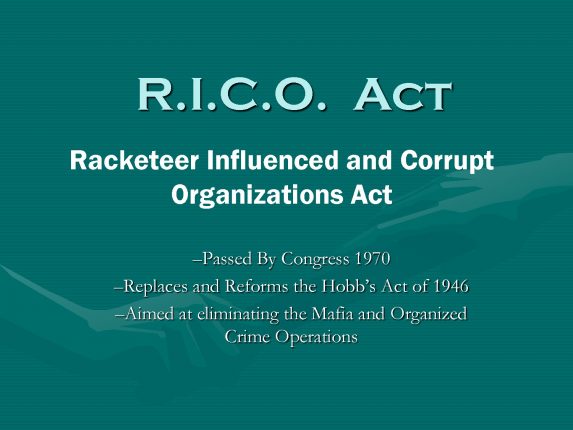 The RICO Act was originally conceived as a law that would be used to help combat organized crime, specifically the Mafia and like organizations. Since enacted by Congress in 1970, it has had other applications in criminal as well as civil law.
Wikipedia defines RICO in the following terms:
"The Racketeer Influenced and Corrupt Organizations Act, commonly referred to as the RICO Act or simply RICO, is a United States federal law that provides for extended criminal penalties and a civil cause of action for acts performed as part of an ongoing criminal organization."
The Google supplied definition of extortion is as follows:
ex·tor·tion
ikˈstôrSH(ə)n/
noun
the practice of obtaining something, especially money, through force or threats.

synonyms: blackmail, shakedown;


formal exaction –

"arrested on a charge of extortion"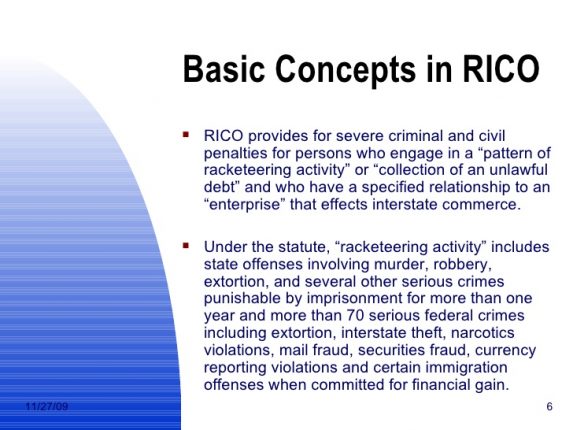 Extortion and RICO? – Attempt in Manufactured Housing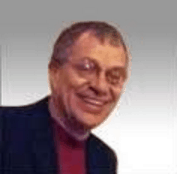 With that understanding, on Friday, April 7, 2017 the U.S. Postal Service (USPS) delivered a package to MHProNews. That package included the cover letter shown below. It also included several dozen documents.
Those documents were not related to MHProNews owners, management or team members.
But in the stated view of the sender of the letter, documents and mailed package, it was clearly intended as a threat that the sender(s) must have believed would deter MHProNews from doing any further reports and analysis on the Manufactured Housing Institute (MHI).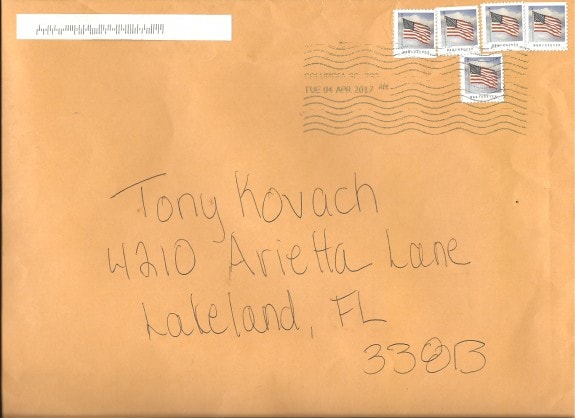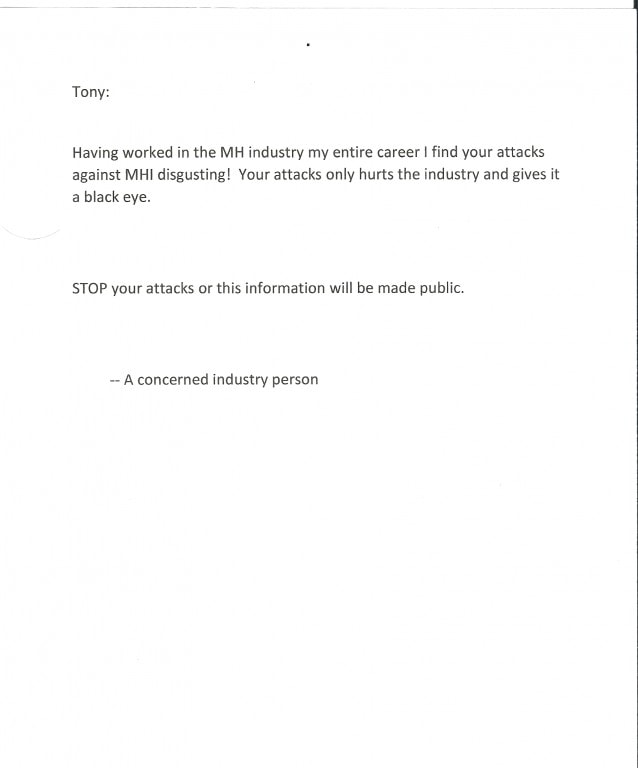 The cover letter and envelope were digitally captured, and transmitted to several industry-connected attorneys, and one attorney outside of the industry, for their feedback and analysis. The texted message below was one of several responses received from those attorneys.
The messages to those attorneys included our note that made it clear that dozens of other documents – apparently designed to embarrass and harm the named person(s)/party in those enclosed papers – were included in the envelope, along with the cover letter, as shown above.
To rephrase, dozens of pages of documents were included in the above package, and sent to this publisher via the U.S. Mail.  Those documents had the apparent intent to harm the person(s) named on those documents.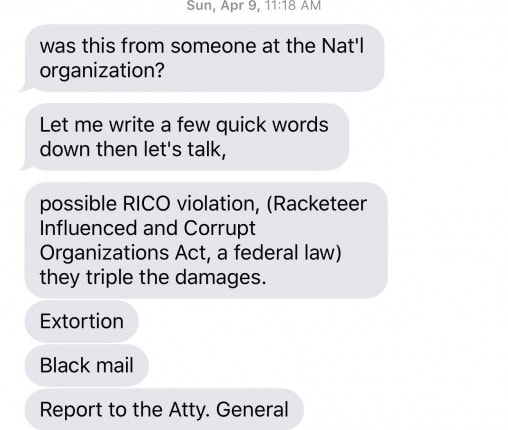 That texted message should be construed as shorthand, common in texts, as the sender's own words indicated.  Additional insights and clarity were obtained via verbal communications with the various lawyers.
Those attorneys were unanimous in saying that in their legal opinion, such a threat sent by USPS represented an illegal action. Several suggested turning those documents over to federal officials for investigation.
Give the Named Party(ies) A Chance to Prepare
The documents mailed to MHProNews were transmitted to the person(s) the allegedly illegal act was seeking to hold hostage via the threat made to MHProNews demanding that this organization stop publishing about MHI. No other party has been provided those documents.  At this point in time, MHProNews' management sees no good reason to publish the documents, and thus do the 'dirty work' of the alleged extortionist(s).
In order to allow the party(s) which would be actually impacted time to react and prepare, as well as for other reasons, MHProNews has held these documents until this time. Once this is published, MHProNews' management plans to do the following specific steps.
Turn the documents over to postal inspectors – as well as – DOJ/FBI for investigation, as there allegedly may be a potential connection between one or more HUD Manufactured Housing Program officials, one or more persons associated with MHI, and the sender of this package.  It should be noted that sources told MHProNews that the post office "is quite good" at following up on such allegedly illegal uses of the U.S. Mail.
Ask the Manufactured Housing Institute's (MHI) top staff and MHI Executive Committee members if they will condemn this specific incident – along with any other similar threatening, and allegedly illegal, behavior.
If it is determined that anyone at MHI is involved, MHProNews will ask MHI 's elected leadership if such person(s) will be properly disciplined or dismissed, as circumstances warrant.
With a trillion dollar annual U.S. housing market, and billions of that involving manufactured housing, this allegedly illegal threat represents a blatant – and failed – attempt to influence or control the coverage of this independent, pro-manufactured housing trade media.
 MHProNews will update the manufactured housing industry and interested parties about this matter as developments and comments about it warrant. ##
(Publisher's notice: the above is not meant to imply that the Manufactured Housing Institute (MHI) as an organization is behind this mailed package; that would have to be determined by a legal process.  No specific person or organization is being accused in the above, but the clear meaning of the sender – who did identify MHI in the cover letter as shown – merits that MHI be given an opportunity to condemn this or any other similar types of allegedly illegal behavior.  MHProNews, a dba of LifeStyle Factory Homes, LLC, intends to follow the law on this or other matters.)
(Image credits are as shown above, and when produced by third parties, are shown under fair use guidelines.)

Submitted by Soheyla Kovach to the Daily Business News on MHProNews.com.