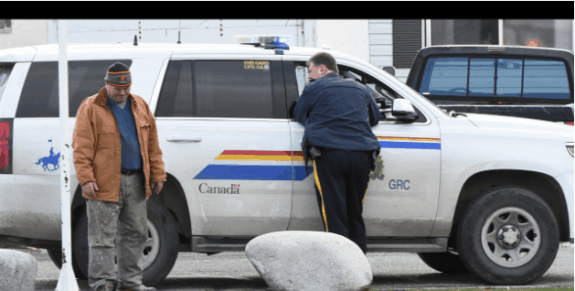 Dorothy Czerniak, a resident of Sun Leisure Mobile Home Park in Penticiton, British Columbia is a lucky woman.
Czerniak narrowly escaped serious injury when what is believed to be an explosive device wrapped as a Christmas present exploded as she was opening it Wednesday morning.
She suffered minor burns and singed hair, but was not taken to the hospital.
"It was on purpose, there was wires soldered to a nine-volt battery and a safety pin as a secondary clip," said Don Czerniak, who is Dorothy Czerniak's son. "I was just driving out of the park [sic] and dad phoned me up and I pulled over and dad goes 'come home right away a bomb just exploded in my house.' Now they're just treating the site carefully, afraid it might have had some hazardous material. They said they had to treat it as a worst case scenario."
According to Penticton Western News, multiple ambulances and other emergency vehicles responded to the call around 10 a.m. at the manufactured home community located just west of the intersection of Channel Parkway and Skaha Lake Road.
Another community resident said she observed firefighters being sprayed with some material afterwards.
A young boy who lives nearby first saw the package on the ground in front of a cube van parked at his parent's residence.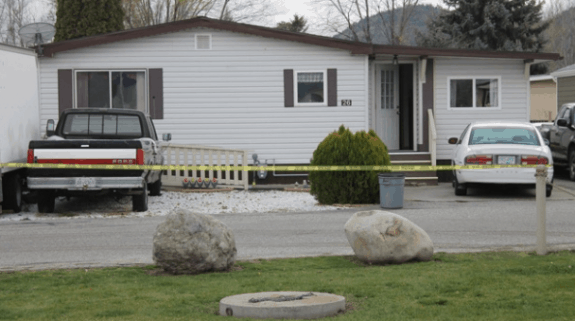 "He picked it up and took it to mom and dad. He figured, being older they just dropped it," said Don. "Mom looked at it and couldn't see anything and so she took the wrapping off to see if she could find something on it so she could return it and she went to open up the package and it blew up."
Don said that he didn't know who would want to harm his parents, who were the previous caretakers at Sun Leisure.
"They know everybody here," said Don. "With the exception of the odd drug thing we never have any problems at this park [sic]. I told the cops this is just something you see on the news from Timbuktu, not Penticton. Mom is just glad it wasn't a little kid."
The Royal Canadian Mounted Police (RCMP) held a press conference on Wednesday afternoon, but details remained scant.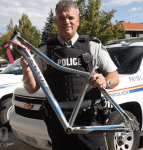 "We're awaiting the arrival of our explosives disposal unit as well as our forensic IED section to examine the scene, so the matter is still under investigation at this time," Corporal Don Wrigglesworth said. "We have one explosives disposal unit in British Columbia, and they're coming up from Vancouver."
Wrigglesworth could not comment on whether or not there were any leads on who may have sent the package, which he said was left outside of the home, nor could he say whether the boy who allegedly left the package with Dorothy Czerniak had been interviewed.
"At this time, our general investigation section is canvassing neighbors and they're talking to witnesses," he said. "We don't know at this time who left the package outside of the residence."
Wrigglesworth worked to assure residents that this was an isolated incident.
"At this time this is a solitary incident, I want the public to feel assured that our police and all our resources that we have available are on scene and we are investigating," he said. "We have had no other reports of anything of this nature." ##
(Image credits are as shown above.)

Submitted by RC Williams to the Daily Business News for MHProNews.