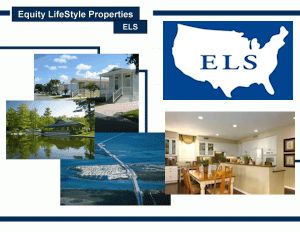 During trading on Monday, December 22, 2014, the price of Equity Lifestyle Properties (NYSE:ELS) shares hit a new 52-week high, which closed at 51.69 +1.32 (2.62%).
According to Intercooler, ELS has been the subject of a number of recent research reports including one conducted by analysts at TheStreet. As a result, on November 3, 2014, they upgraded ELS shares from a "hold" rating to a "buy" rating. They were last traded at $51.03, with a volume of 92,644 shares changing hands. The stock previously closed at $50.37.
Two research analysts have given the stock a "hold" rating and three have given a "buy" rating to the company. ELS currently has an average rating of "buy" and an average price target of $46.67.
ELS earnings in their quarterly release on October 20, 2014, reported $0.69 earnings per share (EPS) for that quarter. That exceed the consensus estimate of $0.68 by $0.01.
The company reported revenue of $200.56 million for the quarter. During the same quarter in 2013, the company posted $0.65 earnings per share, which was up 6.7 percent from the previous year. Analysts expect that ELS will post $2.69 EPS for the current fiscal year.
In addition, ELS investors saw new options begin trading this week for an August 2015 expiration, according to NASDAQ. The article stated that "One of the key data points that goes into the price an option buyer is willing to pay, is the time value. So, with 242 days until expiration, the newly trading contracts represent a potential opportunity for sellers of puts or calls to achieve a higher premium than would be available for the contracts with a closer expiration."
The chart below shows the trailing 12-month trading history for Equity Lifestyle Properties (ELS), highlighting in green where the $50.00 strike is located relative to that history:  
Per the ELS website, approximately seventy percent of their residents are 55+, and nearly two-thirds of their communities are marketed exclusively as age qualified communities. ELS boasts being #1 in the MHC space, with more than 370 communities and resorts with nearly 140,000 sites located in 32 states and British Columbia, Canada. ##
See ELS related articles:
(Graphic Credit: Equity Lifestyle Properties, TickerTech.com)

Article submitted by Sandra Lane to – Daily Business News – MHProNews.