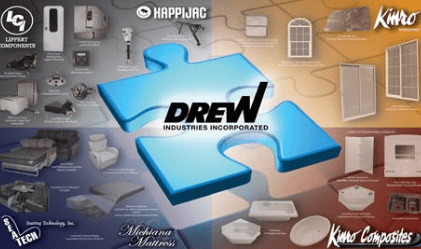 MHProNews has learned that Elkhart, IN-based Drew Industries, Inc. announces the refinancing of its revolving credit facility from its current $100 million that will expire in Jan. 2019, to $200 million, led by JPMorgan and Wells Fargo. The company had nothing outstanding against the $100 million at the close of the refi.
Drew intends to use the funds to grow organically and for possible acquisitions, including a feature that allows it to draw up to $50 million in approved foreign currencies including Canadian and Australian dollars, Euros and Pound Sterling.
Another feature: lending can be increased by $125 million. Bank of America Merrill Lynch and 1st Source Bank are also participating in this refinancing, according to prnewswire.
Said David M. Smith, Chief Financial Officer: "This new agreement, with its expanded capacity, multi-currency feature and improved financial terms provides the Company with a platform to use its financial strength to continue to seek out and capitalize on growth opportunities." The company is no doubt taking advantage of low interest rates.
As MHProNews knows, through 44 manufacturing and distribution sites in the U. S. and Canada, Drew supplies components to the manufactured home and recreational vehicle industries, and to many other industrial markets as well. ##
(Image credit: Drew Industries, Inc.)

Article submitted by Matthew J. Silver to Daily Business News-MHProNews.