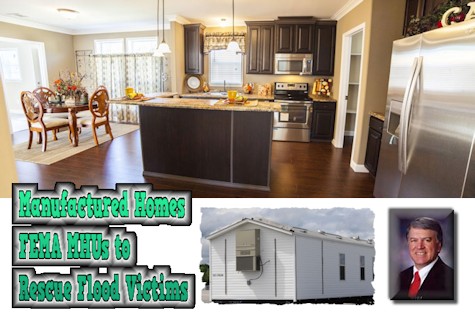 For two days, rain tortured the heart of bayou country, dumping 24 inches in less than 48 hours on southern Louisiana, says a report in the DigitalJournal.
The 1000-year event flooded more than 100,000 residences, sending families into shelters and the homes of friends, relatives and even strangers.
Now, as the region enters peak hurricane season, with Hurricane Hermine bearing down on the Gulf coast, Federal Emergency Management Agency (FEMA) officials are scrambling to bring temporary housing to flood victims, and bracing for what Hermine may bring to the states in its path.
The last time events in the southeast tested federal resources was in the aftermath of Hurricane Katrina in 2005, when shoddy, hastily assembled "Katrina trailers" became enduring symbols of FEMA's failure to provide safe haven for thousands left homeless.
FEMA has "upped their game" tremendously since then, says Steve Duke, executive director of the Louisiana Manufactured Housing Association.
Thousands of newly minted Manufactured Housing Units — known as FEMA MHUs — were at the ready in Selma, AL, the southeastern staging area, when the floods inundated Louisiana.
Thousands more have been contracted to be built by manufacturers who met an August 24 application deadline.
All of these new-style FEMA manufactured housing units (MHUs) are constructed to exacting HUD-code specifications, designed to withstand local wind force criteria;  these will be anchored on piers, not rolled into yards and left there, on wheels, as were the Katrina trailers.
These are, in fact, bonafide manufactured homes, not trailers or mobile homes — a term that applies only to pre-HUD-code homes built prior to 1976 — a fine point that is widely missed in media reporting.

"The terminology matters, because the terminology defines the construction standard," says Duke.
The number of homes damaged or destroyed is well over 100,000 and in that part of Louisiana, some 20 percent of the housing stock is manufactured homes.
That means MH factories may need to churn out 20,000 homes — or more — to replace homes lost in the disaster — in addition to the thousands of desperately needed MHUs that FEMA requires to provide flood victims with secure temporary housing.
Retailers and manufacturers that supply Louisiana are gearing up for a monumental effort to meet the almost unprecedented needs of the people of coastal Louisiana.
Alabama-based Sunshine Homes has opted to focus on keeping its Louisiana dealers stocked with inventory and has not applied to manufacture the transitional MHUs.
"We anticipate our normal business in that market to be — unfortunately — spectacular," says Sunshine president and CEO John Bostick. "I believe our Lafayette retailer is going to call and say everything is sold."
Bostick says he can supply them with high quality move-in ready homes within a month.
"We have almost unlimited capacity," he says. The builder is already busy, but Bostick said, "We could stretch and build a lot of homes."
For more on the race to provide shade, shelter — and much more — to the residents left homeless by natural disasters, see the latest account by award-winning consumer affairs reporter Jan Hollingsworth here at MHLivingNews.com. ##  
(Photo collage, Sunshine Home top, FEMA MHU lower center, John Bostick president, CEO of Sunshine Homes, right.)

Submitted by L. A. 'Tony Kovach, to Daily Business News, MHProNews.com