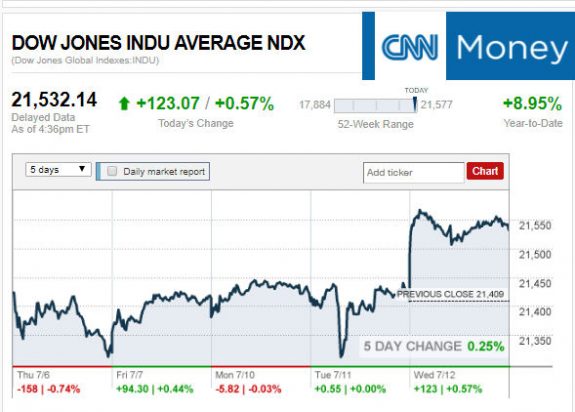 If you are a first time visitor, our headline "Spotlight" report is deeper below.
The evolving Daily Business News market report sets the industry's stocks in the broader context of the overall market stocks.
By spotlighting the headlines – from both sides of the left-right media divide – this report also helps readers see what are the trends and topics that may be moving the investors that move the markets.
Readers say this is also a quick review tool that saves researchers time in getting a view of the manufactured housing industry, through the lens of publicly traded stocks.
MH "Industry News, Tips and Views, Pros Can Use." ©
Selected bullets from CNN Money:
20% could pay more under Trump tax reform
FCC to expand programming for visually impaired
Verizon data of 6 million users leaked online
When Millennials are the boss
Programmable drone will follow you down the slopes
Malware expert helps teen hackers turn skills into careers
Obamacare taxes on the rich may remain after all
How credit agencies report medical debt is changing
Fixing your Tesla about to get easier
Gymboree to close 350 stores
Amazon's Prime Day sets company sales record
Selected headlines and bullets from Fox Business:
Consumer spending rising, but still soft in some regions: Fed
Wall St higher after Yellen signals gradual rate hikes
Oil pares gains despite U.S. drawdowns as stocks still high
Yellen takes on Jamie Dimon's monetary policy warning
I know I can defeat Elizabeth Warren in 2018 race: Shiva Ayyadurai
Peyton Manning on Donald Trump golf outing: People said to refuse invitation
This state is seeing the biggest rise in skin cancer, report says
LeBron James' pizza joint is now the fastest-growing restaurant chain
Visa offers $10K incentive for small businesses to go cashless
Hillary Clinton at risk from an apolitical FBI under Christopher Wray?
Facebook's Zuckerberg drills down into North Dakota's oil patch
Amazon 'Prime Day' breaks sales record with 60% growth
Trump Hotels discloses data breach at 14 properties
Trump Hotels discloses data breach at 14 properties
Arkansas judge holds hearing on ownership of execution drug
 The numbers at the closing bell…
S&P 500 2,443.25 +17.72 (+0.73%)
Dow 30 21,532.14 +123.07 (+0.57%)
Nasdaq 6,261.17 +67.87 (+1.10%)
Crude Oil 45.40 +0.36 (+0.80%)
Gold 1,219.50 +4.80 (+0.40%)
Silver 15.85 +0.16 (+1.01%)
EUR/USD 1.1415 -0.0049 (-0.42%)
10-Yr Bond 2.327 -0.035 (-1.48%)
Russell 2000 1,424.32 +11.27 (+0.80%)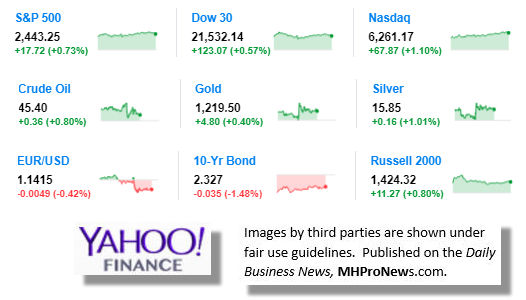 Manufactured Housing Composite Value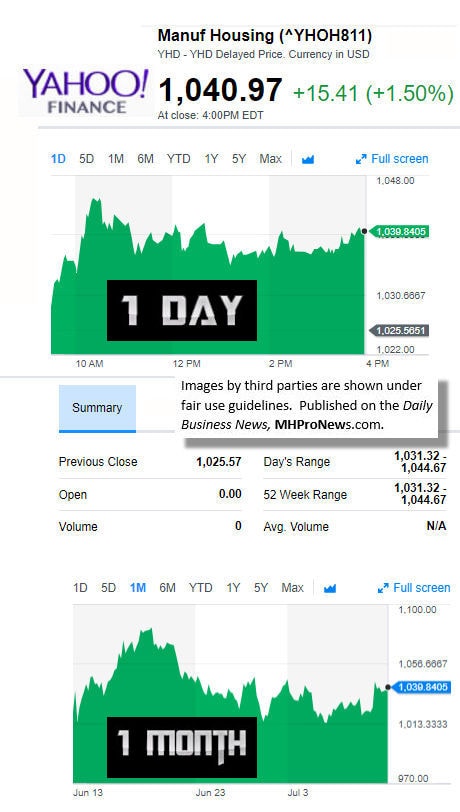 Today's Big Movers
Deer Valley Homebuilders has neared its 1 year peak since we last spotlighted them, see that report linked here or by clicking the graphic below. Coincidence? DVLY lead gainers in a big way today.
CG lead the sliders, but it recently jumped…and that's our spotlight report for today, see that below.
See further below for all the manufactured housing industry connected 'scores and highlights.'
Today's MH Market Spotlight Report – Carlyle Group  (CG)
Scan the recent news headlines on Carlyle Group (CG), and you see an overall rosy picture.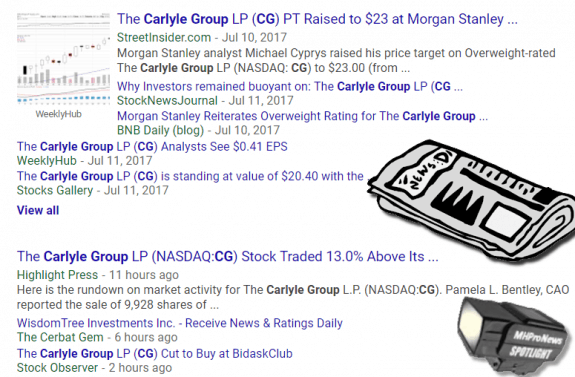 As regular readers know, this firm includes a significant and growing portfolio of manufactured home land lease communities.  See our prior report, linked further below, for more details.
Highlight Press gave a report earlier today, looking at yesterday's numbers. We'll focus on this one as today's pick of the pack to track.

The Carlyle Group L.P. (NASDAQ:CG) Stock Traded 13.0% Above Its 50 Day Average
It is trading at $20.65 a tad higher than the 50 day moving average of $18.27 and which is marginally higher than the 200 day moving average of $16.85. The 50 day moving average was up $2.38 and the 200 day average was up $3.80. (NASDAQ:CG) shares saw heavy trading volume with 1,224K shares changing hands in the last trading session. Shares saw a steep increase in trading volume of 37.49% over the normal average daily volume.
Short traders are more bearish on The Carlyle Group L.P. as shown by the change in short interest. The firm realized a rise in short interest between June 15, 2017 and May 31, 2017 of 11.50%. Short shares increased 121,584 over that timeframe. Days to cover increased from 1.2 to 1.6 and the percentage of shorted shares was 0.01% on May 31.

Here is the rundown on market activity for The Carlyle Group L.P. (NASDAQ:CG). Pamela L. Bentley, CAO reported the sale of 9,928 shares of (CG). The shares were sold on May 3rd for an average price of $17.40. The CAO now owns $2,813,615 of the stock according to the SEC filing. Curtis L. Buser, CFO sold $133,782 worth of shares at an average price of $16.13 on Tue the 2nd. That brings Buser's holdings to $3,126,397 as reported to the SEC.
General Counsel Jeffrey W. Ferguson disclosed the sale of 10,498 shares. The shares were purchased at an average price of $16.13. Ferguson now owns $1,198,685 of the stock per the Form 4 SEC filing.


These funds have also shifted positions in (CG). Morgan Stanley reduced its holdings by selling 44,511 shares a decrease of 1.4% as of 03/31/2017. Morgan Stanley controls 3,051,576 shares with a value of $48,673,000. The total value of its holdings increased 3.1%. Tower Research Capital LLC (trc) divested its ownership by shedding 106 shares a decrease of 80.9% in the quarter. Tower Research Capital LLC (trc) owns 25 shares worth $0. The value of the position overall is down by 100.0%.
As of quarter end Goldman Sachs Group Inc had disposed of a total of 271,680 shares trimming its holdings by 15.0%. The value of the company's investment in The Carlyle Group L.P. decreased from $27,532,000 to $24,463,000 a change of 11.1% since the last quarter. As of the end of the quarter Hightower Advisors, LLC had bought 11,201 shares growing its position 83.3%. The value of the investment in CG went from $206,000 to $394,000 increasing 91.3% for the reporting period.
On June 8 the stock rating was upgraded from "Neutral" to "Buy" in a report issued by Bank of America. On May 11 the company was upgraded to "Outperform" from "Neutral" in an announcement from Credit Suisse.
On October 14 Keefe Bruyette & Woods made no change to the company rating of "Equal-Weight" and moved down the price target to $17.00 from $34.00. July 28 investment analysts at Citigroup held the company rating at "Neutral" and raised the price target from $17.25 to $18.00.
On April 28 the stock rating was downgraded to "Market Perform" from "Outperform" in a report from Keefe Bruyette; Woods. On March 11 Deutsche Bank kept the stock rating at "Hold" but moved up the price target from $14.00 to $16.00.
The company is up since yesterday's close of $20.45. The Carlyle Group L.P. also declared a dividend for shareholders that was paid on Monday the 22nd of May 2017. The dividend payment was $0.348 per share for the quarter which is $1.39 annualized. This dividend amount represented a yeild of $7.22. The ex-dividend date was Thursday the 11th of May 2017.
The most current P/E ratio is 96.05 and the market cap is 1.77B. In the latest earnings report the EPS was $0.22 and is estimated to be $2.52 for the current year with 85,818,000 shares now outstanding. Next quarter's EPS is estimated at $0.47 with next year's EPS anticipated to be $2.43.
Our previous spotlight on CG is linked here, or by clicking the image below. And that's all she wrote about CG, today!
See Recent Exclusive 1 Year Snapshot of All Tracked Stocks
http://www.MHProNews.com/blogs/daily-business-news/manufactured-housing-industry-markets-wall-street-reacts-to-trumponomics-1-year-data-snapshot/
NOTE: the chart below covers a number of stocks NOT reflected in the Yahoo MHCV, shown above.
NOTE: Drew changed its name and trading symbol at the end of 2016 to Lippert (LCII).
Manufactured Home Industry Connected Stock Markets Data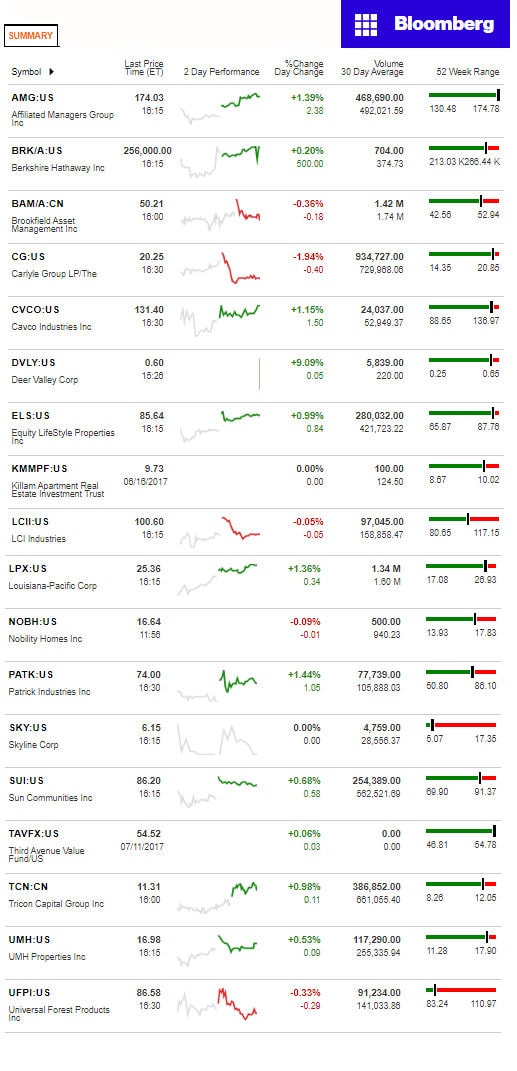 Berkshire Hathaway is the parent company to Clayton Homes, 21st Mortgage, Vanderbilt Mortgage and other factory built housing industry suppliers. LCI Industries, Patrick, UFPI and LP all supply manufactured housing, while AMG, CG and TAVFX have investments in manufactured housing related businesses.
You will find only the very best manufactured home industry coverage, every business day.
"We Provide, You Decide." © ##
(Image credits are as shown above, and when provided by third parties, are shared under fair use guidelines.)

Submitted by Soheyla Kovach to the Daily Business News for MHProNews.com.