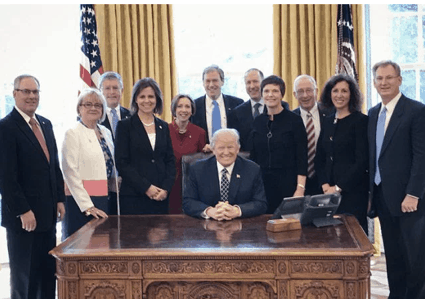 In a recent meeting with community bankers from around the country, President Donald Trump said that reducing Dodd-Frank regulations would benefit Small and Medium Enterprises (SMEs) that are struggling to get access to financing.
According to Pymnts, in the March 9th meeting, which also included National Economic Council Director Gary Cohn and Treasury Secretary Steve Mnuchin, President Trump said that community banks are critical to the economic health of their communities and to providing small businesses with access to capital.
"Nearly half of all private-sector workers are employed by small businesses," said President Trump.
"We must ensure access to capital to small businesses and for small businesses to grow. Community banks are the backbone of small business in America. But community banks, and subsequently their SME customers, are struggling to comply with the complex regulations of Dodd-Frank."
During the 45 minute session, bankers in attendance said that they discussed the role community banks play in rural areas and provided real-world examples about the difficulties smaller banking institutions face.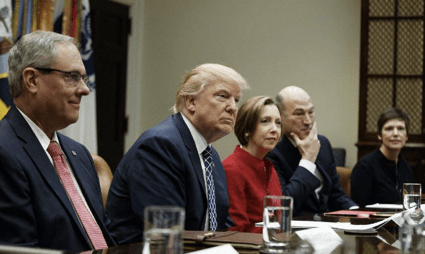 A key theme of the meeting was the need for "tailored regulations," as the one-size-fits-all style of Dodd-Frank regulation puts smaller banks in a position where it potentially costs more to lend money due to unnecessary compliance.
"We were very focused, our message on how do we create a tiered and proportionate regulatory environment for community banks," said Rebeca Romero Rainey, head of Centinel Bank of Taos in New Mexico.
"We emphasized tailoring regulations to fit the size and complexity of banks," said Jeffrey Szyperski, chairman and CEO of Chesapeake Financial Shares Inc.
The ICBA, an industry group also in attendance, has advocated for a tiered system of regulations that tailor regulations to a bank's size, business model, complexity and risk.
The White House agrees.
"The type of regulation you need for a $700 million bank and the risks they present are very different than those for a $200 million bank or a $1 trillion bank," the White House said in a statement before the meeting.
The discussion also covered the costs of compliance with Consumer Financial Protection Bureau (CFPB), which, according to Reuters, "was a particular pain point focused on by the meeting's participants."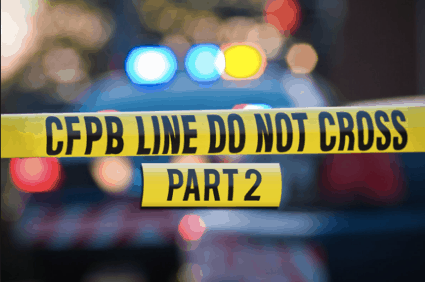 The activity of the CFPB is of particular interest to Daily Business News readers, as the organization has been in the crosshairs of President Trump and Republicans, who have proposed Death Blows to the organization via legislation.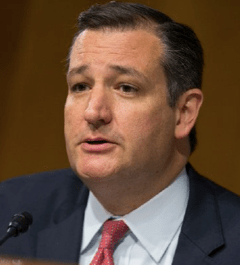 Speaking on the pair of bills (S. 370 and H.R. 1031) put forward last month to advance Republicans' broader Dodd-Frank reform efforts by tackling Title X of the law, Texas Senator Ted Cruz was clear on the problem.
"This legislation would give Congress the opportunity to free consumers and small businesses from the CFPB's regulatory blockades and financial activism, which stunt economic growth," said Cruz.
CFPB Director Richard Cordray has also been in the crosshairs of the Trump administration, but has maintained that he plans to stay put.
These national developments mirror and dovetail with comments made by a local credit union that has become in involved in manufactured home lending.
The Best Ever?
Moves such as his meeting with community banks has business leaders, and many in the manufactured housing industry, excited about the potential for President Trump's administration.

"This guy has got guts," said Ken Langone, co-founder of Home Depot on CNBC's Squawk Box this week.
"And he's got great people around him. Trump has the potential to go down as one of our greatest presidents ever."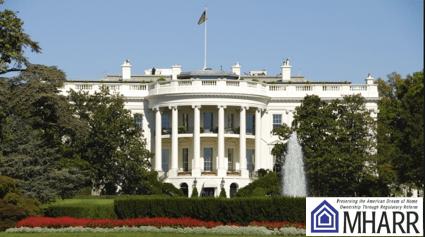 In a recent commentary, The Manufactured Housing Association for Regulatory Reform (MHARR) told MHProNews that Executive Orders issued by President Trump within the past forty-five days provide an unprecedented opportunity for the federally-regulated manufactured housing industry and American consumers who rely upon manufactured homes.

"The stance of the Trump Administration on the needless regulatory burdens confronting America's small businesses is a godsend for the manufactured housing industry and the mostly lower and moderate-income Americans who rely on its homes for affordable, non-subsidized housing," said MHARR President and CEO, Mark Weiss.
"With these new policies, the industry and consumers have an unprecedented opportunity to achieve and cement in place the major program reforms mandated by Congress in the 2000 reform law. While MHARR intends to aggressively pursue this opportunity, it cannot be the only industry organization seeking fundamental change to put the federal program back on track."
The full statement from MHARR is linked here. For more on Dodd-Frank, the CFPB and its impact on the manufactured housing industry, click here. ##
(Image credits are as shown above.)

Submitted by RC Williams to the Daily Business News for MHProNews.