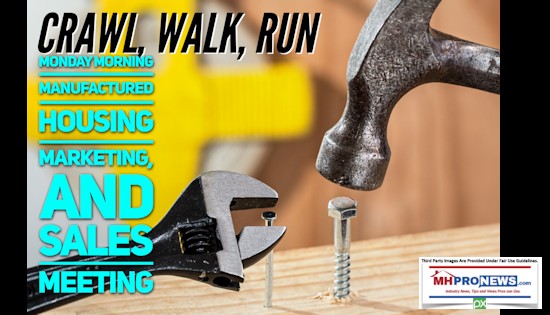 No good parent demands that an infant start to walk moments after they're born. Development of motor skills and intellect takes time. The initial achievement for the normal baby is to learn to roll over, then to crawl, later that first step, walking, and finally a healthy child learns to run.
Once learned, the child doesn't run or even walk constantly. Different activities are needed for different times. 
Once we learn to walk, we can still stumble and fall. Perfection is a goal, but it isn't one we achieve in this life. That said, the standard should always be excellence.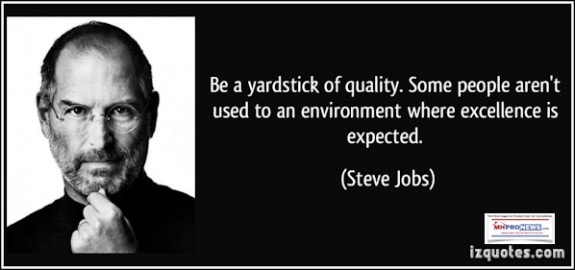 The D.R. Horton Homes story we spotlighted last week on the Daily Business News ought to be mandatory reading for every person that works in manufactured housing.  
Why?
Because it reminds us all that you can spend $300,000, $400,000 or more on a new residence, and that conventionally "site built" house can still have HUNDREDS of defects.
If you missed that D.R. Horton Homes story, the public version of that story is linked here. Link that version from social media. Show it to prospects, in the right way, and only at the right time.
The professional version of that D.R. Horton post is linked below, and should be read later for greater insights. This is a must for every pro, period, regardless of your job in MHVille.
Investors, Heartbroken Home Owners, Site Building Giant DR Horton, and Manufactured Housing
Note that we've made that point years before, when we video interviewed for MHLivingNews.com a conventional housing inspector. He spoke then about the problems he found with new homes that cost over $500,000, back at that time.  He told us then that he finds fewer errors in a manufactured home, than in conventional housing. Surprising?  
But regardless of the price, no house is perfect.
The High Cost of False Expectations 
The normal person who buys a car knows that it will require new tires, oil changes, brake jobs, and other maintenance.
In the RV business, initial quality is frankly an issue. Who says? Among others, a gent who used to do quite a lot of work for the RV industry, and is currently a vice president at the Manufactured Housing Institute (MHI). He told me that initial quality is an ongoing challenge for RVs.  Yet, RVs cost far more per square foot than the most expensive manufactured home on the market.
That MHI VP is not alone on the initial quality of RVs point. 
So it isn't just site built houses. RVs, cars – or manufactured homes – that need service and adjustments.  They all do. These are facts. 
In coaching new or even seasoned sales people, the way to handle such issues is to set the right expectations as early on as reasonable with a given prospect. 
If a home being sold to a customer is an entry-level, VOG design (Vinyl over Gypsum, or wall boards that use batten strips), tell the customer at the right point and as early on as reasonable what to expect. Give them a $20 tool kit with the sale of the home, that includes an inexpensive claw hammer.
At the right time, which varies from prospect to prospect, explain that in transport, or as a house settles, that they may see some of those nails or staples pop out some, and that a batten strip can bow.   
Every year, millions of Americans are looking for a new place to call home. A new report on the Daily Business News states that 1 out of 9 Americans are moving a year , per the U.S. Census Bureau. People move for many reasons.
Then, explain or show them how to tap that nail or staple back in.  You begin by telling them something like the following.
"Can I give you a dose of reality for a few moments?" 
When they give you their ok, start with something like this.
"Some of what I will share will sound negative, but facts are facts. The better you understand the facts, the happier you will be as a home owner." 
Keep good eye contact. 
"Consumer Reports, Fannie Mae, and Harvard University are among the third-party researchers that have cited for years the fact that a manufactured home can last as long as a conventional site-built housing.  That's amazing isn't it?  But that doesn't mean that this or any other kind of home is perfect. ABC News is among the mainstream news media outlets that have said that giant conventional housing builders – like D.R. Horton Homes – may have hundreds of cosmetic or other defects, in a single house."
Let that sink in for a beat or two, keep that eye contact, and then continue.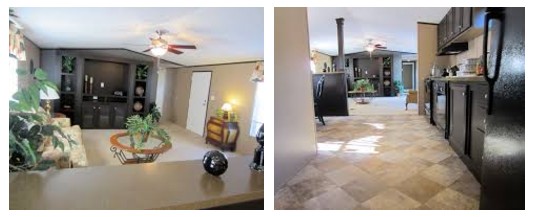 "There are pluses and minuses to everything. In manufactured housing, you commonly see some models of homes that are lower in cost, which often use batten strips and VOG. VOG is a fine product. VOG allows you to clean the walls without painting them. VOG is Vinyl over Gypsum. So VOG is sheetrock with a covering, similar to the sheetrock without a covering used in site built or other homes, that gets tape and texture."
"Tape and texture can get stress cracks. That's not as common in VOG. But with VOG, you may see nails or staples that pop out. That's normal after transport, or if a home settles." 
"Some sellers promise the moon, and fail to deliver."
"We'd rather tell you the truth, and then you will be happier because you will have the right expectations. If you don't already have a tool kit, and when you buy a home from us, when you close, we'll give you a basic tool kit with your home.  We will also show you just how simple it is to tap that nail or staple back in place. Is that fair enough?" 
I've sold, managed the sales of, and coached others to sell the same kinds of homes – high, medium and entry level – that you have. Thousands upon thousands of homes were sold the right way. We had stellar review from customers. 
But here's a hidden payoff. At my own dealership which sold hundreds of homes a year before it was profitably sold, I never had even one retail consumer hire an attorney.
Think about it.  Not one letter from an attorney for a retail customer. We did have a dispute or two with others in business, but not with consumers. Instead, we had routine satisfaction and referrals. That satisfaction and those referrals came to us, by doing things the right way. 
A key part of that was setting the right expectation.  What we share, we know that it works, when you do it properly.
How do you achieve that level of customer satisfaction? There are several points, but one of them is by setting the right expectation on the front end. 
The reality is that customers will find out everything in time anyway. So, why not be up front about it? 
Which way will the customer respect you more?

Which way will bring you more business?

Which way will cost you customers later on in life?

 
We have scores of simple tips that we teach and coach clients on that result in higher satisfaction, more sales, and more referrals.
We also have sophisticated recruiting, marketing, and sales systems that perform in manufactured housing. By performance, I mean systems that when properly used are proven to attract and sell more customers who can stroke the check, or who can qualify for most any kind of good financing. 
The bottom line is simple, yet profound. "Do for others as you would have them do for you." A Jewish Carpenter named Jesus said that, and if it was good enough for that home builder, it's more than good enough for you and me.  
Should every plant and production center strive to do the best job they can for their price points?  
Absolutely.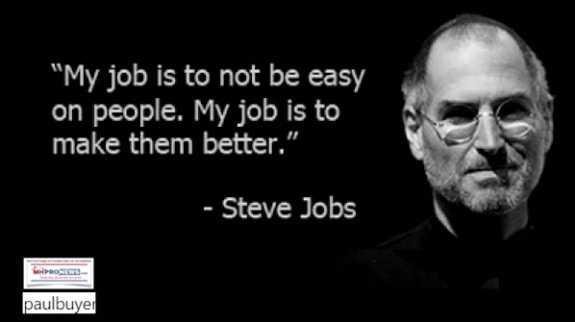 But be realistic. That $300,000 and up D.R. Horton Homes that ABC News spotlighted isn't a one off. There are a number of websites and other mainstream news stories that reflect complaints against site-builders.
So, why don't they have the image issues that manufactured housing does?
We'll look at that question another time, but for now, you focus on setting the right expectations.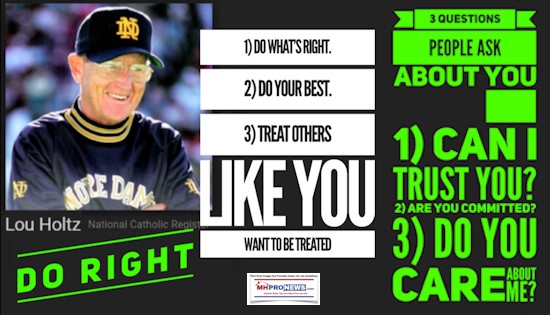 Treat that customer as you'd want them to treat you. When you do, something almost like magic happens.
You'll rarely regret it if you routinely tell the truth in an effective, and compelling way. Need more sales? Got a budget for marketing, sales, and coaching? Call or message to learn more. The ROI is terrific for marketing and sales done properly. ## (Coaching tips, marketing, sales, management, commentary, and analysis.)
(Third party images, and content are provided under fair use guidelines.)
By L.A. "Tony" Kovach.
Tony is the multiple award-winning managing member of LifeStyle Factory Homes, LLC, the parent company to MHProNews, and MHLivingNews.com.
Office 863-213-4090 |Connect on LinkedIn: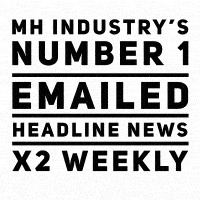 http://www.linkedin.com/in/latonykovach
Click here to sign up in 5 seconds for the manufactured home industry's leading – and still growing – emailed headline news updates.
Related Reports:
Wheat, Chaff, and the Monday Morning Manufactured Housing Sales, Marketing Meeting