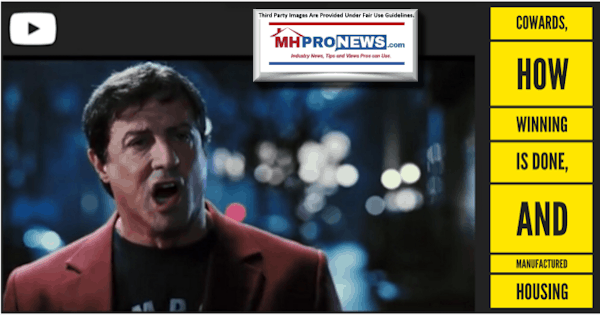 There are all kinds of fights and battles. Some are physical. Others are mental. Still others are bruising business battles or political brawls.
You don't have to be a boxing fan to love some of the underlying themes in the Rocky series of movies. As Rodger Castro said about the clip below those… "4 minutes taught me more about life than 4 years of public education." No wonder various versions of this video clip on YouTube have had about 20 million (+/-) views.
There are independents who will quickly get the message from the Rocky clip above.
In fairness, there are also people that work for one of the big boys, or who are in an industry nonprofit, who don't like what top management or 'leadership' does, and they will get the powerful meaning too.
Our industry is underperforming. That's what the facts reflect.
It is outrageous that some even dare posture any kind of defense or excuse for what's occurring. They must think you or we are stupid. We've laid out the data, research, trend lines, and logic that explains why MHVille is a shadow of what it could or should be.
That means that arguably, among many things, that scores of investors in public companies are getting scammed, to the precise degree that a given company's upper management is 'in on it.'
Or if you are in sales, you should have people lined up at the door eager to buy, instead of having to chase that customer that just cancelled because they watched John Oliver's viral "Mobile Homes" video.
Candidly, just when we think we've got it figured out, some new tip comes in that sheds fresh light. What we do for our industry here could not occur without a routine series of tips and comments, on or off the record, often from insiders in the industry. We can't thank our sources enough, and neither can our readers truly repay that debt.
It's all about team work from pros who dare enough to care enough.
There are comments from inside federal agencies. There are tips from inside companies or associations. Investors have shared comments and insights too.
It's not how hard you get hit, it's what happens after you are hit.
Here, we keep getting up, dust ourselves off from the slings and arrows of outrageous fortune, march back in and keep mixing it up. Because we try, we know we can look you in the digital eyes to say that you can do your part too.
Just walking back into the batter's box can be huge. That's a key part of how winning gets done!
We are all either part of the problem or part of the solution. The industry will not resolve its issues without dealing with its core issues. Odds are, you already know who the sell outs and Quislings are.
Don't be one of those that just go along to get along. Do whatever you can. Reach out via the news tips link above or below.
Finally, if you aren't already part of our industry leading 2x weekly emailed headline news, sign up in seconds at the link here or below. April was awesome readership. Join the others who get and stay informed. Give more tips to get more and better results. Together, we can fix the industry's internal woes. "We Provide, You Decide." © ## (News, commentary, analysis.)
(See Related Reports, further below. Text/image boxes often are hot-linked to other reports that can be access by clicking on them. Third-party images and content are provided under fair use guidelines.)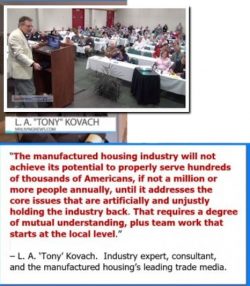 By L.A. "Tony" Kovach – for MHProNews.com.
Tony is the multiple award-winning managing member of LifeStyle Factory Homes, LLC, the parent company to MHProNews, and MHLivingNews.com.
Office 863-213-4090 |Connect on LinkedIn:
http://www.linkedin.com/in/latonykovach
Related References:
The text/image boxes below are linked to other reports, which an be accessed by clicking on them.
In a truly free enterprise system, various needs are identified. Then a means of profitably yet honestly serving those needs are established. Ideally, both the customer and product/service benefit. The happy customer(s) then tell or send their friends. That pattern repeated often enough yields success. For millions, perception is reality.