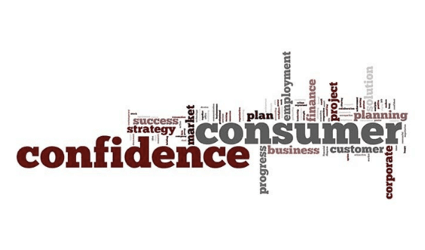 The slog of "sausage making" in Congress was a contributing factor in the April Consumer Confidence Index, as it ticked down in April, but consumer outlook for the next six months remains positive.
According to CNBC, the Index dropped to 120.3 in April, while economists were expecting the index to only fall to 122.9 for the month.
As Daily Business News readers are already aware, the index hit a new record high last month and its highest level in 16 years, coming in at 125.6.
The index was at 116.1 in February.
"Consumer confidence … still remains at strong levels," said Lynn Franco, director of economic indicators at The Conference Board.
"Consumers assessed current business conditions and, to a lesser extent, the labor market less favorably [in April] than in March. Looking ahead, consumers were somewhat less optimistic about the short-term outlook for business conditions, employment and income prospects."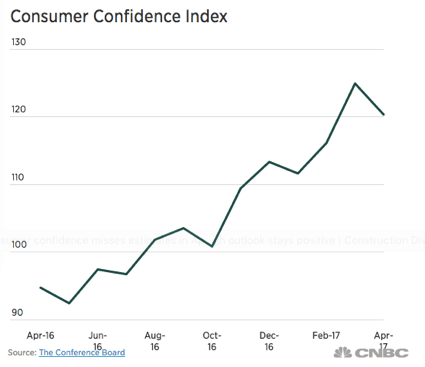 The survey showed that individuals indicating business conditions are "good" declined to 30.2 percent in April from 32.4 percent, while those saying business conditions are "bad" increased slightly, to 13.8 percent from 13.1 percent.
Outlook for the labor market was also down slightly, as the proportion of people expecting more jobs in the months ahead declined to 23.0 percent from 23.8 percent.
From Confidence to Sentiment
The University of Michigan's Consumer Sentiment Index came in at 97 for April, which was slightly below economists' expectations of a 98 reading for the month.
Even with the dip, "there was widespread agreement among consumers on their very positive assessments of the current state of the economy as well as widespread disagreement on future economic prospects," the university said in a statement.
Data from the Bureau of Labor Statistics (BLS) shows that over the first 100 days of the Trump Administration, the unemployment rate for 16-24 rear olds has decreased from 10.1 percent to 9.1 percent; the rate for 20-24 year olds has decreased from 8.3 percent to 7.3 percent, and the rate for 25-34 year olds has decreased from 4.9 percent to 4.5 percent.
Over 317,000 non-farm jobs have been created, and there have been surges in both the construction and manufacturing sectors.
"Confidence is playing a large role," said Mark Zandi, chief economist of Moody's Analytics.
"Businesses are anticipating a lot of good stuff – tax cuts, less regulation. They are hiring more aggressively."
For more on the impact, and progress, of the Trump Administration's first 100 days, click here. ##
(Image credits are as shown above, and when provided by third parties, are shared under fair use guidelines.)
Submitted by RC Williams to the Daily Business News for MHProNews.