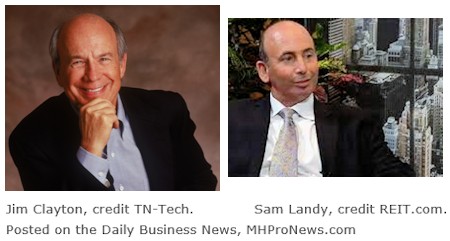 "Dodd-Frank was never meant to and never should have been applied to manufactured homes in manufactured home communities," says Sam Landy, CEO of UMH Properties.  "There is no mortgage and our residents are fully protected without Dodd-Frank."
Landy, an attorney who is leading the rapid growth of his firm, shared more detailed comments on Industry Voices about his perspective on the potential impact of this election on manufactured housing, communities and lending, linked here.
Jim Clayton, the legendary and award-winning founder of Clayton Homes and Clayton Bank, dubbed the president-elect as "Donald the Disruptor." Among his specific points in analyzing the Trump impact on manufactured housing?
"MH Community and Manufacturing Operators – along with others in business – get to expense expansion cost under the president-elect's proposals. WOW! What a nice surprise!"
Clayton is one of the manufactured housing industry's first billionaires. He shared several specific thoughts on the effect on manufactured home sales, lending and communities once the Trump administration takes office with MHProNews, at the link here.
More post-election comments from manufactured housing professionals are expected, which follow on the heels of a number quoted in Some Protest, Others Celebrate, linked here.
To the point quoted above from Landy, the Dodd-Frank legislation was named after Democrats Chris Dodd and Barney Frank.  A letter from Frank, obtained by MHLivingNews, that has been referenced by others to make a point similar to Landy's, is linked here.
There is legislation planned to undo Dodd-Frank by the GOP and Trump administration, for more details, see RC William's report at this link here.
To date, most of the views from among manufactured housing professionals regarding the election of Donald Trump as the 45th President of the United States has ranged from mildly pleased to outright thrilled. The minority of views shared to date favored the candidacy of Secretary Hillary Clinton.

Among the early indictors of the impact of the 2016 election on business is that the markets have hit record highs in what is being called by some, The Trump Effect; see the latest manufactured housing industry connected market report, linked here.
The Trump Transition team provided the video above from President-elect Donald J. Trump, which they state is an update on planning and next steps once he takes office. ##
(Image credits are as shown above.)

Submitted by Matthew Silver to the Daily Business News, on MHProNews.com.