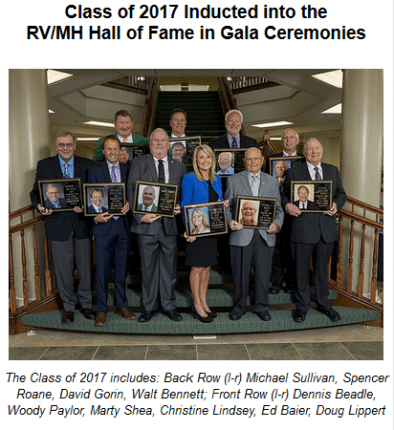 A group of 400 friends, family members, and industry professionals gathered Monday night, August 7, 2017, to celebrate the induction of the Class of 2017 into the RV/MH Hall of Fame.
Hall President Darryl Searer kicked things off with his "Annual State of the Hall" address before the induction ceremony began.
"Besides this being our 45th year in existence.  This is our tenth year at this beautiful location, and my sixth Sate of the Hall address in the past  five-and-half years.  And the most exciting, as  we have continued to make great progress in all areas of the operation. Income is up and expenses are down. Our debt continues to be paid down at an aggressive pace. Our current debt is now 10-percent of the debt of $5.5 million just five years ago.
"One last word as your volunteer President for over five years, if I had a genie in a bottle and could have two wishes granted by next year's induction dinner, they would be first, that the Hall of Fame is debt free, and second, we have all the money in the bank to start construction on our new vision.
"Together, I do know we can make it happen."
You can see the full list of RV and MH industry professionals who were inducted into the Hall of Fame this year in a previous Daily Business News article here.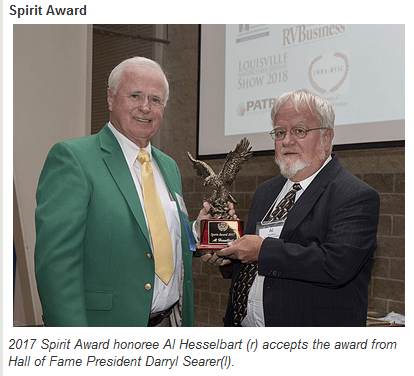 The 2017 Spirit Award was also awarded on Monday night, going to Al Hesselbart, long-time RV/MH historian and librarian at the RV/MH Heritage Foundation. The Spirit Award is an annual award that goes to the person who has "demonstrated his or her desire and dedication to further the legacy of our [RV/MH Hall of Fame] great heritage."
Don't forget, if you're thinking of nominating someone to be in the RV/MH Hall of Fame for the Class of 2018, they suggest you do so as early on as possible. You can read more about making a nomination for 2018 here.
"It's a lengthy process that should not wait until the last minute, so I urge those who are considering a nominee to download the guidelines and forms so their nominee can be considered for the Class of 2018," Searer said.
MHProNews congratulates those inducted. ## (News.)
(Photo credits: RV/MH Hall of Fame)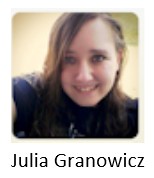 Submitted by Julia Granowicz to Daily Business News for MHProNews.