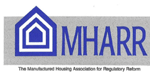 1. MHARR INTENSIFIES EFFORTS TO REVIVE CHATTEL FINANCING – STATUS REPORT
Given the key role of personal property (chattel) financing in the manufactured housing market — with U.S. Census Bureau data showing that 74 percent of new manufactured homes placed for residential use in 2010 were titled as personal property (up from 64 percent in 2006) – MHARR is intensifying its efforts to advance the systematic, high-volume securitization and/or purchase (S-P support) of manufactured home chattel loans by the two Government Sponsored Enterprises (GSEs).
As was addressed in greater detail at the March 2012 MHARR meeting in Tunica, Mississippi, manufactured home loans comprise less than one percent of the GSEs' total portfolio and the GSEs, at present, provide no S-P support for manufactured home chattel financing, notwithstanding Congress' 2008 "duty to serve" (DTS) directive to facilitate a secondary market for manufactured home obligations, including chattel loans. After two years, the proposed June 7, 2010 DTS implementation rule published by the GSEs' federal regulator — the Federal Housing Finance Agency (FHFA) – remains in limbo and, as published, would exclude chattel financing in any event.
Based on this context and the relevant facts, i.e. – (1) that the lack of S-P support for manufactured home chattel loans prevents large numbers of consumers from purchasing manufactured homes; (2) that the GSEs were created specifically to provide market support for affordable housing such as manufactured homes; (3) that the GSEs for decades prior to their insolvency distorted this mission by focusing increasingly on higher-cost housing, leading to their collapse; (4) that the GSEs have demonstrated an inability and unwillingness to distinguish between today's modern post-Manufactured Housing Improvement Act of 2000 manufactured homes and the "trailers" of yesteryear; (5) that the GSEs' federal regulator – FHFA — itself has not analyzed or addressed the needlessly restricted availability of manufactured home chattel financing and the corresponding impact on the industry, its smaller businesses and consumers of affordable housing; and (6) that in spite of these obstacles and a sustained poor economy, many more lower and moderate-income homebuyers, with the industry producing its best homes ever, would no doubt purchase an affordable manufactured home, if chattel financing was more readily available — MHARR, as was decided at the March 2012 meeting, has intensified its efforts with new initiatives seeking to advance federal S-P chattel financing support outside of DTS.
As part of this effort, an MHARR delegation including manufacturer chief executives met with FHFA officials on May 24, 2012. At that meeting, FHFA, like the GSEs and the Federal Housing Administration (FHA), continued to cite outdated, decades-old loan performance data as an excuse for policies that discriminate against manufactured housing and manufactured homebuyers, having conducted no new research or independent studies showing the loan performance of today's modern manufactured homes with proper installation and consumer protection in all 50 states as required by the 2000 law.
The current reality, as emphasized by MHARR, is that: (1) a profitable model for manufactured home chattel lending is already well-established within the industry and GSE S-P support for such lending – with proper pricing and underwriting – could easily become a productive business consistent with FHFA's goals of conserving the GSEs' assets and protecting the interests of taxpayers, as shown by the fact that loan delinquencies for manufactured homes dropped to 3.76% from 4.08% during the fourth quarter of 2011, while the national mortgage delinquency rate rose to 6.01% at the end of the fourth quarter of 2011; and (2) the performance of manufactured housing loans – at less than one percent of the GSEs' total portfolios and with much lower per home loan amounts than other types of homes – was not responsible for their failure in 2008 and, because of the lower cost of manufactured homes, would not impair either their successful rehabilitation or the successful transfer of their functions to a successor entity or entities, even if the GSEs purchased or securitized every manufactured home loan for the indefinite future.
A summary of the May 24, 2012 MHARR-FHFA meeting and a comprehensive explanation of the need for – and value of — a federal S-P support program for manufactured home chattel loans are detailed in a June 1, 2012 MHARR letter to FHFA (copy attached). As the letter indicates, depending on FHFA's official position on this matter, as well as the outcome of the 2012 presidential and congressional elections which will impact the future of the GSEs, MHARR might need to seek congressional intervention and possibly a legislative remedy to address this issue.
In addition – and as reported earlier – FHFA, on June 11, 2012, published proposed affordable housing goals for the GSEs for the three-year period from 2012 to 2014. Because manufactured housing is affordable housing and is specifically referenced by the proposed rule, MHARR will submit detailed comments to FHFA on this rulemaking to once again stress the urgent need for federal S-P support for manufactured home chattel loans and detail the pertinent facts.
2. MHARR EXPANDS AND SHARPENS FOCUS ON REGULATORY ISSUES WITH GAO – STATUS REPORT
As previously reported, Congress – as a byproduct of intensive engagement by MHARR — on November 29, 2011 requested that the Government Accountability Office (GAO) conduct a thorough probe of the federal manufactured housing program, including an investigation of its implementation of the Manufactured Housing Improvement Act of 2000. MHARR officials subsequently met with senior GAO probe managers onJanuary 18, 2012 to provide general information regarding the 2000 law and HUD program compliance issues.
Now, MHARR has held a follow-up June 7, 2012 meeting with GAO investigators to begin explaining in greater detail – and expanding on — specific violations of the 2000 law by HUD regulators and the impact of those violations on manufacturers and their day-to-day in-plant activities, including recent developments relating to: (1) restrictions on the role and independence of the Manufactured Housing Consensus Committee (MHCC); (2) major changes to in-plant inspection practices without prior MHCC review, approval by the HUD Secretary and rulemaking as required by the 2000 law; (3) the connection between these make-work inspection changes and a HUD-projected $1 million cost increase for in-plant monitoring when the program monitoring contract is re-bid later this year; (4) other major inspection-related policies announced without MHCC review, Secretary approval and rulemaking, such as conflicting and discriminatory policies for Alternate Construction (AC) approvals; (5) attempted standards changes without MHCC review and related procedures; and (6) the current suspension of all MHCC activities under the guise of technical "glitches" regarding the payment of the MHCC Administering Organization (AO).
At the June 7, 2012 meeting, MHARR addressed each of the foregoing subjects, but emphasized two key points that were further explained in a follow-up written communication with the GAO team. First, the procedures and "enhanced" checklists of expanded in-plant regulation go well beyond the requirements of the existing HUD Procedural and Enforcement Regulations. Although the HUD program maintains that the Department is free to impose additional inspection criteria under 24 C.F.R. 3282(d), which states that "manufacturers may be required to furnish supplementary information to the DAPIA if the design information or the quality assurance manual … is not in accordance with accepted engineering practice," the Department has never identified any specific deficiencies in "accepted engineering practice" that allegedly existed prior to the expanded regulation SOP and "enhanced" checklists, nor has it ever identified a source or baseline for determining what is or is not an "accepted engineering practice."
Second, MHARR methodically — and in detail — explained that section 604(b)(6) of the 2000 law expressly requires MHCC review, (HUD) Secretary approval and rulemaking for any "change" in "policies, practices, or procedures relating to … inspections." And while the SOP, "enhanced checklists," and altered audit procedure — designed to change the focus of the inspection process to a "golden QA system" — certainlydo that, those changes were never presented to the MHCC under a February 5, 2010 HUD "Interpretive Rule" issued without public comment, stating that section 604(b)(6) only applies to actions that would constitute a "rule" under the Administrative Procedure Act (APA). As MHARR has pointed out in congressional testimony, though, this interpretation makes no sense, because APA rules by definition are subject to rulemaking and public comment under the APA, which would include any MHCC comments. Interpreting section 604(b)(6) this way means it adds no new procedural safeguards beyond the APA and effectively reads that section out of the 2000 law.
In conjunction with this discussion and follow-up communication, and to continue sharpening the focus of the GAO probe regarding HUD program violations of the 2000 law and their impact on smaller industry businesses, MHARR has now provided additional documents to GAO, including:
·HUD's "Quality Assessment Process Description-Standard Operating Procedure;"
·HUD's Quality Assurance Process Chart
·HUD's "Quality Assurance Manual Enhanced Checklist Based on Quality Emphasis;"
·HUD's September 2, 2009 Revised "Quality Assurance Manual Enhanced Checklist Based on Quality Emphasis;"
·A December 8, 2009 MHARR communication to HUD stating that Standard Operating Procedure and "enhanced" checklists violate the 2000 law;
·A March 3, 2010 "Field Guidance" memorandum from career program administrator William W. Matchneer, III changing the status and basis of expanded in-plant regulation from "cooperative assistance" to "not voluntary."
·HUD's May 10, 2010 "Field Guidance – Certification Reports and Updating Certification Reports;" and
·The monitoring contractor's November 2010 "Pilot Audit Process Structure"
MHARR will continue its interaction with GAO to provide the investigative team with new and relevant information detailing and explaining HUD violations of the 2000 law's open, transparent and accountable consensus approval and rulemaking procedures while, at the same time, continuing to pursue related initiatives, including legal options.
3. ACCESS BOARD PUBLISHES RULES FOR EMERGENCY HOUSING
The U.S. Architectural and Transportation Barriers Compliance Board (Access Board) has published new proposed standards for Emergency Transportable Housing (ETH) units purchased by federal government agencies. The proposed rule (see, copy attached), published in the Federal Register on June 18, 2012, essentially incorporates the consensus recommendations of an Access Board advisory committee — including an MHARR representative — which met from 2007 to 2008
There are three significant aspects to the proposed rule. First, as is indicated by the preamble discussion, the standards that would be implemented by the proposed rule apply only to emergency transportable housing units purchased by federal government agencies using federal funds and, even then, only to a relatively limited number of those homes. Additional costs associated with those accessibility features would be borne by the Federal Emergency Management Agency (FEMA) and any other federal agencies purchasing such homes. The standards, by contrast,do not apply to manufactured homes sold within the private-sector marketplace where relevant federal law requires that any change to the Federal Manufactured Home Construction and Safety Standards be both objectively justified and cost-justified, and subject to the MHCC process, HUD Secretary approval and rulemaking.
Second, the proposed rule applies only to "temporary" emergency housing. By its terms, it does not apply to permanent replacement housing within disaster areas purchased by private individuals with the support of federal grants or other forms of assistance.
Third, the proposed rule does not include a standard for Indoor Air Quality (IAQ) generally or formaldehyde vapor specifically. While the subject of IAQ was raised by several members of the advisory committee, MHARR objected to any additional standard, noting that HUD Code manufactured homes – unlike other units utilized as ETH – are already subject to strict and effective formaldehyde vapor standards that, since their adoption, have reduced formaldehyde complaints for HUD Code homes to minimal levels.
Comments concerning the proposed ETH rule are due on or before August 17, 2012. MHARR plans to submit detailed comments on behalf of its members stressing that the standards, while not objectionable within the government-purchase market, are not and would not be acceptable as mandates for the private market because of their substantial cost and negative impact on the affordability, design and livability of manufactured housing for the vast majority of manufactured home purchasers, particularly when such features remain available as options for purchasers who want or need them.
MHARR will keep you updated on each of the above matters as new developments unfold.
cc: Other Interested HUD Code Manufacturers, Retailers and Communities
Danny D. Ghorbani, President
Manufactured Housing Association for Regulatory Reform