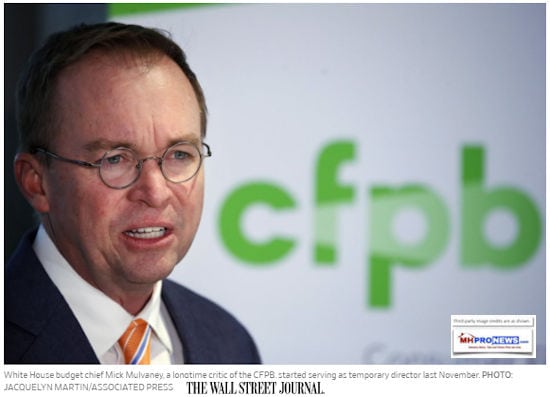 First, the Daily Business News will share the email that the Consumer Financial Protection Bureau (CFPB) Acting Director, Mick Mulvaney sent out.
Then, we will then briefly examine what it could mean to lending, and the manufactured home industry.
————–
From: Mulvaney, Mick (CFPB) <Mick@cfpb.gov>Date: January 23, 2018 at 12:59:57 PM CST
To: _DL_CFPB_AllHands
<_DL_CFPB_AllHands@cfpb.gov>
Subject: To Everybody from the Acting Director
When I arrived at CFPB, I told folks that despite what they might have heard, I had no intention of shutting down the Bureau. Indeed, the law doesn't allow that, and as members of the Executive Branch we are charged with faithfully executing the laws. So let's be clear: the law mandates that we enforce consumer protection laws, and we will continue to do exactly that under my watch.
At the same time, I also explained that things would be different under new leadership. I owe it to you to let you know more about what that means, but I was struggling with the way to best articulate exactly how things would be different. Then I read a story about my predecessor which highlighted how he ran the Bureau:
"We wanted to send a message: There's a new cop on the beat… Pushing the envelope is a loaded phrase, but       that's absolutely what we did." [Richard Cordray, Politico Magazine, Dec. 3]
I've seen similar language elsewhere as well. Indeed, I think it is fair to say that the previous governing philosophy here was to aggressively "push the envelope" in pursuit of the "mission;" that we were the "good guys" and the "new sheriff in town," out to fight the "bad guys."
Simply put: that is what is going to be different. In fact, that entire governing philosophy of pushing the envelope frightens me a little. I would hope it would bother you as well.
We are government employees. We don't just work for the government, we work for the people. And that means everyone: those who use credit cards, and those who provide those cards; those who take loans, and those who make them; those who buy cars, and those who sell them. All of those people are part of what makes this country great. And all of them deserve to be treated fairly by their government. There is a reason that Lady Justice wears a blindfold and carries a balance, along with her sword.
It is not appropriate for any government entity to "push the envelope" when it comes into conflict with our citizens. The damage that we can do to people could linger for years and cost them their jobs, their savings, and their homes. If the CFPB loses a court case because we "pushed too hard," we simply move on to the next matter. But where do those that we have charged go to get their time, their money, or their good names back? If a company closes its doors under the weight of a multi-year Civil Investigative Demand, you and I will still have jobs at CFPB. But what about the workers who are laid off as a result? Where do they go the next morning?
Let me be clear: there will absolutely be times when circumstances dictate that we take dramatic action to protect consumers. And at those appropriate times, I expect us to be vigorous in our enforcement of the law. But bringing the full weight of the federal government down on the necks of the people we serve should be something that we do only reluctantly, and only when all other attempts at resolution have failed. It should be the most final of last resorts
In my office you can find a copy of A Man for All Seasons about the life of St. Thomas More. My favorite passage is an exchange between the famous lawyer and his son-in-law, who encouraged More to arrest a man for simply being "bad." His response is one of the most concise and articulate defenses of the rule of law in history:
"This country is planted thick with laws, from coast to coast – Man's laws, not God's – and if you cut them down do you really think you could stand upright in the winds that would blow then? Yes, I'd give the Devil the benefit of the law, for my own safety sake."
Put another way: if you push the envelope now in pursuit of the supposed "mission," what's to stop someone else – with a different mission, perhaps — from pushing that envelope against you tomorrow?
So, what does all of this mean, in terms of how we will operate at the Bureau? Simply put, we will be reviewing everything that we do, from investigations to lawsuits and everything in between.
When it comes to enforcement, we will be focusing on quantifiable and unavoidable harm to the consumer. If we find that it exists, you can count on us to vigorously pursue the appropriate remedies. If it doesn't, we won't go looking for excuses to bring lawsuits.
On regulation, it seems that the people we regulate should have the right to know what the rules are before being charged with breaking them. This means more formal rulemaking on which financial institutions can rely, and less regulation by enforcement.
And we will be prioritizing. In 2016, almost a third of the complaints into this office related to debt collection. Only 0.9% related to prepaid cards and 2% to payday lending. Data like that should, and will, guide our actions.
Speaking of data: the Dodd Frank Act requires us to "consider the potential costs and benefits to consumers and covered persons." To me, that means quantitative analysis. And while qualitative analysis certainly can play a role, it should not be to the exclusion of measurable "costs and benefits." In other words: there is a lot more math in our future.
And we've already made some important changes: the CEE team has already made some changes that will result in roughly $8 million more being available to compensate victims out of the penalty fund.
Writ large, I intend to exercise our statutory authority to enforce the laws of this nation. I intend to execute the statutory mandate of the Bureau to protect consumers. But we will no longer go beyond that mandate. If Congress wants us to do more than is set forth in the Dodd-Frank Act, they can change the law. Until then, we will enforce the law as currently written.
And that is because CFPB has a new "mission": we will exercise, with humility and prudence, the almost unparalleled power given to us to faithfully enforce the law in furtherance of the mandate given to us by Congress. But we go no further. Simply put, the days of aggressively "pushing the envelope" of the law in the name of the "mission" are over.
Based upon my first month here, I am optimistic about our ability to redefine the way we serve the American people at the Bureau. I hope I can count on each of you to join me in that endeavor.
Mick M.
Acting Director
— End of CFPB email – italics and brown for quotes added – PDF download available, linked here. —
For those not familiar with the classic dramatic, witty, Academy Award winning movie, A Man For All Seasons, based upon the book Mulvaney referred to in his emal above, the move trailer is below.
Part Two…
National Mortgage News and some others in media noted that there was no mention in the State of the Union (SOTU) by President of the United States (POTUS) Donald J. Trump last night about GSE reform or what the plan is for the CFPB.
As the French would say, "au contraire."
POTUS – by stressing his roll-backs of regulations, the tax cuts, what impact that is having on the economy – it all held to his campaign theme and promise.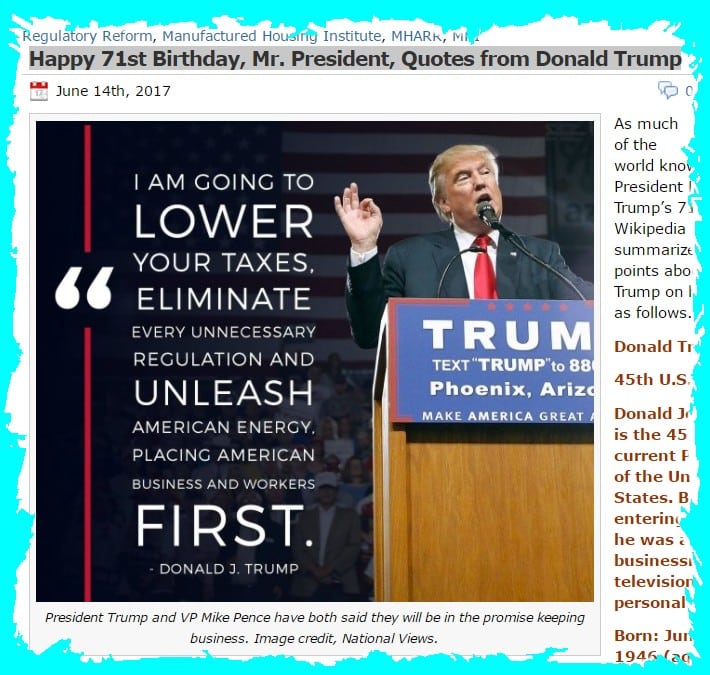 For those oddly claim that the president is some "authoritarian," then he's one of the worst in history. Why?  Because cutting regulations reduces his power. That's the polar-opposite of being a dictator or autocrat.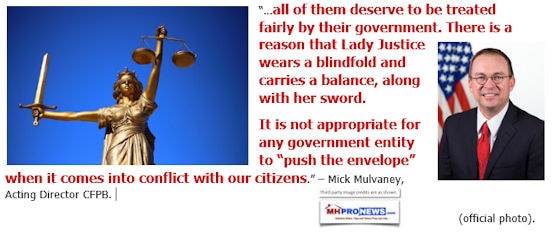 Those and the screen captures that follow of some quotes by Mulvaney are a road-map of what to expect.  To change or repeal the CFPB, the president needs to get Congressional approval.
But to review and revise how the CFPB operates, Mulvaney's and POTUS' quotes and actions to date all speak for themselves.

It is much like the political cartoon below, published weeks ago.  As a closing observation, once a track record is understood, and it becomes clear that it is consistent.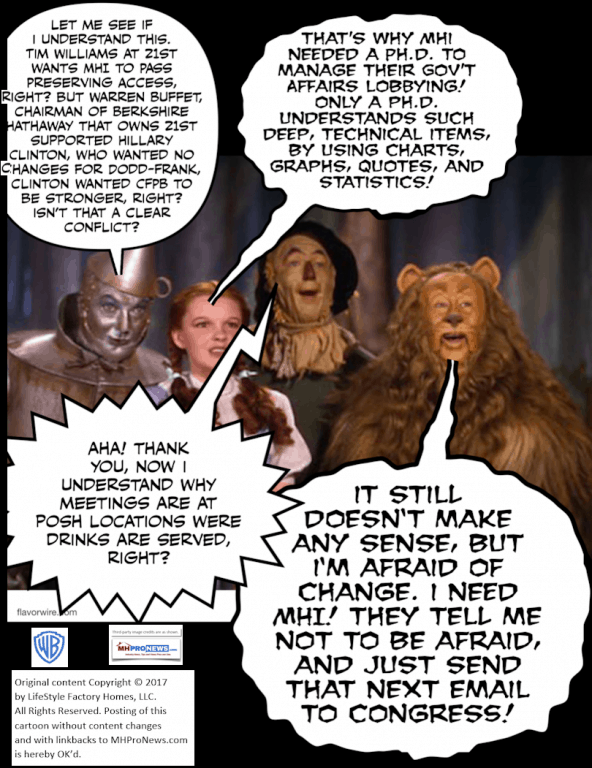 The president appears to be genuinely connected to his base, and truly loves America and its people; all of its people.  The rollbacks are designed to level the playing field for businesses of all sizes.  Big business may not like universally like this development.
For many independent businesses, or those Americans who dream of having their own business, they will increasingly over time embrace the Trump Administration, if they don't already appreciate it.
An interesting factoid from a flash poll from last night spotlights what is developing.
Among the Democrats that tuned in to the State of the Union, per CBS News, 43 percent liked what they heard.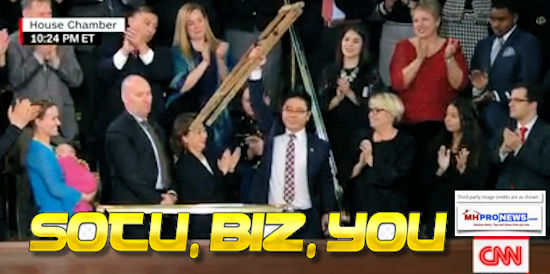 If that holds up for the balance of the year, and his strong numbers with Republicans and Independents hold, then don't count the GOP out during the midterms.
Change is in motion at the CFPB.
The outlook for lenders and the industry?
A strong dose of fairness, equity, and justice, so long as Mulvaney's words are to be believed. ## (News, analysis, and commentary.)
Former President Barack Obama recently said something relevant to the nation. But it was particularly and profoundly insightful to manufactured housing professionals. According to the Hill, " Former President Obama said in an interview that Fox News viewers and NPR listeners are living on different planets in terms of what news they consume.
Sign Up Today! Click here to sign up in 5 seconds for our factory-built home industry-leading and growing emailed headline news updates. You'll see in the first issue or two why big, medium and 'mom-and-pop' professionals are reading them by the thousands.  These are typically delivered twice weekly to your in box.
Follow us on Twitter:
ManufacturedHomes
@mhmsmcom
(Image credits are as shown above, and when provided by third parties, are shared under fair use guidelines.)

Submitted by Soheyla Kovach to the Daily Business News for MHProNews.com.
Soheyla is a managing member of LifeStyle Factory Homes, LLC, the parent company to MHProNews, and MHLivingNews.com.