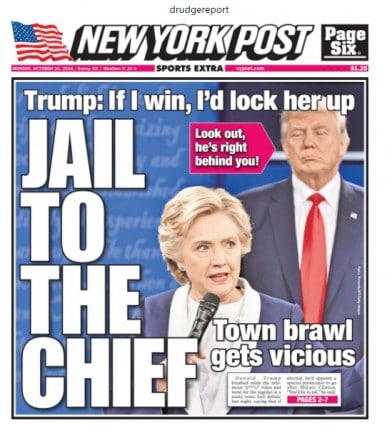 It's become the campaign of the leaked Trump video – with possibly more like it to come – vs. leaked documents from Clinton Campaign Chairman, John Podesta. The campaign tilted Clinton in most post sex-talk polling, with the notable LATimes daily tracking poll as an exception.
Widely seen as outperforming expectations in the 2nd Presidential Debate between Clinton, seemingly pro-Clinton moderators and Donald Trump, will it be enough to get past the shock of last Friday?  Will tawdry talk trump – pardon the pun – Clinton's track record and plan for more taxes, open borders (per hacked Podesta email), a more dangerous world and more regulations?
CNBC reports that billionaire hedge fund investor Carl Icahn said – "Over my years I've listened to a lot of salacious talk in locker rooms, bachelor parties, et cetera, by a lot of high-level people, some of whom are now supposedly so outraged," and "All I can do is refer to that great quote, 'Let he who has not sinned cast the first stone.'"
For some good old fashion balanced reporting, see Attkisson's column, and other headline news from around the web, linked below.
Full Measure's Sharyl Attkisson – Trump's Troubles & A Cheat Sheet on Allegations against Bill Clinton
NewsMax – Republican National Committee Chairman Reince Priebus, Sticking with Trump to Nov 8th Victory
Clinton Campagin Chairman PODESTA's EMAILS: BILL's SEX IS BIG DANGER…
NY Post – Chelsea Clinton 'concerned'…
Twitter – DON'T BRING UP Her MEDICAL RECORDS!
More Wikileaks Drama – Foundation 'Office Crap' Drove Staffer Suicidal…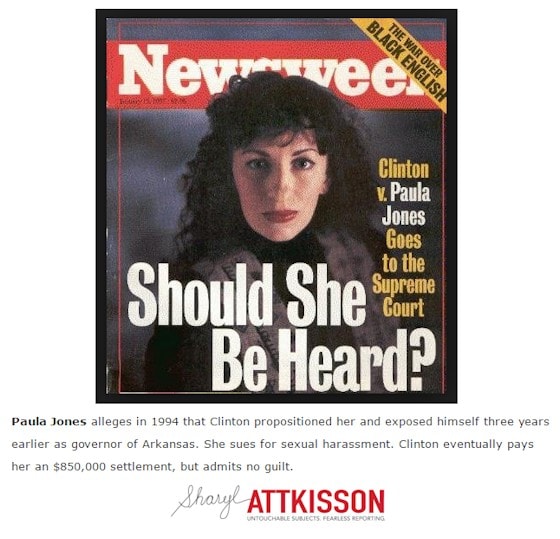 Daily Caller – Saudi Arabia And Qatar ARE Funding ISIS…
InfoWars – SHEeple: Produce Unaware and Compliant Citizenry…
Carl Icahn: I'm still with Trump; 'salacious' talk happens everywhere
NewsMax – Carl Icahn Won't Dump Trump: "Let He Who Has Not Sinned Cast the First Stone"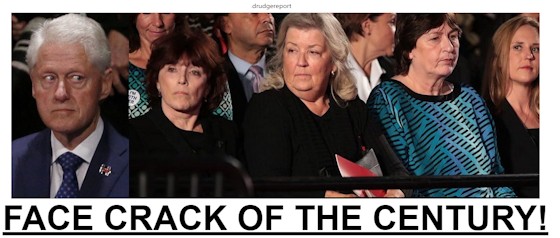 Observer – BRAZILE BUSTED: DNC Chief Leaked Sanders Info to Hillary…
Daily Caller – FACEBOOK's Executive SANDBERG SHARES RESEARCH WITH CLINTON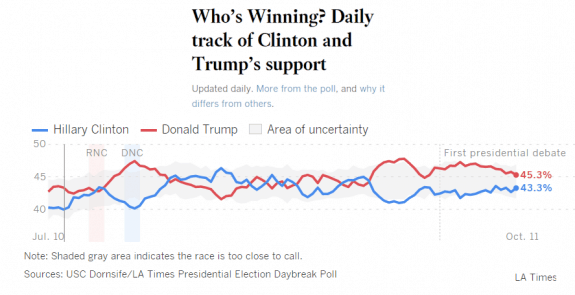 Fox Insider – Media Organizations 'Ordered Employees to Destroy Trump'…
NYTimes – Paul Ryan 'Can't Defend Trump anymore'
WorldNewDaily – Haitians fear Clintons will 'scam' them again after Hurricane, as their Foundation accused of looting impoverished nation after quake…
ICYMI – RBC Full Debate video – Second Presidential Debate – Donald Trump vs Hillary Clinton – St. Louis, MO (10/9/2016) – Donald Trump & Hillary Clinton 2nd Presidential Debate at Washington University (October 9, 2016) – Trump Clinton debate.
InfoWars – Dems way oversampled at 'scientific' CNN (Clinton News Network)…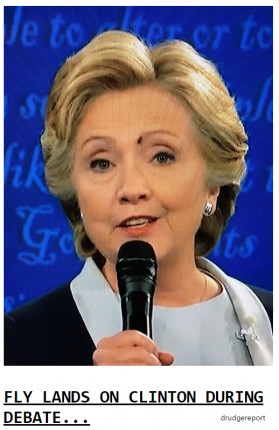 How's Your Russian Reset Working, Secretary Clinton? Bloomberg – War Talk Back on Russian TV as USA Ties Hit Post-Soviet Low…
Yahoo News – Gorbachev warns of 'dangerous point'…
NYTimes – Meeting in Turkey, Putin and Erdogan Grow Closer…  
We've seen Hollywood and Washington DC sex scandals before.
We've never seen this volume of leaked documents from a presidential campaign chairman and other connected to high places in the Democratic Party.
Up to this moment, it is perhaps the most volatile race our lifetimes.
Who will prevail?  Who should lead our nation? Emotions aside – who will be the best for our industry and our consumers?
"We Provide, You Decide." ©
(Image Credits are as shown above.)

Submitted by L. A. "Tony" Kovach to the Daily Business News, MHProNews.