In a press release, ECN Capital announced its intention to buy Triad Financial Services, the oldest manufactured housing lending operation in the United States.
Per their release, Toronto based ECN will pay $100 million in cash (C$125M) for Triad. "In addition, ECN Capital has agreed to an incentive compensation plan with senior management that will be based on the achievement of a prescribed return on average equity (ROAE) over the next five years."
The firm stated that Triad,
"Originates prime and super-prime manufactured home loans through a national network of dealers and manufacturers."
"Exceptional 50+ year old business led by longtime CEO Don Glisson, Jr."
Not mentioned in the release was Triad's reportedly rapid growth in the manufactured home community lending program, which provides a mechanism for community operators to utilize Triad's origination platform to make loans that the Triad's normal credit profile would not make.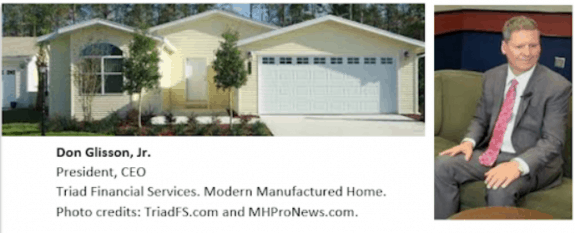 "Triad is a pioneer in the manufactured housing industry and a market leader with an incredible history, superior credit, proven growth, scalability and a robust partnership with U.S. banks and credit unions," said Jim Nikopoulos, ECN Capital's President. "We are excited to welcome this impressive business into the growing ECN Capital family of businesses and look forward to a long-term partnership with Don and his team," added Mr. Nikopoulos.
"ECN Capital is exactly the right partner for Triad and we are excited about the opportunities ahead for everyone that is a part of the Triad team," said Don Glisson, Jr., Chairman and CEO of Triad Financial Services, Inc.
On a pro forma basis, the acquisition will be immediately accretive to adjusted earnings per share (EPS) and return on equity (ROE). "The Triad acquisition fits squarely within ECN Capital's strategic plan for the redeployment of capital," said Steven Hudson, ECN Capital's CEO.
The transaction includes employees, systems, intellectual property, operations, offices, agreements, and other assets of Triad.
The transaction, which is expected to close in the first quarter of 2018, is subject to customary closing conditions, including regulatory approvals.
Shaking Up the Manufactured Housing Lending Landscape…
The move is going to shake up the manufactured home lending landscape in several ways, which will be covered in future reports.
Outside of Berkshire-Hathaway owned companies, Triad is one of the largest operations of its type in the industry, and has been on a strong, steady growth path.
The video, visuals and details shown in this report are not part of the ECN release.
Per the TCN Website:
Jim Nikopoulos is the President of ECN Capital Corp., a leading commercial finance company formed from the October 2016 separation of Element Financial Corporation into two market leading companies – Element Fleet Management and ECN Capital. Prior to this, Mr. Nikopoulos served as Chief Operating Officer of ECN Capital and an executive at Element.
Before joining Element, Mr. Nikopoulos was an executive at TeraGo Inc., a TSX-listed data centre and managed services company. He was previously a Partner at Davies Ward Phillips and Vineberg LLP.
Mr. Nikopoulos is Board Chairman of TeraGo Inc. and an active director on numerous charitable and private boards.
Mr. Nikopoulos earned his Honours B.A. degree (Economics & Political Science) from the University of Toronto and Law degree (JD) from Osgoode Hall Law School. Mr. Nikopoulos was named one of Canada's Top 40 under 40 Lawyers by Lexpert in 2014.
Per the Triad Website:
Don Glisson Jr.,
Chairman & Chief Executive Officer
With Don's leadership, Triad has been honored with a number of industry and community awards during the last ten years, including being named by The Manufactured Housing Institute (MHI) as the National Lender of the Year for 2010, Triad's eighth MHI Lender of the Year award. Triad has been named numerous times by the "Jacksonville Business Journal" as one of the fastest growing companies in Northeast Florida, and by the University of Florida as one of the fastest growing companies in Florida.  Don was given the Chairman's Award from MHI in 2010 for his efforts on behalf of the Manufactured Housing Industry.

Don is also the Executive Chairman of The Jacksonville Bank (JAXB); a NASDAQ publicly traded Bank Holding Company and the largest community bank in Northeast Florida.  Don serves as the Chairman of the holding company board of directors, chairs the Executive Committee and serves on the loan committee and asset and liability committee.
Don is the Vice Chairman of Citizens Property Insurance Company, the eighth largest homeowners insurance company in the U.S., insuring one million properties in Florida.  Citizens was created by the Florida Legislature to help its residents obtain homeowners insurance not otherwise available to them.  Don was appointed to the board by Jeff Atwater, CFO of Florida, and was elected by the board in 2013 to serve as Vice Chairman.
In June of 2010, Don was named by the "Jacksonville Business Journal" as an "Ultimate CEO" for 2010, as voted on by the newspaper's editors. Don has been written about and interviewed in numerous publications such as "The Wall Street Journal", "The New York Times", "The American Banker" and many others.
Don graduated from Florida State University with a BS degree in Finance, and in 2003 Don was awarded the "Entrepreneurial Excellence Award" by the College of Business, Florida State University. Don is also on the Board of Directors of Florida State University Alumni Association, and serves on its Finance and Governmental Affairs committees. Don is also on the Board of Governors for the Florida State University College of Business. ## (News, context, analysis.)
(Note: the second video on this page was from a previous Louisville Manufactured Home Show interview with Don Glisson, Jr., and was produced by another videographer.)
(Image credits are as shown above.)

Submitted by Soheyla Kovach to the Daily Business News on MHProNews.com.