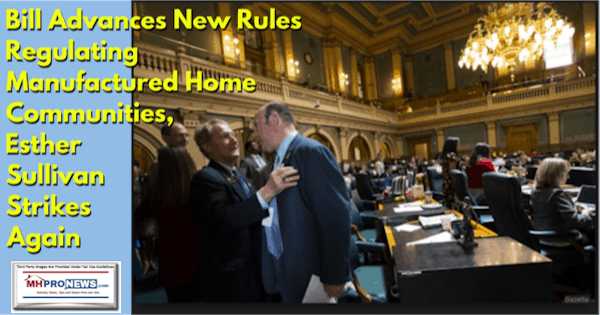 The specific piece of legislation that will be the focus of this report is just part of a pattern that is arguably spreading from the coasts into the heartland states.
In the wake of the hue and cry from the Last Week Tonight with John Oliver viral "Mobile Homes" video, there is renewed zeal to reign in concerns over problematic business practices in the manufactured home land-lease community sector.
The Colorado Springs Gazette, which bills itself as 'Pulitzer Prize winning journalism' established in 1872 spotlighted the facts that will be referenced.
"A bill designed to better protect residents of mobile home parks won state House approval Monday on a 41-23 vote. House Bill 1309 next heads to the state Senate," per the Gazette's writer Marianne Goodland.  She pointed out that Senate Republicans have previously killed such measures as too burdensome for smaller businesses, but now Democrats are in charge of the Colorado Senate.  The implication is that it will all change this time around.
"The mobile home has offered a path to the American dream on a budget," per Esther Sullivan, a sociology professor at the University of Colorado at Denver, a quoted by Goodland in Curbed magazine in 2017.  That quote was offered to buttress the comments of state Rep. Edie Hooton, D-Boulder, who is the author of HB 1309. The narrative provided no distinctions made in terminology between a pre-HUD Code mobile home or a post-HUD Code manufactured home.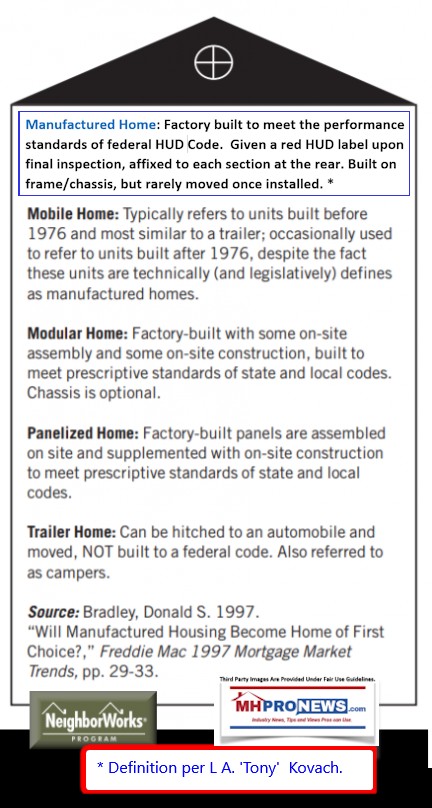 Pointing to a dispute resolution program in Washington state, the bullets below are pull-quotes from Goodland's Gazette report. The first bullet is deliberately taken out of sequence, to get to part of what the bill aims to do.
So Hooton and co-sponsor Rep. Julie McCluskie, D-Dillon, turned to the dispute-resolution model established a couple of years ago in Washington state, which set up a mediation process to resolve complaints by mobile-home owners. About 400 complaints were filed the first year, but the numbers steadily have dropped as "bad actors" have learned the consequences, Hooton said.
But mobile home parks have operated under a loose regulatory structure for decades, Hooton said. The only recourse for a mobile home owner with a complaint often is to take the park owner to court, and that's out of reach financially for most, she said.
The state's Mobile Home Parks Act was adopted in 1985 but lacks teeth, critics say.
Last year, after the failure of yet another bill to rein in park owners who violate the law, the Department of Regulatory Agencies took a look at whether park owners understood the 1985 act and whether licensing would force better compliance. DORA determined that owners understand the law but licensing was not the right step.
Under HB 1309, the Department of Local Affairs' Division of Housing could accept complaints from mobile home owners and mediate between them and the park owner. A $24 fee per lot, split between park and mobile home owners, would pay for the process.
If the mediation fails, either side could take the issue to an administrative law judge, avoiding the greater cost of going to court.
Another part of the bill deals with the eviction process, which is part of the issue that has drawn Sullivan and her followers a measure of notoriety.
Under current Colorado law, a land-lease community can evict with 48 hours-notice.  That is obviously nearly impossible, given the costs and common lack of options for moving a mobile or manufactured home from one community to another.  If passed, HB 1309 would add 30 days to that eviction period, and with the payment of another month's site fees, extend it yet another 30 days to a total of 60.
Per the Gazette:
The bill was supported before the House by mobile home owners; 9 to 5 Colorado, an advocacy group for working women; and the Colorado Senior Lobby.
Predatory Community Owners? Bill Goes too Far?
The Gazette cited written testimony in support of the legislation by Debra Beasley of Colorado Springs.  In her written testimony dated April 10, said she and her spouse have seen site fees at their community increase from $475 in 2016 to more than $750 last year.
That approaches the heart of a concern that Oliver's video raised, made by Manufactured Housing Action (MHAction), which co-authored the white paper Oliver's satirical report took aim at.
Norm Sorenson of Kingsley Management Corp. objects to the bill, in part due to the understandable concern of community owners trying to evict – in his example – a drug dealer from a community. That noted, the bill purportedly allows for expedited evictions in cases of imminent danger.
Colorado's DORA review showed that "harm is occurring in manufactured housing communities … which largely stems from lack of enforcement of existing laws, bad actors exploiting a relatively loose regulatory structure and the inevitable tension that arises when the house belongs to one person and the land belongs to someone else," Representative McCluskie said. "It's impacting our rural, urban and mountain economies. Mobile homes are an essential solution to our housing crisis; sometimes the mobile home parks are the largest source of unsubsidized affordable housing in rural communities."
By contrast, Rep. Terri Carver, R-Colorado Springs, said the bill will burden community owners who are acting in good faith. "I still don't think it is helpful to create an oversight agency … that adds a lot of bureaucracy and delay in resolving disputes and investigating complaints, rather than keeping it local," Carver said.
Under the Hood of the Battle Over Community, Resident Rights
Manufactured home independently owned community owners, along with those portfolio operators who aren't participants in the types of 'bad actor' concerns this bill aims to cure are wise to step back and see the pattern that is emerging.
As MHLivingNews documented, MHAction has been funded in part by Warren Buffett, through so-called dark money routes. That tip came from a competing resident group, the Golden States Manufactured-Homeowners League (GSMOL). ICYMI, or need a refresher, the documentation for that can be accessed the linked text-image box below.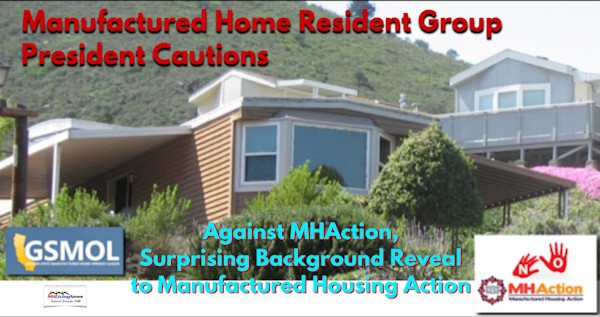 Since that report above, as MHProNews noted, the white paper co-authored by MHAction sparked a report in the Washington Post, among others in mainstream media. Each of these raise concerns about a few – but larger – players in the industry, and these are routinely members of the Manufactured Housing Institute (MHI).
https://www.manufacturedhomepronews.com/billion-dollar-empire-made-from-mobile-homes-what-washington-posts-peter-whoriskey-didnt-report/
Then, there was the viral hit video by John Oliver that connects the dots between:
Warren Buffett and Berkshire Hathaway brands in manufactured housing,
Nonprofits Buffett and/or Berkshire brands have funded, included MHAction, Center for Public Integrity (CPI), and
MHI, to name only those most clearly tied to this recent trend.
Recast, Buffett and his allies in MHVille have set the stage for creating problems that MHI not only fails to address, but whose 'big boy' members are part of the purported problems.
It remains to be seen if independent community owners will obtain the level of serious defense from the newly formed National Association of Manufactured Housing Community Owners (NAMHCO). But NAMHCO is on record as rejecting MHI as failing community owners in their interests. Time will tell.
The Manufactured Housing Association for Regulatory Reform (MHARR) has said they will be examining ways that they can support the post-production side of the industry in a targeted fashion, possibly by using legal action. More on that in a new column by MHARR's Mark Weiss, JD, in the article linked below.
The last decade-plus has not been especially kind to the manufactured housing industry and consumers of affordable housing. The 21 stCentury began with a great deal of promise for the industry and consumers alike.
That said, MHARR is frankly stretching beyond their core mandate, to represent the interests of independent producers of HUD Code manufactured homes. It should not be thought that they are going to be able to single-handedly deal with every case of these vexing issues, as Weiss himself suggested in the above.
MHI and several allied state associations are largely mute in public about the John Oliver/MHAction fueled issues, tied to their 'big boy' members.

An upcoming report will examine how a self-proclaimed voice for manufactured home community owners is making noise and chest thumping but has no track record to point to for successfully addressing these sorts of concerns. Talk, action, and results are entirely different things.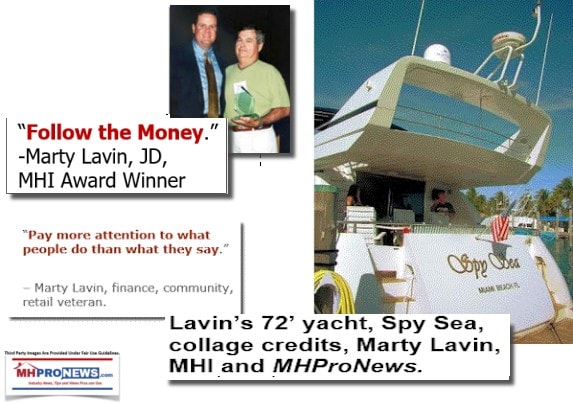 That leaves independents pondering what practical ways they can fight back against problems caused within the industry, apparently being fueled by forces tied to the Omaha-Knoxville-Arlington axis.
Consumer and Small Business Protections
MHI's former president, Chris Stinebert made it clear in his exit letter published here that the interests of consumers must be protected. Manufactured homeowners and community resident interests are a brick in the foundation for the industry's future. That's Business 101.
But apparently, the 'new age' at MHI HQ no longer is focused on that, rather, they seem to be focused on consolidation of the industry into the hands of fewer and fewer businesses, regardless of how many consumers or independent businesses are harmed in that process.
America woke up today to division. But perhaps 75 percent (+/-) of the nation's people could come together on a plan that demonstrably could do the following. Increase the U.S. Gross Domestic Product (GDP) by some $2 Trillion Annually, without new federal spending.
Know some MHI lovers? Ask them to ponder to juxtaposition of MHI's prior president's exit message and MHI's current president, Richard 'Dick' Jennison tenure.
As anger simmers in Colorado, California, Iowa and other states over industry practices – that evidence reflects routinely traces back to MHI members – at what point will the 'white hats' at MHI get tired of being associated with the black hats?
In the face of this, the Omaha-Knoxville-Arlington axis remains silent, allows surrogates to attack those that dare question the axis, and tries a series of head fakes that arguably fail to address the core issues. That's the latest chapter in the history of the industry's underperformance in recent years. More on this in the days ahead. 
That's this afternoon's episode of "News through the lens of factory-built homes, and manufactured housing," © where "We Provide, You Decide." © ## (News, analysis, and commentary.)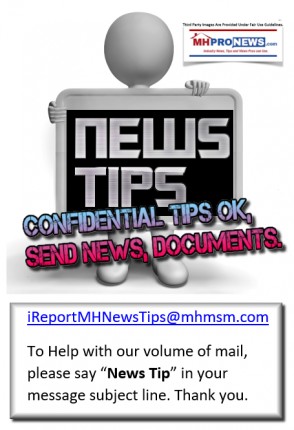 Your link to industry praise for our coverage, is found here.
For the examples of our kudos linked above…plus well over 1,000 positive, public comments, we say – "Thank You for your vote of confidence."
"We Provide, You Decide." © ## (News, analysis and commentary.)
(Image credits and information are as shown above, and when provided by third parties, are shared under fair use guidelines.)
Submitted by Soheyla Kovach to the Daily Business News for MHProNews.com.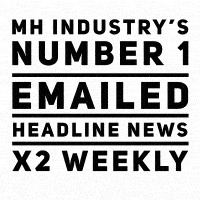 2) To pro-vide a News Tips and/or Commentary, click the link to the left. Please note if comments are on-or-off the record, thank you.
3) Marketing, Web, Video, Consulting, Recruiting and Training Re-sources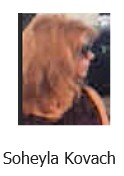 Submitted by Soheyla Kovach to the Daily Business News for MHProNews.com. Soheyla is a managing member of LifeStyle Factory Homes, LLC, the parent company to MHProNews, and MHLivingNews.com.
Related Reports

:
You can

click on the image/text boxes

to learn more about that topic.
MHARR SEEKS HUD STUDY AND ANALYSIS OF ZONING DISCRIMINATION AGAINST MANUFACTURED HOUSING Washington, D.C., April 8, 2019 – The Manufactured Housing Association for Regulatory Reform (MHARR), in an April 4, 2019 meeting with HUD policy, analysis and research officials, called on the Department to conduct nationwide research – and follow-up analysis – concerning local zoning mandates that discriminatorily exclude or drastically restrict the placement of federally-regulated manufactured homes to the detriment of lower and moderate-income American families in large areas of the country.
Washington, D.C., April 5, 2019 – The Manufactured Housing Association for Regulatory Reform (MHARR) reports that according to official statistics compiled on behalf of the U.S. Department of Housing and Urban Development (HUD), year-over-year HUD Code manufactured home production declined once again in February 2019.
Motion – or, more accurately, activity – in and of itself, is not necessarily synonymous with, or equivalent to, realprogress, or, in fact, any progress at all.