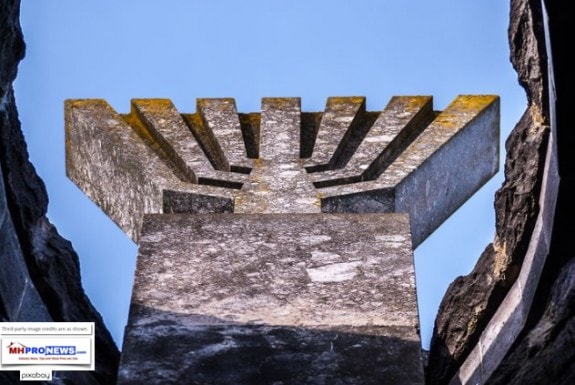 In the hyper-busy dash between Thanksgiving, Christmas, and the New Year, the Daily Business News' customary Hanukkah, and Advent greetings has been delayed until now.
We wish all our Jewish friends, colleagues, and readers a happy final day to their festival of light.
Millions of Christians are preparing for Christmas, in this time known as Advent.
A reflection on those topics, the nation, and manufactured housing is published at this link below.
It's Advent for Christians, and Hanukkah for Jews. At the "darkest" time of the year, when the days are the shortest, believers in America and around the world are celebrating – light. " Hanukkah is a Jewish holiday commemorating the rededication of the Holy Temple in Jerusalem at the time of the Maccabean Revolt against the Seleucid Empire," says Wikipedia.
From our family to yours, may these holidays = holy days = be filled with the light. ## (Announcements, holiday greetings, and programming notice below.)
HUD RUMOR NOTICE: There is word of one or two possible changes in the line up with the HUD Code Manufactured Housing Program Office. It could be a 'false flag.' So MHProNews is in the process  of confirming or denying the rumored items. Stay tuned. 
Update:
We have an informed source that has confirmed that both Pam Danner and Lois Starkey are no longer at the HUD Code manufactured home office.  More details to follow as they emerge.  It should be noted that Danner is still shown on their website, but one source states that information has not yet been updated.  Stay tuned.
2 Week Notice. MHProNews will be on a somewhat modified publication schedule from now through January 2nd, resuming normal scheduling in 2018. More details, click here.
Notice 1: Looking for our emailed MH Industry headline news updates? Click here to sign up in 5 seconds. You'll see in the first issue or two why big, medium and 'mom-and-pop' professionals are reading them by the thousands, typically delivered twice weekly.
Notice 2:  Want sustainable growth?  Join the Manufactured Housing Revolution team's proven marketing and other MH Professional Services, click here.
(Image credits are as shown above, and when provided by third parties, are shared under fair use guidelines.)

Submitted by Soheyla Kovach to the Daily Business News for MHProNews.com