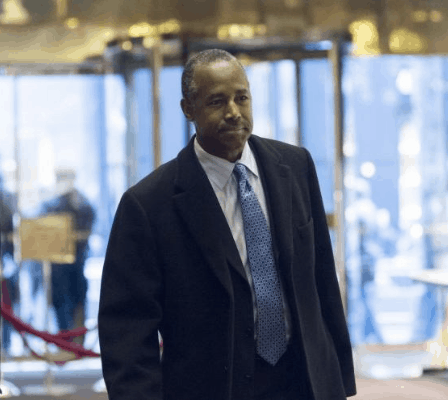 Confirmation hearings in the Senate are already under way for some of President-elect Donald Trump's cabinet picks. These include headliners such as Alabama Senator Jeff Sessions, and former Exxon Mobile CEO Rex Tillerson. Of great interest to manufactured houisng professionals will be the hearings for Department of Housing and Urban Development (HUD) Secretary nominee, Dr. Ben Carson, which are set to begin Thursday morning.
While Dr. Carson is not expected to receive the same level of opposition as other selections, both supporting and opposing forces have been vocal in their feelings.
In an op-ed to the Independent Journal Review, Christopher Pylant speaks about the Ben Carson who saved his life.
"At the age of three and a half, I was diagnosed with an inoperable brain tumor. I lived in Georgia and while there, I had four shunt surgeries to move excess fluid from my brain, but no surgeon thought there was any hope for me. I was given 18 months to live," Pylant writes.
"My parents were on a quest for a miracle. They heard about a young neurosurgeon at Johns Hopkins Pediatric Neurosurgery Center in Baltimore named Dr. Ben S. Carson. So we went on a trip from Atlanta to find him."
Pylant goes on to discuss the nature of Dr. Carson – a willingness to help, a kind spirit and the ability to solve problems.
"The doctors took a brain scan and concluded that I had a defused tumor that had attached itself to the brain stem, meaning that surgery was not an option. Dr. Carson was willing to remove as much mass that accumulated on the left side of the brain stem as possible," wrote Pylant.
"And after a short recovery period, he noticed that, instead of deteriorating, I progressively got better. He ordered another CAT scan and noticed that the tumor had mysteriously pulled away from the brain stem.
When another MRI was taken, Dr. Carson detected a tiny thread-like remnant of a brain stem. He was able to go back in and surgically remove the rest of the tumor."
And for that creativity, Pylant is grateful.

"If it was not for the Lord using Dr. Carson's faith, commitment, perseverance, and skill, I would not be alive today. I am now 35 and a college graduate. And I am healthy, all because Dr. Carson did not give up on me," wrote Pylant.
"Dr. Carson has impacted my life and has served as role model not only for me, but for others to follow. I know he will do a great job at HUD."
A View From The Other Side
A group of scholars and students on housing and urban affairs have asked the Senate to reject Dr. Carson as Department of HUD Secretary. They did so in an open letter to Michael Crapo, Chairman, and Sherrod Brown, ranking member of the U.S. Senate Committee on Banking, Housing, and Urban Affairs.
"Carson not only remains dismissive of government responses to poverty in general, he has publicly expressed disdain for HUD's particular mission to ensure a safe home for every American," noted the letter.
The letter goes on to request that the Senate "deem Dr. Carson a poor choice to lead HUD and to deny him Senate confirmation," for three reasons: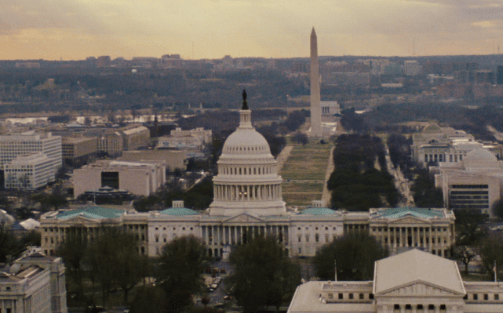 1. Dr. Carson has no experience relevant to HUD's mission
"Past HUD secretaries, serving under both Republican and Democratic presidents, typically have had significant public sector experience," the letter states.
"They also, for the most part, worked in areas directly related to the work of HUD. Dr. Carson has absolutely no prior experience with the programs and policies administered by HUD or with management or leadership of a large public agency."
2. Dr. Carson has expressed disdain for HUD's mission
"Among HUD's key responsibilities is the enforcement of the nation's fair housing laws—laws created to reduce discrimination still faced by non-white, disabled, LGBT, and other households seeking secure and decent homes to rent or buy," the letter states.
"Rather than understanding the continuing need for the enforcement of the laws that protect the rights of all who are seeking housing, and acknowledging that the government has an ongoing commitment to provide opportunities for low-income people who are eager to move to low-poverty areas, Dr. Carson has dismissed fair housing as being 'a mandated social-engineering scheme.'"
3. Dr. Carson has displayed a lack of understanding of poverty and the role of government
The letter goes on to state "Dr. Carson does not appear to have any appreciation for the complexity and interplay of the many factors that result in housing being unaffordable to lower income people. Often, at the root of housing unaffordability are issues of poverty which, astonishingly, Dr. Carson sees as "more of a choice than anything else."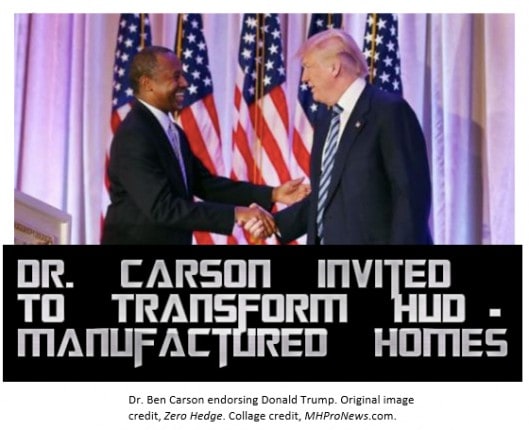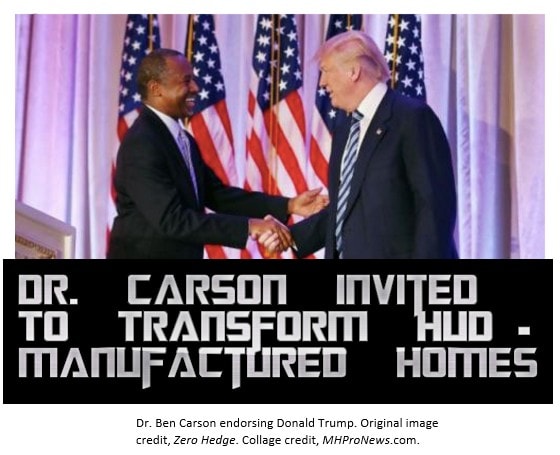 Former Clinton Administration HUD Secretary Henry Cisneros is among those who disagree, see that, linked here.
Hearings for Dr. Carson are scheduled to begin at 10am Eastern Time tomorrow morning. Also scheduled for tomorrow are hearings for Secretary of Defense nominee, General James Mattis beginning at 9:30am Eastern Time. ##
(Editor's Notes: Daily Business News coverage of Dr. Ben Carson and his nomination, has included extensive feedback from industry professionals, please see examples of those, linked here. Another is an open letter from MHProNews and MHLivingNews publisher L.A. "Tony" Kovach, click here.  Robert Romano's comments on how Dr. Carson could impact HUD and public housing is linked here. ##
(Image credits are as shown above.)

Submitted by RC Williams to the Daily Business News for MHProNews.