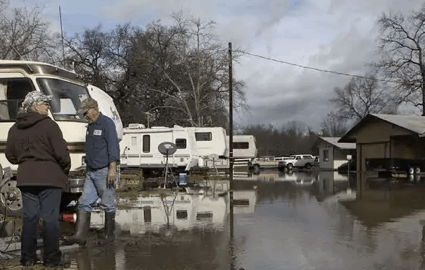 The residents of Balls Ferry Fishing Resort & Mobile Home Park in Anderson, California, were dealt a blow by heavy rains this week, which caused the nearby Sacramento River to crest and flood the community.
According to the Record-Searchlight, heavy rain slammed into the area on Monday and into Tuesday, flooding countless areas throughout Shasta County, including the community.
"I slept in this morning and management notified us the water level was coming up and we should get ready to leave just in case," said resident Jonathan Williams.
Water continued to creep up to the skirting of at least a dozen homes, rising 14 inches in less than 12 hours.
"I've never seen it do this," said Richard Bremer, 75, who has lived in the community for about 11 years. His home was safe from the flooding, just a few feet from the water's edge.
"It crested one time about 10 years ago but not like this."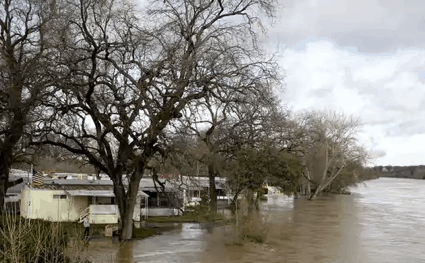 Even with sandbags lining the entrances of most homes in the community, some still had damage.
For Williams, whose home sits at a high point away from the floodwaters, he said that management has made a real effort to help residents out.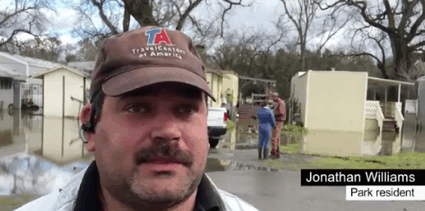 "I've lived in a lot of trailer parks [sic]," said Williams.
"This park [sic], because of management's efforts and the owner's efforts, is a really tight-knit community."
Neighbors also pitched in on Tuesday, helping those who could move their homes and belongings away from floodwaters to higher ground.
"When this started happening, a lot of people don't have trucks that will pull their unit, their RVs. So it's kind of important we all pull together," said Williams.
"We're kind of like a family here. It's not a trailer park [sic], it's a family park [sic]."
Heavy rain is in the forecast for the area through Saturday, with 24 areas under advisories, watches or warnings for flooding. Winter storms in the region have delivered heavy rains and flooding from the San Francisco Bay Area to the Nevada state line. ##
(Image credits are as shown above.)
Submitted by RC Williams to the Daily Business News for MHProNews.