CML News recently took a deep dive into a head-to-head comparison between Memphis, TN-based Mid-America Communities, Inc. (NYSE: MAA) and Southfield, MI-based Sun Communities, Inc. (NYSE: SUI).
After a side-by-side comparison of both communities' revenue growth, earnings, revenue per employee, operating margins, free cash flow and valuation, CML News determined Sun Communities was the stronger of the two by 51 to 46, based on its 100-point scoring system.
As for the metrics, Mid-America had an edge in revenue, as well as revenue per employee and margins. However, Sun Communities had an enormous advantage in revenue growth and a slight edge in stock market prices to score the "win."
A Closer Look
Comparing Mid-America and Sun Communities:
both had positive earnings over the past year, with a slight edge going MAA.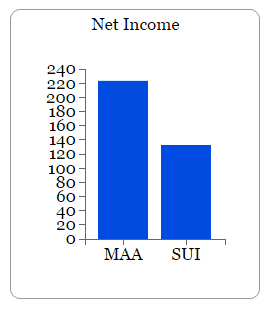 Mid-America performed significantly better than Sun Communities in the revenue and per employee metric, $530,000 to $376,000.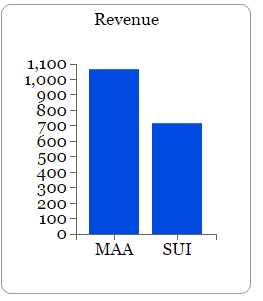 The companies were closer when it came to revenue earned to expense ratio (MAA produced $1.40 for every dollar to Sun Community's $1.15).
MAA also got the edge in free cash flow for every $1 of revenue ($0.48 to $0.30)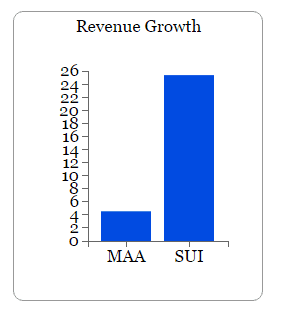 Sun Communities is growing its revenue much faster than Mid-America—MAA sees stock market prices of $6.64 for every $1 in revenue, compared to Sun Communities, which has a $7.17 market cap.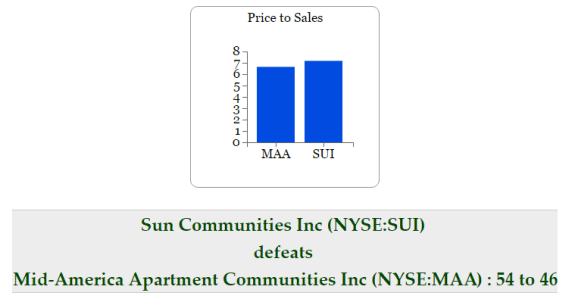 Sun Communities on the Rise?
The Sun Communities victory was not the only good news it received from third-party commentary recently.
Based on a recent report by investor site Zack's Community Research, Sun Communities has seen some recent struggles.  But Zack's take is that there is light at the end of the tunnel. The company saw a recent Hammer Chart Pattern—an indicator that's used in candlestick charting.
Basically, a hammer chart pattern will reveal itself when a stock falls during the day, but gets stronger at another point in the day and actually comes close to or exceeds the opening price.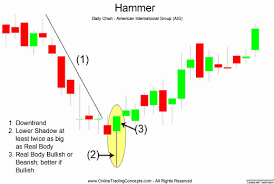 The optimism for Sun Communities comes from the fact that its stock just may have it its lowest points and better days are ahead.

As most manufactured home professionals and many investors know, SUN is one of the largest owner/operators of manufactured home communities in the U.S., and is a Real Estate Investment Trust (REIT) that is part of the Daily Business News market report.
Sun has come on strong in recent years, including a 1.2-billion-dollar acquisition, followed by other sizable buys in the hot manufactured home community space.
For a previous report on SUN, and how it beat analysts' estimates, click here. ##
(Image credits as shown above.)

Submitted by Joe Dyton to the Daily Business News, MHProNews.com.