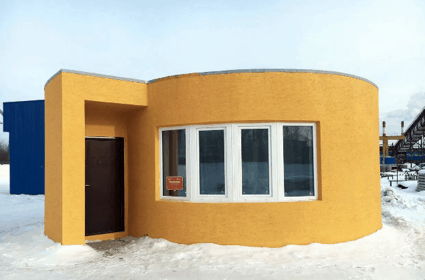 The innovations in 3D printed homes continue at a break-neck pace. Beijing-based HuaShang Tengda, which printed a two-story villa that can reportedly withstand a magnitude eight earthquake, and PassivDom, a Ukrainian startup, has now come up with a stand-alone, energy-efficient 3D printed house, ideal for off-the-grid living.
And now, a San Francisco, California-based Apis Cor claims to have taken the process to a whole new level.
According to the Daily Mail, they unveiled a 400-square-foot house in a town outside of Moscow, Russia that was constructed using a mobile 3D printer.
In just 24 hours.
The Apis Cor technology printed walls, partitions, and other items, and appears to be the first company to develop a portable 3D printer able to print whole buildings entirely on location.
Construction took place in December 2016, and the company reports the materials used should last at least 175 years.

"This project was selected specifically, as one of the main purposes of this construction is to demonstrate the flexibility of equipment and diversity of available forms," the company said in a statement.
"A distinctive feature of the printer is its design, which is reminiscent of the tower crane, allowing the printer to execute the printing process of constructing the building both inside and outside."

Apis Cor says that this was the first time in the Russian construction that a house was printed as a whole, rather than assembled from pre-printed panels.
Impacts this Technology has upon the Manufactured Housing Industry?  
The company says that the cost for the model described above is $10,134. However,  buildings can be printed in various shapes and at a larger size, with the only restrictions on designs being the laws of physics.
When one of several mainstream news articles, reporting on that 10k figure, were shared with industry professionals with production connections, one source told MHProNews that "It could be a game changer and has the potential to eliminate thousands of manufactured housing factory jobs…. but that would be way down the road."
The ramifications were shocking enough, that the source would only speak off the record.
There is a big 'however,' here.
"Before investors, developers and others go bailing on manufactured housing, and stocks take a dump, there are likely several caveats to this report by Futurism and from others in the mainstream media that need to be properly understood," said industry consultant and publisher, L. A. 'Tony' Kovach.
"We contacted the 3D producer directly, and they have yet to answer numerous questions that relate to interior finishes, what building codes this may or may not meet, total cost with all finish work, etc.  Because some in the mainstream media may not get it about all that goes into the total costs of a home, details like:
cabinetry,

flooring,

tape and texture,

electrical,

windows,

doors,

plumbing, etc.
they can easily be wowed by a claim – that when scrutized – doesn't quite hold up. Think Jim Walters housing – shell homes sold at a lower price, but with signficant finish costs."
Another example of a story that drew media hype – but was missing key details – was a report out of Europe covered for the Daily Business News by Joe Dyton.
Click the image above for facts the original story in the mainstream media missed.  "These are examples of why the industry needs an independent trade media, one that does some digging," Kovach said.
MHI was contacted about the topic above – and the broader issue of potentially disruptive technologies negatively impacting manufactured housing – and they had no comment.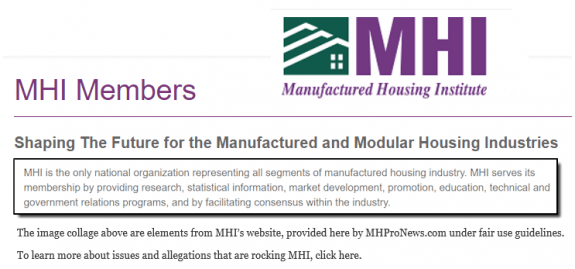 Possible Disruptions Are No Joke…
An association veteran told MHProNews that failing to adapt could result over time in manufactured housing's associations becoming "the associations of mobile home remodelers." It was a tongue-in-cheek way of saying – there would be widespread industry business failures, and that only remodeling work would be left – if the correct steps aren't taken by members of the industry.
"We are several years into our industry's recovery. That's good news.  But 3D, prefab, containers and tiny houses are all reminders that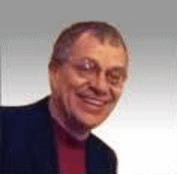 manufactured housing producers and others can't rest on their laurels," Kovach said. "Manufactured housing is an amazing option, that's highly sustainable, so long as we grow more rapidly towards our potential.  There is a high cost – and risk – to low volume sales, which is why we've repeatedly said that aiming for hundreds of thousands of new home sales a year in a sustainable way is a must."
"Some companies are taking steps to grow in a responsible way.  That's good news. But absent such growth," Kovach cautions, "our source is sadly but likely correct – in the next 5 to 10 years perhaps, technologies are emerging that could disrupt the manufactured housing industry.  Communities, production, lending, retailing – it could all change unless more of the industry's members and leaders take the proper steps, now."
The Daily Business News has covered the rise of 3D printed homes extensively, including other Chinese, Russian and Dutch 3D home projects, and asking the tough question: "Is America losing the 3D Technology race in housing?"
In several off-the-record comments by professionals with community, production, association, retailing and other industry interests, say that the industry needs to pay attention.
For more on 3D printed homes, including the story of The BigDelta, the world's largest 3D printer and its year-long mission to print a mud house, click here. ##
(Image credits are as shown above.)
Submitted by RC Williams to the Daily Business News for MHProNews.