"I don't care whether you are a liberal, conservative, independent or something else – the bottom line with this year's [2016 presidential] election was simply more of the same or something new, different or unique," said Tim Connor, CSP.
Jim Clayton told MHProNews that "my thinking is increasingly optimistic and tends to align with those Republican leaders who are creatively saving-face while migrating back to the fold – and to President…Donald the Disruptor."
But reading or watching much of the mainstream media makes it clear that many feel differently than Clayton's founder or those who support the "Donald the Disruptor" agenda. #Resistance, insults to the president, his supporters and our industry from those like Keith Olbermann – reported here – have been headline news.
Georgia 6, MSM and MHVille
For several months, the mainstream media (MSM) covered the run-up to the Georgia 6th district special election.
Republican Karen Handel won Georgia's special election on Tuesday, June 20th.  That win kept in the GOP 4-0 vs. Democrats in the post-inauguration special elections.  The race pitted Handel – who emerged from a crowed Republican field – to defeat a young, appealing-to-many Democrat, Jon Ossoff.
While manufactured housing is far from a homogenous group politically, informal surveys have suggested that the professionals in the industry tend to favor President Donald J. Trump's agenda.
A New York Times survey pre-election in 2016 indicated that most "mobile home" [sic] residents also tended to favor Trump.


Both MHI and MHARR have officially welcomed the Trump Administration, notably on areas where regulatory roll backs, pro-growth business policies are being advocated and advanced.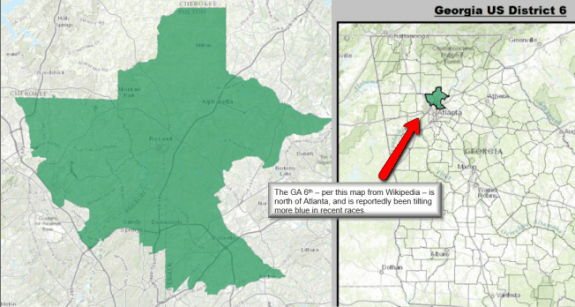 GMHA – the View of Handel-Ossoff from GA 6th
"The New York Times and the DNC [Democratic National Committee] decided to take this election and show Trump was such a poor President that even a Moderate Democrat could win in a typically Republican suburban district north of Atlanta. Trump only carried the 6th District by 2% because this district has been slowly shifting toward the Dems for the last few years," said Jay Hamilton, Executive Director for the Georgia Manufactured Housing Association (GMHA), to MHProNews.
"All the [pre-election] polls showed Ossoff winning by a few points," said Hamiliton, "but as it [the race] tightened up, the polls never [properly] reflected the change."
Hamilton pointed out that record sums were spent, most of it from out-of-state. He noted the appeal of Ossoff and that he had many of the qualities that might have won Democrat.  "They were millennial hunting," he with Ossoff, he said, trying to get someone who sounded fiscally conservative but socially liberal.
The GMHA exec recalled that "Handel is a very vocal opponent to abortion due to her devout Christian faith," adding – "she left as Vice President the Susan Koman Cancer Foundation in a stink because she was encouraging them to not fund Planned Parenthood…" Hamilton noted one of the key errors in the Democratic strategy.
The "DNC made a huge deal out of how important this election was to them. They should have kept that to themselves. [They] Kept bragging about Trump was going to hand this to them. This brought out all the Republican voters as well as the Dems who voted for Trump to vote against DNC."
Hamilton detailed several tactical and strategic errors the Democrats made, including: "They ran a candidate who could not vote in his own district that he was running in. He lives two districts a way.  Bad, Bad, Bad move as [POTUS] Trump would say."

What this leaves the DNC with is an 0-4 record, in some cases after having spent huge sums of money in a local race.  Early estimates for this GA6 contest indicate it was the most money ever spent on a congressional race.  Hamilton tells MHProNews to expect to see more of Ossoff in the future, as this is the kind of candidate the DNC is looking to win with.
NBC News' Chuck Todd has said that while the president doesn't have a clear majority, he does have a clear polarity of voters, describing his followers a the biggest thing out there in politics today.
Michael Bloomberg – who has considered an independent run for the White House and leans left – has stated that at this point, President Trump is well on his way toward re-election in 2020.
But the current GOP in the House and Senate may – or may not – fare as well, unless they get some key legislative items like a publicly acceptable repeal and replace ObamaCare, and tax reform done.
Democrats are still trailing in fund-raising, so given a mixed mood about the Congress, a plurality for the president and the DNC in disarray, the next 18 months are up for grabs. ##
(Image credits are as shown, and when provided by third parties, are shown under fair use guidelines.)

Submitted by Soheyla Kovach to the Daily Business News on MHProNews.com.