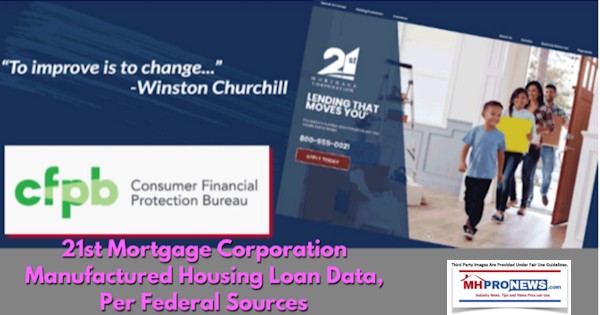 The following facts is the most recent summary of information available currently from the Consumer Financial Protection Bureau (CFPB) on HMDA data for 21st Mortgage Corporation loans on HUD Code manufactured homes.
21st is part of the metro-Omaha, NE based Berkshire Hathaway owned family of brands and is based in Metro Knoxville, TN.
Unlike Clayton Homes and Vanderbilt Mortgage and Finance (VMF), as thousands of manufactured housing industry professionals know, they 'serve' independent retailers and communities, as opposed to Clayton Homes directly.
That they like or prefer making loans on Clayton Homes built product should be evident from the report linked below. But there are good reasons for them to make loans on other producer's brands, because it arguably provides them with an upper hand, causing other producers of manufactured housing to have a degree of dependence and thus leverage.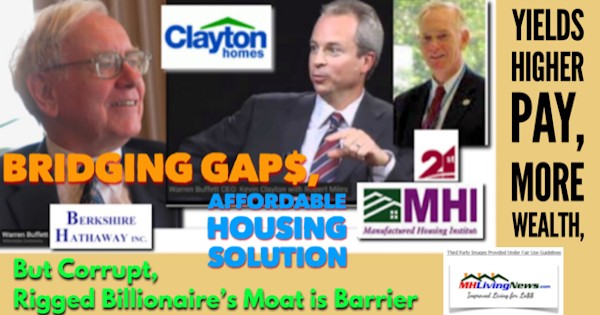 Here is the 21st Mortgage Corporation HMDA data from federal sources noted at the bottom of the graphic.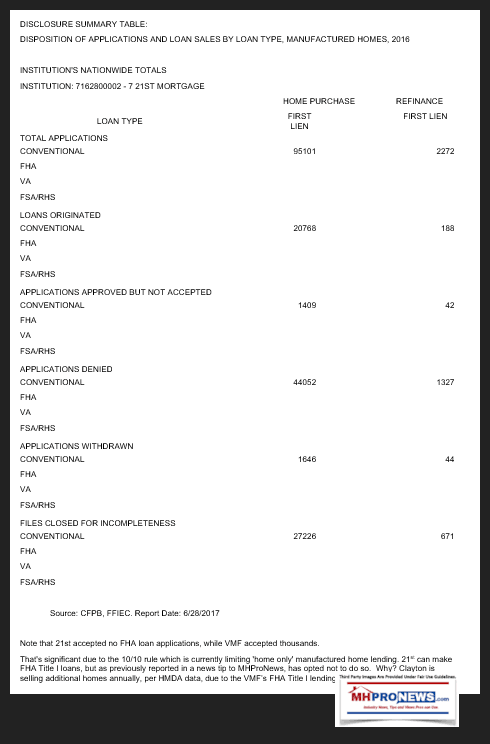 You can see by looking at our 'almost midnight' report from 6.24.2019 that Vanderbilt made FHA loans, but 21st originated none. That is federal confirmation of a prior news tip that we received from 21st personnel on an off-the-record basis. Those middle management type sources were not able to articulate an answer as to why 21st would stop making such loans, but why VMF would continue to offer them?
You can compare 21st and with VMF's data, by accessing the report from the linked text-image box below.
Vanderbilt Mortgage and Finance Manufactured Home Loan Origination Data, Per Consumer Financial Protection Bureau
As with other federal data, compiling and sorting the information has a degree of lag time. A more complete snapshot from 2015 is available below. Note that Triad Financial, due to the way they are structured, is not reflected in the screen capture of the federal dataset below. But they are larger that several of the lenders shown, while smaller than 21st, VMF, or Wells Fargo, per sources. It is therefor interesting to note that the top 3 lenders for the year below all have direct ties to Berkshire Hathaway, which owns a sizeable stake in Wells Fargo.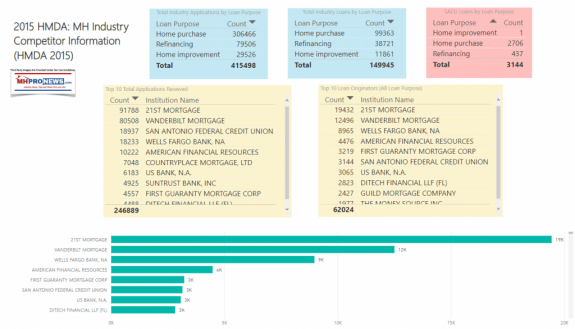 Both VMF and 21st qualify for the 10/10 rule established by FHA, which made Berkshire Hathaway the dominating lender in that realm. Was that 10/10 rule threshold a coincidence? Or was it useful to Berkshire and a sign of some darker relationship that bears federal scrutiny?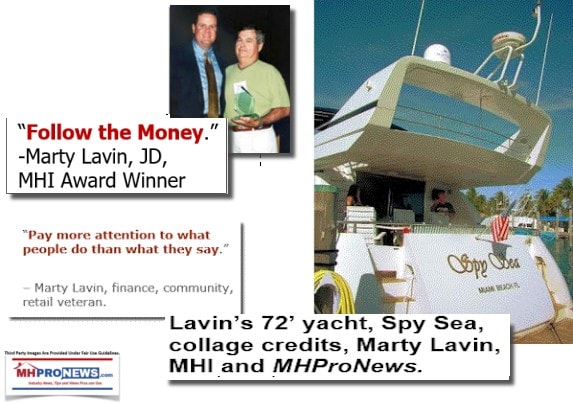 It is worth mentioning that Harvard's Eric Belsky said that credit was the lifeblood of housing. That was dramatically demonstrated by the mortgage/credit/housing crisis of 2008, but which straddled other years.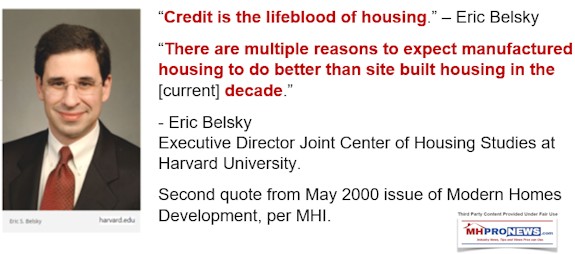 The Government Sponsored Enterprises (GSEs) of Fannie Mae and Freddie Mac have used manufactured housing's prior credit crisis that began to become apparent with the slide in sales, shipments, and production in 1999, but accelerated into the early 2000s.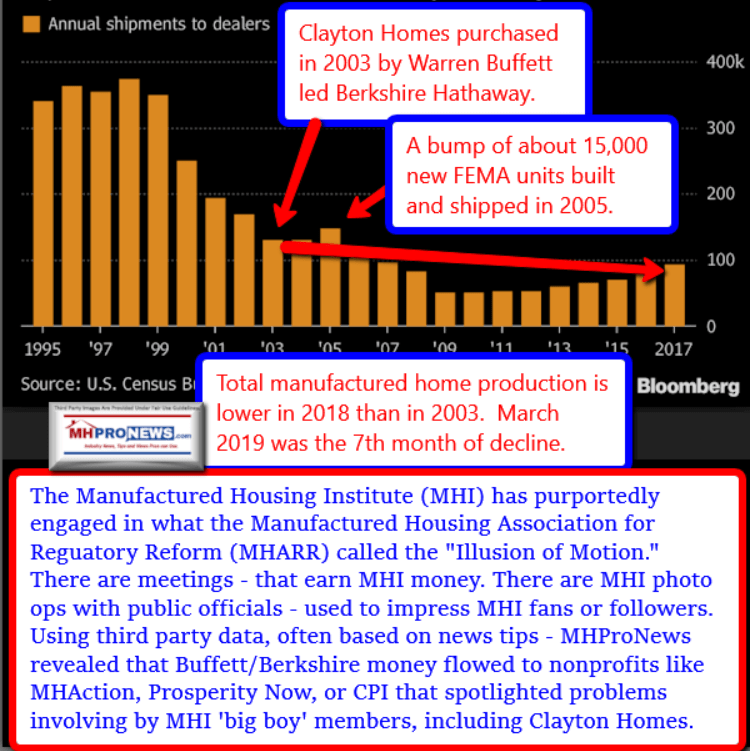 While losses in manufactured housing loan portfolios was significant, as those who recall Greentree, Conseco, Associates and other lenders who essentially vanished from the manufactured housing scene as a result of the meltdown in MHVille that began to be evidenced in 1999. By comparison to conventional housing losses in 2008, while significant to our industry, it was as an insider called it a "pimple on an elephant's ass." See that comment and more from 2017 in the report linked below.
"An Elephant Ass," Understanding GSEs, Duty to Serve, Manufactured Home Lending
Why did lending return to conventional housing but not to manufactured homes? Bear in mind that FHFA data in 2018 reflected that manufactured housing can appreciate. HUD Secretary Carson has pointed to that fact in some of his 2019 talks touting the potential of manufactured homes.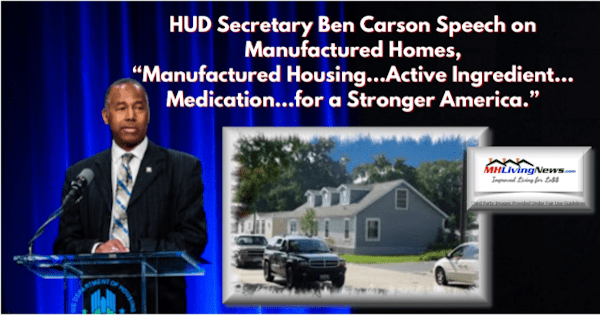 Democratic lawmakers have pressed the Consumer Financial Protection Bureau (CFPB) to investigate Clayton Homes and their affiliated lenders. Several of them are 2020 hopefuls. That report can be accessed via the text-image box below.
Senate Democrats – Including 2020 Presidential Contenders – Ask CFPB Protect Consumers Against Predatory Lenders — Point Finger at Clayton Homes, Berkshire Hathaway Lending
The non-partisan Manufactured Housing Association for Regulatory Reform (MHARR) is asking for Congress to investigate what they have deemed is the failed roll-out of the GSEs of Fannie Mae and Freddie Mac's Duty to Serve or DTS. One example of their concerns is reflected in their report, linked below.
Washington, D.C., June 18, 2019 – The Manufactured Housing Association for Regulatory Reform (MHARR), in a June 13, 2019 communication to Fannie Mae Vice President Jonathan Lawless (copy attached), has reiterated its call for a congressional investigation into the failure of both Fannie Mae and Freddie Mac to implement the statutory Duty to Serve Underserved …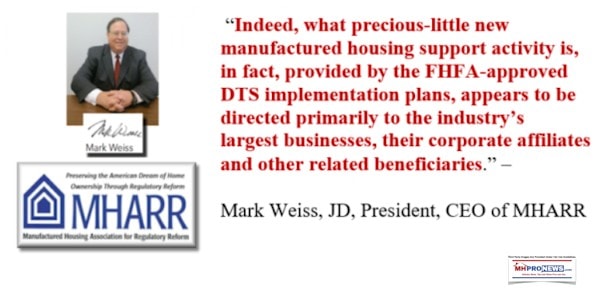 See the related reports below the byline for more. That's this morning's pre-dawn edition of manufactured home "Industry News, Tips, and Views Pros Can Use," © where "We Provide, You Decide." ©. ## (News, fact-checks, analysis, and commentary.)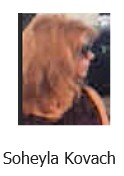 Connect on LinkedIn here. (Related Reports are further below. Third-party images and content are provided under fair use guidelines.)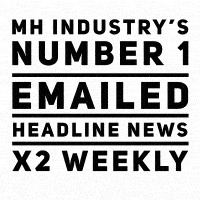 1) Marketing, Web, Video, Consulting, Recruiting and Training Resources
Submitted by Soheyla Kovach to the Daily Business News for MHProNews.com. Soheyla is a managing member of LifeStyle Factory Homes, LLC, the parent company to MHProNews, and MHLivingNews.com.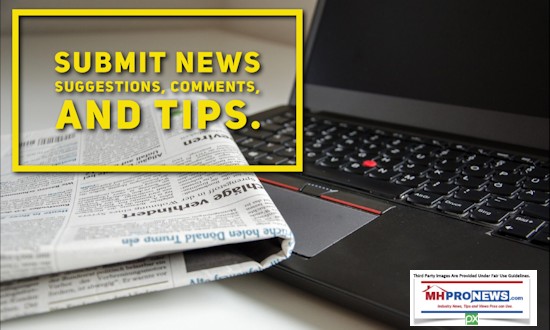 Related Reports

:
You can

click on the image/text boxes

to learn more about that topic.
Nicole Friedman, Ben Eisen, Wall Street Journal – Fannie, Freddie, Manufactured Homes, and MH Financing – Part 1
In a letter dated June 6, 2019 obtained by MHLivingNews, Senator Tina Smith (MN-D) wrote Senators Mike Crapo (ID-R) and Sherrod Brown (OH-D) to urge greater support for lending on affordable housing, particularly naming manufactured homes. Senator Crapo is the chairman and Senator Brown is the ranking member of the Committee on Banking, Housing, and Urban Affairs.
https://manufacturedhousingassociationregulatoryreform.org/time-to-investigate-fannie-and-freddies-mishandling-of-dts/
It's been more than ten years since Congress enacted the Housing and Economic Recovery Act of 2008 (HERA) and its "Duty to Serve Underserved Markets" (DTS) mandate. DTS directs both Fannie Mae and Freddie Mac to "develop loan products and flexible underwriting guidelines to facilitate a secondary market for mortgages on manufactured homes for very low, low and moderate-income families."
hud-secretary-ben-carson-affordable-housing-obscuring-the-truth-innovations-in-housing-and-manufactured-homes
" Let's make sure people understand what's available," said HUD Secretary Ben Carson about affordable housing, as he spotlighted manufactured homes as a key part of the Innovations in Housing display on the National Mall in Washington, D.C. " You can get one of these manufactured houses, for instance, for 30 percent less, and they are very, very resilient.