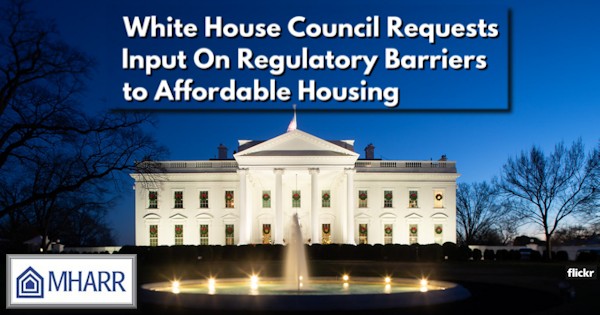 The White House Council on Eliminating Regulatory Barriers to Affordable Housing (Council), in a Request for Information (RFI) published in the November 22, 2019 Federal Register ( (see copy attached) ), has requested information and input from interested parties on "federal, state [and] local laws, regulations, land use requirements and administrative practices that artificially raise the costs of affordable housing development and contribute to shortages in housing supply."
The White House Council, as previously reported by MHARR ( see, MHARR June 26, 2019 memorandum titled, "White House Announces Council on Eliminating Regulatory Barriers to Affordable Housing"), was established by President Trump pursuant to Executive Order 13878 (June 25, 2019) in order to provide recommendations for means and methods to reduce regulatory burdens at both federal Executive Branch agencies and the state and local level which negatively impact the cost and availability of affordable housing and homeownership. This mandate, as described in Executive Order 13878 and the RFI, specifically includes and encompasses not only regulatory burdens imposed by federal agencies, such as HUD (and, potentially, the U.S. Department of Energy – DOE — via "excessive energy … efficiency mandates") but also state and local requirements, including, but not limited to, "overly restrictive zoning and growth management controls."
The opportunity to provide comments and related input for consideration by the White House Council, which is chaired by HUD Secretary Dr. Ben Carson and is comprised of officials and designees representing the White House and Executive Branch agencies including, among others, DOE and the Environmental Protection Agency (EPA), is of vital importance to both the industry and consumers of affordable, mainstream manufactured housing. This is because while the Trump Administration and Secretary Carson have pursued regulatory reform initiatives within the federal government (with MHARR having submitted extensive comments and other input in 2017 and 2018 under Executive Orders 13771 and 13777), those initiatives remain pending and must be completed and fully implemented with respect to HUD Code manufactured housing. Just as importantly, such action within the federal government must be matched with equally targeted, aggressive and effective action to end and reverse decades of discrimination against affordable manufactured housing and manufactured housing consumers at the state and, even more particularly, the local level.
MHARR, accordingly, will submit comprehensive comments on behalf of the industry and, more importantly, smaller independent industry businesses, addressing not only the extremely damaging impacts of ongoing excessive and unnecessarily costly HUD (and potential DOE) regulation, but also the devastating effects of discriminatory and exclusionary zoning edicts against manufactured housing, as well as the indefensible and inexcusable failure of relevant federal entities to support the availability of fully-competitive consumer financing for manufactured home purchases.
As usual, MHARR's comments will be submitted in advance of the filing deadline of January 21, 2020 and will be made publicly available on MHARR's website (www.manufacturedhousingassociation.org) for the use and reference of other interested parties.  In this regard, MHARR urges allinterested parties, including industry members, industry state associations, and consumers of affordable housing (and their representatives) to file comments in connection with this critical White House initiative.