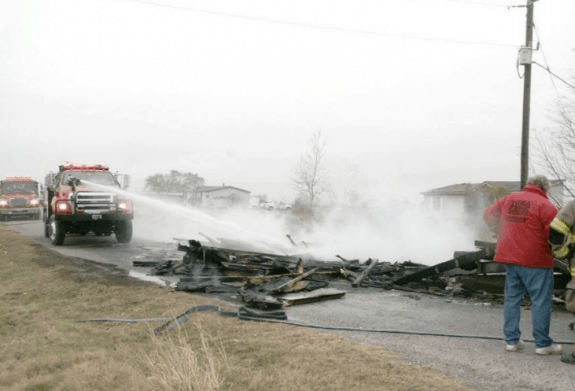 The combination of strong winds, lack of water and a wheel bearing sparked blaze led to the loss of half of a manufactured home in Pilot Point, Texas on December 17th.
Per the Herald Democrat, firefighters from nearby Tioga, Gunter, Collinsville and North Shore helped Pilot Point crews to fight the blaze, which was confined to a roadway and didn't damage the other half of the multi-sectional home.
A driver was delivering the back-door half to be attached to the home's front section when the fire erupted. Due to a lack of available water in the immediate area, tanker trucks are typically called in from surrounding areas any time a fire breaks out in that area.
"This is a pretty tough area for fire this time of year. We don't have a water supply readily in an unincorporated area of the county and it's right next to the Denton County line, so I don't know if there's any hope of getting a water supply here any time soon," said Tioga Fire Chief Paul Rodarmer.
"Over the last several years, we've had quite a few fires. The last one was the morning of Thanksgiving, right down the road."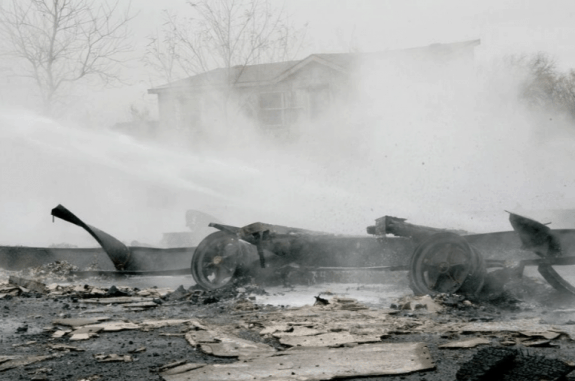 There were no injuries from the fire, as the home was not yet installed, much less occupied.
It was like one of those occasional mobile or manufactured home transport events that cause rubberneckers to slow on interstates, only this incident added the elements of flames and fire trucks.
"The fire was fully involved when we got here," said Rodarmer. "They were getting ready to install it [the back half of the house] with the other half. They feel like the wheel bearing locked up and set the tire on fire, so the driver pulled it [the section of the home] back out here onto the roadway." ##
(Image credits are as shown above.)

Submitted by RC Williams to the Daily Business News for MHProNews.