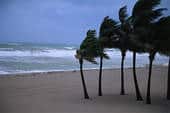 Tropical Storm Isaac entered the Gulf of Mexico early Monday staying on a northwesterly track away from the Florida peninsula, but eerily similar to Katrina's in 2005. According to the National Hurricane Center Isaac is expected to be a hurricane in a day or so before it hits land fall. Despite being much weaker than the devastating storm seven years ago, thousands along the Gulf Coast in states such as Florida, Alabama, Mississippi and Louisiana are following evacuation plans developed in the wake of Katrina, whose seventh anniversary coincides with Isaac's arrival. To minimize your loss as retailers, businesses, communities and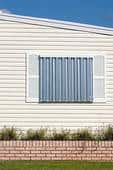 residents of manufactured homes, Kurt D. Kelley, loss mitigation expert, attorney, and President of Mobile Insurance offers ten tips for those in Isaac's path: 1) single section homes not lot set should have the air let out of the tires; 2) homes should be moved closer to wind breaks if possible, but away from large trees; 3) Unsecured property should be moved inside or secured. Dead or untrimmed trees should be trimmed/removed. For the remainder of the tips, please click here.
(Editor's Note: Please pass these links on to colleagues in the impacted area).
(Photo credits: Top–Corbis Photos; bottom–Fotosearch–hurricane protective panels)