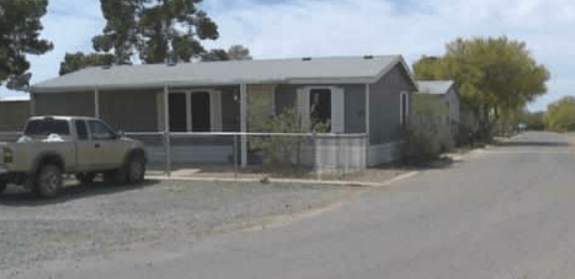 Residents of Desert Cove Mobile Home and R-V Park in Tuscon, Arizona are having to move after being told by manager John Hydrick the community has utility problems that the owner cannot afford to repair, according to what tucsonnewsnow tells MHProNews.
Originally given 30 days to leave because the community is closing, that has been extended to 180 days although there is no natural gas service. Hydrick, saying he will bring in portable showers for the residents, added that the county or the health department may condemn the community because of the utility problems and force the residents to leave earlier.
What many residents did not know but have since learned is there is a state relocation fund that pays expenses to help people in this situation. The funds emanate from the property owners' taxes. "For these tenants it's a scary time when you're told you have to move from where you live. But the fund is there to offer some support financially," said Debra Blake, interim director of the Arizona Department of Fire, Building & Life Safety which administers the relocation fund.
In addition, Blake stated the Manufactured Housing Communities of Arizona, made up of community owners, has met with residents in this situation in the past, giving them options and sometimes offering incentives to move them into other communities.
Many of the residents are relieved there are options as well as state assistance to help them in their plight. Hydrick said he hopes the residents can find new places to live without too much agony. ##
(Photo credit: tucsonnewsnow–Desert Cove Mobile Home Park)

Article submitted by Matthew J. Silver to Daily Business News-MHProNews.