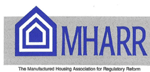 Washington, D.C., September 6, 2013 – The Manufactured Housing Association for Regulatory Reform (MHARR) reports that according to official statistics compiled on behalf of the U.S. Department of Housing and Urban Development (HUD), manufactured housing production increased once again during July 2013. Just-released statistics for July 2013 indicate that HUD Code manufacturers produced 4,793 homes, an increase of 13.5% over the 4,221 HUD Code homes produced during July 2012. Cumulative 2013 industry production now totals 33,926 homes, a 6.2% increase over the 31,936 homes produced over the same period in 2012.
A further analysis of the official industry statistics shows that the top ten shipment states from the beginning of the industry production rebound in August 2011 through July 2013 — with cumulative shipment totals as indicated — are:
1. Texas ——————————– 21,112 homes
2. Louisiana —————————— 8,475 homes
3. Florida ——————————– 5,316 homes
4. North Carolina ———————— 4,786 homes
5. Alabama —————————— 4,775 homes
6. Kentucky —————————– 4,282 homes
7. Mississippi —————————- 4,197 homes
8. Oklahoma —————————–3,488 homes
9. Tennessee —————————–3,393 homes
10. California —————————– 3,329 homes
The latest information for July 2013 moves North Carolina into fourth place on the top ten list, while California replaces North Dakota in tenth place.
Given today's high-quality post-2000 reform law manufactured homes, with proper installation and consumer protection ensured nationwide, for the industry and consumers of affordable housing to maintain and, indeed, significantly expand this trend, the availability of manufactured home consumer financing (public and private, including the securitization of chattel loans), now becomes more important than ever.
The Manufactured Housing Association for Regulatory Reform is a Washington, D.C.-based national trade association representing the views and interests of independent producers of federally-regulated manufactured housing.