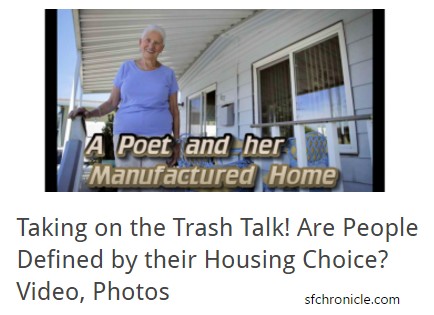 When retiree Lois Requist decided to downsize from her two-story condo to a manufactured home community in the San Francisco metro area, she was met with some resistance by friends and neighbors—some unfortunately threw the awful "T" word – "tr—lr trash" – at her.
Despite the criticism, Requist is happy with the decision she made.  The poet laureate wrote about the experience in a recent letter to the editor of the San Francisco Chronicle.
Meanwhile, half-way across the country, manufactured homeowner Terry Reynolds shared his and his wife's story.  They invested in a triple-sectional with brickwork that costs about half of what his neighbors paid for their $300,000 to $400,000 conventional houses.
The funny thing is, visitors to his residential style manufactured home can't tell the difference.
"Neighbors were impressed," Reynolds said. "They would swear up and down that it was a stick-built home and it's not."
These two home owners share perspectives manufactured housing professionals encounter and should better understand. Lois and Terry's stories – with photos and video – are available at the link here. ##
(Image credit is as shown on the linked page.)

Submitted by Joe Dyton to the Daily Business News, MHProNews.