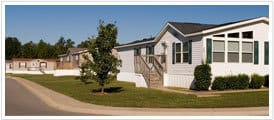 As we reported Oct. 9, 2012, Southfield, Mich.-based Sun Communities, Inc. (SUI) announced it was purchasing four manufactured home communities in eastern Mich., with 1,996 homesites for $70.8 million, and providing mezzanine financing for two other MHCs that it will manage, with 1,598 homesites, all being acquired from entities of Rudgate. MHProNews has just learned from 4-traders the completed transaction totaled $71.1 million because Sun also purchased related manufactured homes, promissory notes, and installment contracts. The $15 million mezzanine financing is subordinated to $45.9 million of third-party senior debt for the two MHCs the company has agreed to manage. Gary A. Shiffman, Chairman and CEO, says, "We expect to stay active in the market as we continue to see attractive opportunities to enhance earnings growth". This real estate investment trust (REIT) now owns and operates 171 communities comprised of 61,300 homesites.
(Image credit: Sun Communities, Inc.)
As of market close Wed., Nov. 21, Sun's stock was down -0.87 to 38.71.