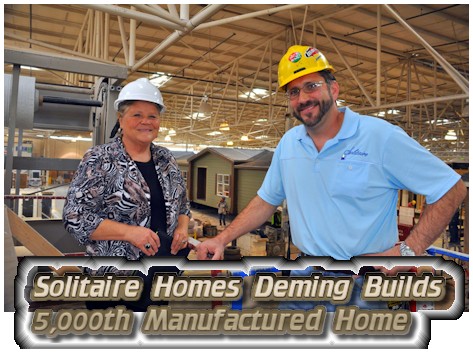 DEMING, NM – Solitaire Homes, a major employer in Deming, has hit a manufactured home production milestone as they continue to build and sell their product throughout the southwest.
The plant recently built their 5,000th home from their production center which opened in 2001. They sell mostly within that market area, but they do ship homes to neighboring markets too.
Solitaire Homes is a vertically integrated HUD Code manufactured home producer, meaning, they build and then retail their own product.  Their core business is in Oklahoma, Texas and New Mexico.
"We've been building for 50 years," Deming Plant General Manager Brett Jenkins told Moya. "We focus on the construction of the house, it's a residential house. We're on the higher end as far as the construction." The plant employs some 180 people.
Solitaire's president, D.J. (Pete) Hogstad, proudly says of their operations that "Our commitment to maintaining our hard earned and well respected position in the marketplace is unwavering."
One of their home owners had their Solitaire hit by the huge tornado a few years ago that leveled hundreds of conventional houses in Moore, OK – and the home survives – as is shown in the dramatic hurricane, tornado and windstorms video, linked here.
The company is active in community events, including the Solitaire Homes Hot Air Balloon Mass Ascension of the Great American Duck Race. ##
(Photo – Deming Luna County Economic Development Executive Director Linda Smrkovsky, Solitaire General Manager Brett Jenkins, credit Deming Radio)

Submitted by L. A. "Tony" Kovach, for the Daily Business News, MHProNews.