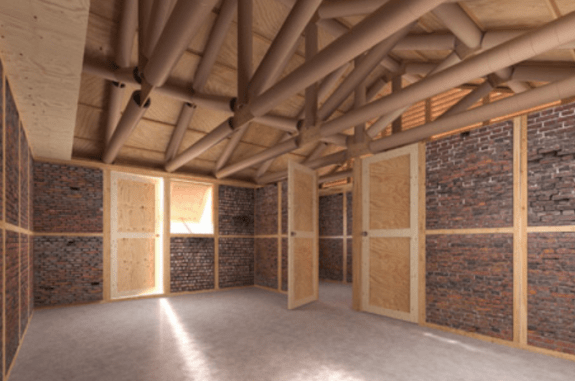 Following the April and May 2015 earthquakes that caused 9,000 deaths and injured 25,000 in Nepal, the worst earthquake to hit the country in more than 80 years, prize-winning Japanese architect Shigeru Ban has developed a modular shelter home for the survivors made in part from the rubble resulting from the quake, according to dezeen.
Wooden frames measuring 82 feet by 35 feet would provide the structure, while the roof would be constructed by a truss system of cardboard tubes, a material that Ban has used often in his projects. The sides would be infilled with the earthquake rubble and plastic sheeting will cover the roof, as MHProNews has learned
"This simple construction method enables anyone to assemble the wooden frames very quickly and if a roof is secured on top, and the wooden structure covered with a plastic sheet, people can immediately begin to inhabit the shelters," said Shigeru Ban Architects. "Afterwards, people can stack the rubble bricks inside the wooden frames and slowly complete the construction themselves."
The studio is also supplying the affected areas with tents for shelters and medical stations until the modular shelters are under way.
Ban was awarded the Pritzger Architecture Prize in 2014, an honor considered equivalent to the Nobel Prize of architecture. He is known as well for designing the headquarters of Swatch and Omega in Switzerland as well as the Aspen Art Museum in Colorado.
According to nytimes.com, the socially conscious Ban says, "Whether you work for a private client or on a house for an earthquake victim, you've always got some problem to solve by design, the only difference being whether you get paid or not." ##
(Photo credit: dezeen/Calzada-Shigeru Ban's modular shelter for Nepal quake survivors)

Article submitted by Matthew J. Silver to Daily Business News-MHProNews.