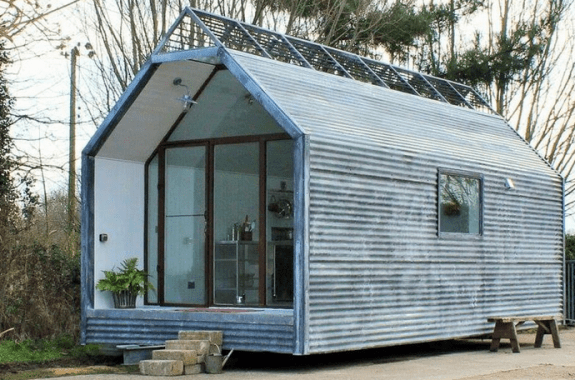 All the rustic charm of the old English Shepherd's Hut is captured in the tiny homes of Contemporary Shepherd Huts but with added modern touches like a skylight that runs the length of the home, kitchen and bathroom. The traditional shepherd huts were made for taking a snooze after a day's labor in the fields.
The modular structures are made to order and can be used as an office, guest house or additional bedroom, according to what gizmag tells MHProNews. Built on a steel chassis with cast iron wheels and a tow bar, the floor of the interior is recycled pine and the outside is corrugated steel clad. Double-glazed windows and thick insulation make it cozy, while shading slats on the skylight prevent the interior from taking in too much heat.
The kitchen has a two burner stove, a fridge, freezer and sink, and the bath comes equipped with a shower toilet and sink. A bedroom and dining area round the space.
"Designing and making small spaces is my passion, I like working within the constraints of limited space," says Contemporary Shepherd Huts boss Thomas Alabaster. "The spaces I design are tailor made for my clients, so that the building reflects its surroundings and the people who use it."
Contemporary Shepherd Huts typically start at £10,000 (US$14,156). ##
(Photo credit: Contemporary Shepherd Huts)

Article submitted by Matthew J. Silver to Daily Business News-MHProNews.