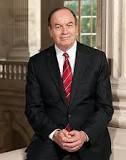 U. S. Senate Banking Committee Chairman Richard Shelby (R-Ala.) has included in The Financial Regulatory Improvement Act provisions to improve access to affordable financing for manufactured home buyers. Identical to S. 682 the Preserving Access to Manufactured Housing introduced in the Senate, as well as HR 650, which was passed by the House, Sen. Shelby's legislation addresses current regulations that make it difficult for lenders to make smaller loans for manufactured homes.
Mirroring the same standard that applies to real estate agents selling site-built homes, the bill clarifies the definition of a mortgage originator, allowing manufactured housing retailers to assist consumers as long as they receive no compensation from the lenders. MHProNews has learned the major consumer protections such as QM Ability to Repay, prohibition against steering, and loan term disclosures remain intact.
Sen. Shelby's regulatory relief legislation will be taken up by the Senate Banking Committee May 21. ##

(Photo credit: wikipediacommons–Sen. Richard Shelby (R-Ala.)

Article submitted by Matthew J. Silver to Daily Business News-MHProNews.