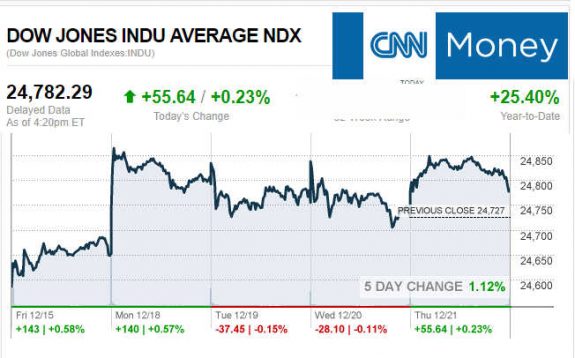 The White House and the GOP are aglow, but oddly so are Democrats.  Can they both be correct in their projections?
After over a year of investigations, by often leak-prone federal officials, months by special counsel Robert Muller, and much of the left-of-center mainstream media scrambling to find evidence of an illegality by the president, a Democratic senator says, no joy yet for their hunt for impeachment.
We have reports from both the left-and-right wing media in Washington, and both upon careful review look to be favorable to the president and the GOP.  Those will be our spotlight report, found deeper below, tonight.
If you're new, already hooked on our new spotlight feature – or are ready to get the MH professional fever – our headline reports are found further below, just beyond the Manufactured Housing Composite Value for today.
The evolving Daily Business News market report sets the manufactured home industry's stocks in the broader context of the overall markets.
Part of this unique feature provides headlines – from both sides of the left-right media divide – that saves readers time, while underscoring topics that may be moving investors, which in turn move the markets.
Readers say this is also a useful quick-review tool that saves researchers time in getting a handle of the manufactured housing industry, through the lens of publicly-traded stocks connected with the manufactured home industry.
MH "Industry News, Tips and Views, Pros Can Use." ©
Selected headlines and bullets from CNN Money:
8.8 million sign up for Obamacare
Your tax questions, answered
Incoming tax law: 34 things you should know Trending
Trade deficit could get worse
Boeing and Embraer are in tie-up talks
Tax bill does the booze industry a solid
Betsy DeVos limits debt relief
Tax break for hedge fund managers survives
Apple: Yes, we're slowing down older iPhones Trending
Toys "R" Us isn't closing stores … yet
Tea maker to become blockchain company. Stock soars
Selected headlines and bullets from Fox Business:
Retail bankruptcies hit 6-year high
Stocks gain as companies pledge bonuses, higher wages after tax cuts
Bull market can keep chugging despite age and doubters
Oil little changed despite planned restart of UK North Sea pipe
GOP tax bill could end Puerto Rico's reign as tax haven
Long Island Iced Tea skyrockets after renaming itself Long Blockchain
Spicer on Tom Hanks' Trump snub: 'The Post' should be used to open dialogue with White House
GOP tax reform: Time to ditch your 401(k) account?
Trump & carried interest: Private equity firms also donated to Clinton, Tony Sayegh says
Tax Calculator: What tax reform means for you
GOP tax bill: AT&T, Boeing among corporations rewarding employees
GOP tax reform and changes to your paycheck
Rhode Island's unemployment rate ticks up to 4.3 percent
ICYMI – for those not familiar with the "Full Measure," 'left-right' media chart, please click here. 
Today's markets and stocks, at the closing bell…
S&P 500 2,684.57 +5.32(+0.20%)
Dow 30 24,782.29 +55.64(+0.23%)
Nasdaq 6,965.36 +4.40(+0.06%)
Russell 2000 1,547.11 +7.03(+0.46%)
Crude Oil 58.22 +0.13(+0.22%)
Gold 1,270.80 +1.20(+0.09%)
Silver 16.20 -0.07(-0.46%)
EUR/USD 1.1876 +0.0003(+0.02%)
10-Yr Bond 2.48 -0.02(-0.64%)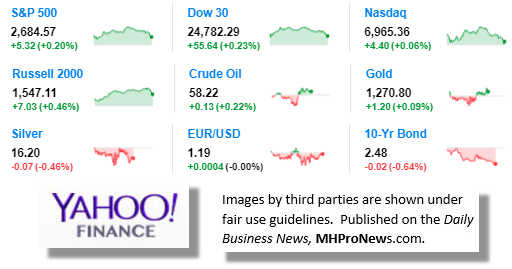 Manufactured Housing Composite Value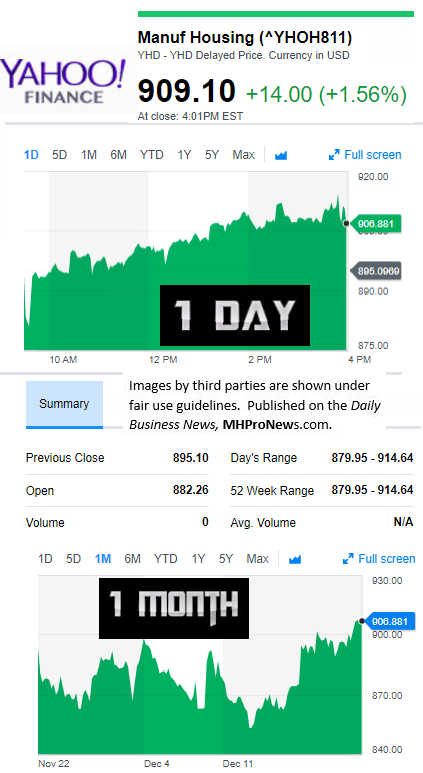 Today's Big Movers
For all the scores and highlights on tracked manufactured home connected stocks today, see the Bloomberg graphic, posted below.
Today's MH Market Spotlight Report –
Who's correct on the controversial tax bill that just passed yesterday? Democrats and their media backers, or the GOP and their media supporters?
We'll explore that today.
The President and the GOP are celebrating, but pushing ahead on the looming budget deal needed for tomorrow. Meanwhile, Democrats and left-leaning media – after weeks of counter-claims – suddenly admit that the tax deal will yield the promised benefits to "8 out of 10" middle class households.
And a Democratic senator says on left-of-center MSNBC that it is "premature" to talk about "impeachment," which means that after over a year of (witch?) hunting, there is still no smoking gun evidence of any wrongdoing by the 45th president.
Right-of-center HotAir spotlighted for the Daily Business News an interesting analysis on the left-of-center Washington Post (WaPo).
All this hold true to the months of prior reports and analysis you've found only on MHProNews in the manufactured housing industry's media.
Translation, we do our research, so it pays for you and others to be a reader here. Because we strive to make clear the facts and the truth about what often complex and competing claims from across the political and economic spectrum.  That research means that Daily Business News industry professionals and investors discover useful "Industry News, Tips, and Views Pros Can Use" ©…daily!
"Democrats, routed but unified against the tax bill, plan to make it the centerpiece of a midterm campaign — one that may play out in a growing economy where the worst predictions about the tax cuts fall flat. Republicans, who once hoped that Democrats would feel pressured to back the bill, now suggest that voters will learn that the Democrats misled them.
"If we can't sell this to the American people, we ought to go into another line of work," Senate Majority Leader Mitch McConnell (R-Ky.) said after the bill's passage," WaPo's report and analysis said.
"In a separate Power Post entry, Hohmann cautions that "The tax bill is likely to become more popular after passage." He begins by running down a list of the most recent and decidedly dismal polling. One NBC – Wall Street Journal poll found that only 24% of respondents think the plan is a good idea and a plurality (37%) believe that the middle class will pay more. CNN's survey finds an identical 37% think their families will be worse off because of the tax cuts. (!?)" said HotAir, about the WaPo column.
WaPo then said, "But here's the truth: 8 in 10 Americans will pay lower taxes next year, according to the nonpartisan Tax Policy Center's analysis of the final bill. Only 5 percent of people will pay more next year. Mostly, those are folks who earn six figures and own expensive houses in places with high local taxes, such as New York and California…
I interviewed a dozen GOP operatives yesterday about how they plan to deal with this issue in 2018. They said the numbers right now are so bad that they can only get better. They freely acknowledged the head winds, but they see an opening to sell the cuts and insist that perceptions are still not fully baked. They've conducted focus groups and commissioned polls to figure out the talking points that are most likely to move the needle, and they're planning multimillion-dollar advertising campaigns to drive those messages…
Republicans have a lot of upside potential with their own base. The NBC-WSJ poll finds that only 53 percent of Republicans and 57 percent of Trump general election voters currently back the tax bill. Even worse, just 28 percent of rural Americans and 29 percent of whites without a college degree think it is a good idea right now. Trump's overall popularity may be at a record low in the survey, but these are constituencies he can persuade."
HotAir's pundit concludes in his review of the WaPo admissions,  "How, in any sane reading of the tea leaves, do you expect to spend the entire year running against a set of tax cuts which are going to result in more than three-quarters of the country taking home more money every payday? By arguing that it's going to blow another hole in the deficit? Don't make me laugh. That upsets a tiny fraction of voters (like yours truly) but we've been trying to sell that message for the past ten years. People don't care."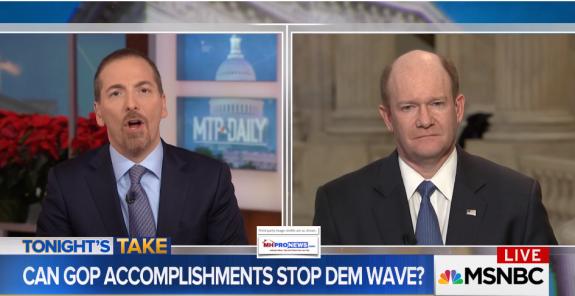 Meanwhile, at the right-of-center Washington Examiner…
They cited the White House in compiling this list of 12 categories and 81 success items for the president so far in 2017.
Below are the 12 categories and 81 wins cited by the White House.
Jobs and the economy
Passage of the tax reform bill providing $5.5 billion in cuts and repealing the Obamacare mandate.

Increase of the GDP above 3 percent.

Creation of 1.7 million new jobs, cutting unemployment to 4.1 percent.

Saw the Dow Jones reach record highs.

A rebound in economic confidence to a 17-year high.

A new executive order to boost apprenticeships.

A move to boost computer sciences in Education Department programs.

Prioritizing women-owned businesses for some $500 million in SBA loans.
Killing job-stifling regulations
Signed an Executive Order demanding that two regulations be killed for every new one creates. He beat that big and cut 16 rules and regulations for every one created, saving $8.1 billion.

Signed 15 congressional regulatory cuts.

Withdrew from the Obama-era Paris Climate Agreement, ending the threat of environmental regulations.

Signed an Executive Order cutting the time for infrastructure permit approvals.

Eliminated an Obama rule on streams that Trump felt unfairly targeted the coal industry.
Fair trade
Made good on his campaign promise to withdraw from the Trans-Pacific Partnership.

Opened up the North American Free Trade Agreement for talks to better the deal for the U.S.

Worked to bring companies back to the U.S., and companies like Toyota, Mazda, Broadcom Limited, and Foxconn announced plans to open U.S. plants.

Worked to promote the sale of U.S products abroad.

Made enforcement of U.S. trade laws, especially those that involve national security, a priority.

Ended Obama's deal with Cuba.
Boosting U.S. energy dominance
The Department of Interior, which has led the way in cutting regulations, opened plans to lease 77 million acres in the Gulf of Mexico for oil and gas drilling.

Trump traveled the world to promote the sale and use of U.S. energy.

Expanded energy infrastructure projects like the Keystone XL Pipeline snubbed by Obama.

Ordered the Environmental Protection Agency to kill Obama's Clean Power Plan.

EPA is reconsidering Obama rules on methane emissions.
Protecting the U.S. homeland
Laid out new principles for reforming immigration and put hardliners in charge of his program.

Made progress to build the border wall with Mexico.

Ended the Obama-era "catch and release" of illegal immigrants.

Boosted the arrests of illegals inside the U.S.

Doubled the number of counties participating with Immigration and Customs Enforcement charged with deporting illegals.

Removed 36 percent more criminal gang members than in fiscal 2016.

Started the end of the Deferred Action for Childhood Arrival program.

Ditto for other amnesty programs like Deferred Action for Parents of Americans.

Cracking down on some 300 sanctuary cities that defy ICE but still get federal dollars.

Added some 100 new immigration judges.
Protecting communities
Justice announced grants of $98 million to fund 802 new cops.

Justice worked with Central American nations to arrest and charge 4,000 MS-13 members.

Homeland rounded up nearly 800 MS-13 members, an 83 percent one-year increase.

Signed three executive orders aimed at cracking down on international criminal organizations.

Attorney General Jeff Sessions created new National Public Safety Partnership, a cooperative initiative with cities to reduce violent crimes.
Accountability
Trump has nominated 73 federal judges and won his nomination of Neil Gorsuch to the Supreme Court.

Ordered ethical standards including a lobbying ban.

Called for a comprehensive plan to reorganize the executive branch.

Ordered an overhaul to modernize the digital government.

Called for a full audit of the Pentagon and its spending.
Combatting opioids
First, the president declared a Nationwide Public Health Emergency on opioids.

His Council of Economic Advisors played a role in determining that overdoses are underreported by as much as 24 percent.

The Department of Health and Human Services laid out a new five-point strategy to fight the crisis.

Justice announced it was scheduling fentanyl substances as a drug class under the Controlled Substances Act.

Justice started a fraud crackdown, arresting more than 400.

The administration added $500 million to fight the crisis.

On National Drug Take Back Day, the Drug Enforcement Agency collected 456 tons.
Protecting life
In his first week, Trump reinstated and expanded the Mexico City Policy that blocks some $9 billion in foreign aid being used for abortions.

Worked with Congress on a bill overturning an Obama regulation that blocked states from defunding abortion providers.

Published guidance to block Obamacare money from supporting abortion.
Helping veterans
Signed the Veterans Accountability and Whistleblower Protection Act to allow senior officials in the Department of Veterans Affairs to fire failing employees and establish safeguards to protect whistleblowers.

Signed the Veterans Appeals Improvement and Modernization Act.

Signed the Harry W. Colmery Veterans Educational Assistance Act, to provide support.

Signed the VA Choice and Quality Employment Act of 2017 to authorize $2.1 billion in additional funds for the Veterans Choice Program.

Created a VA hotline.

Had the VA launch an online "Access and Quality Tool," providing veterans with a way to access wait time and quality of care data.

With VA Secretary Dr. David Shulkin, announced three initiatives to expand access to healthcare for veterans using telehealth technology.
Promoting peace through strength
Directed the rebuilding of the military and ordered a new national strategy and nuclear posture review.

Worked to increase defense spending.

Empowered military leaders to "seize the initiative and win," reducing the need for a White House sign off on every mission.

Directed the revival of the National Space Council to develop space war strategies.

Elevated U.S. Cyber Command into a major warfighting command.

Withdrew from the U.N. Global Compact on Migration, which Trump saw as a threat to borders.

Imposed a travel ban on nations that lack border and anti-terrorism security.

Saw ISIS lose virtually all of its territory.

Pushed for strong action against global outlaw North Korea and its development of nuclear weapons.

Announced a new Afghanistan strategy that strengthens support for U.S. forces at war with terrorism.

NATO increased support for the war in Afghanistan.

Approved a new Iran strategy plan focused on neutralizing the country's influence in the region.

Ordered missile strikes against a Syrian airbase used in a chemical weapons attack.

Prevented subsequent chemical attacks by announcing a plan to detect them better and warned of future strikes if they were used.

Ordered new sanctions on the dictatorship in Venezuela.
Restoring confidence in and respect for America
Trump won the release of Americans held abroad, often using his personal relationships with world leaders.

Made good on a campaign promise to recognize Jerusalem as the capital of Israel.

Conducted a historic 12-day trip through Asia, winning new cooperative deals. On the trip, he attended three regional summits to promote American interests.

He traveled to the Middle East and Europe to build new relationships with leaders.

Traveled to Poland for the annual. G-20 meeting where he pushed again for funding of women entrepreneurs.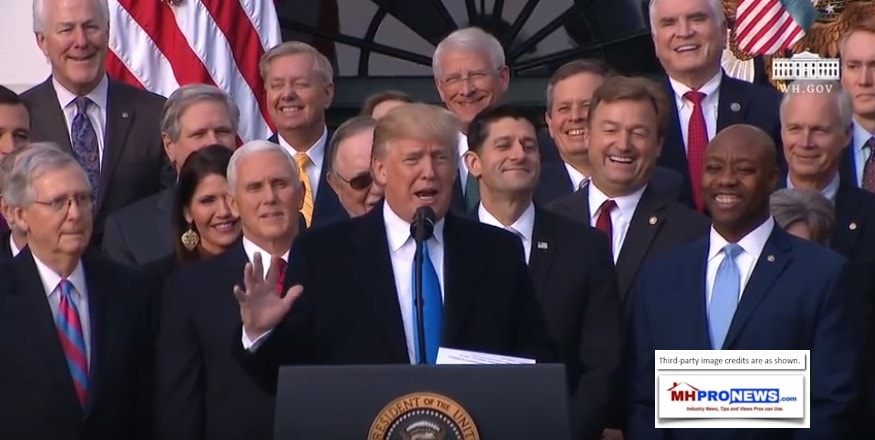 See Recent Exclusive 1 Year Snapshot of All Tracked Stocks
Profitable Insight$ – POTU$ Trump Effect on MH Stock$ at 1 Year, Part 4
Suppliers LPX, Patrick, Manufactured Home Builders Nobility, Skyline Homes – the Trump Effect on MH Stocks, Markets Part 3
Trump Effect – 1 Year Election Impact on Manufactured Housing Connected Stocks, Part 2
Just the Facts – Trump Effect on Manufactured Home Connected Stocks, Part 1
NOTE: the chart below covers a number of stocks NOT reflected in the Yahoo MHCV, shown above.
NOTE: Drew changed its name and trading symbol at the end of 2016 to Lippert (LCII).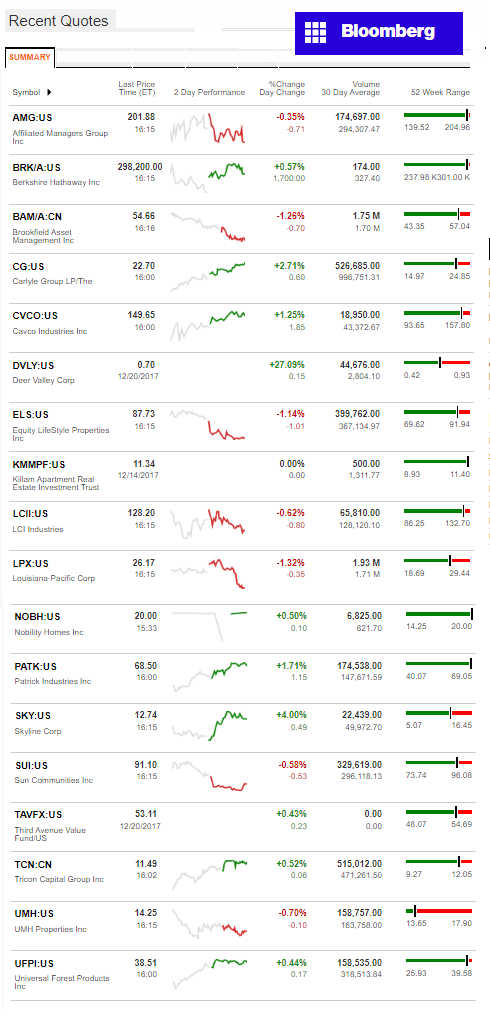 Berkshire Hathaway is the parent company to Clayton Homes, 21st Mortgage, Vanderbilt Mortgage and other factory built housing industry suppliers.
LCI Industries, Patrick, UFPI and LP all supply manufactured housing.
AMG, CG and TAVFX have investments in manufactured housing related businesses.
Your link to a recent round of industry praise for our coverage, is found here.
For the examples of our kudos linked above…plus well over 1,000 positive, public comments, we say – "Thank You for your vote of confidence."
"We Provide, You Decide." © ## (News, Analysis.)
(Image credits are as shown above, and when provided by third parties, are shared under fair use guidelines.)

Submitted by Soheyla Kovach to the Daily Business News for MHProNews.com.