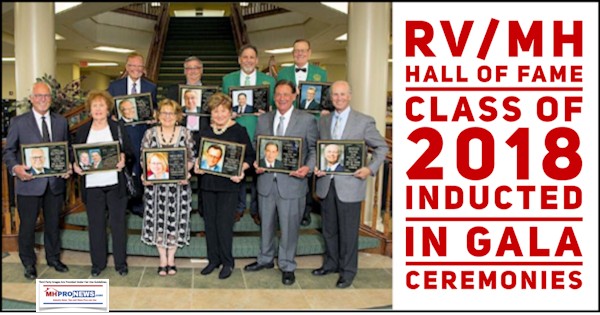 The Class of 2018 includes: (Back row left to right) Bill Wilson, Cherry Hill Mobile Home Park and Indian Hill Estates; Roger Faulkner, General Coach Canada; Mike Cirillo, Star Management; John Evans, CMHI. (Front row left to right) Derald Bontrager, Jayco, Inc.; Joan Cohron, accepting for Darrel/Harrel Cohron, Dealer and Community Owner; Becky Lenington, PA RV and Camping Association; Carol Mix, accepting for Gub Mix, Association Executive; Dan Pearson, Pleasureland RV; Gregg Fore, Dicor Corporation
ELKHART, Ind., — "Over 400 industry leaders, friends, colleagues and guests gathered at RV/MH Hall of Fame  last night (August 6,  2018)  to help celebrate the induction of the Class of 2018 into the RV/MH Hall of Fame (Hall)," said the hall in a statement to the Daily Business News on MHProNews.
"The RV industry inductees include Derald Bontrager, Jayco Corporation; Roger Faulkner, General Coach Canada; Gregg Fore, Dicor Corporation; Rebecca (Becky) Lenington, Pennsylvania RV and Camping Association; Daniel R Pearson; Pleasureland RV," per Ryan Szklareks.
"On the manufactured housing side, the inductees include Michael A. Cirillo, Star Management: Darrel Cohron and Harrel Cohron (deceased), Cohron's Manufactured Homes; John Evans, California Manufactured Housing Institute (CMHI); Gub Mix, Idaho, Utah, Nevada and Arizona State MH Associations; Bill Wilson, Cherry Hill Homes, Inc.," said Szklareks.
Before the induction ceremonies, Hall President Darryl Searer, said in his "Annual State of the Hall" address, "Besides this being our 46th year in existence, this is our eleventh year at this beautiful location and my seventh State of the Hall address.  I'm excited as we continue to make great progress in all areas of the operation. Income is up and expenses are down. Our debt continues to be paid down at an aggressive pace, and we are financially stable and operating in the black. But we still have a very small amount of debt."
"I can now announce with certainty that on or before December 31st of this year we will be debt free!  We would never have been able to achieve this goal without all companies and individuals that have made this goal possible by their generous donations.  I especially thank those who have contributed to the Kevin Clayton Debt Reduction program which started less than four years ago is now at 98 percent of its $1 million goal. Thank you all."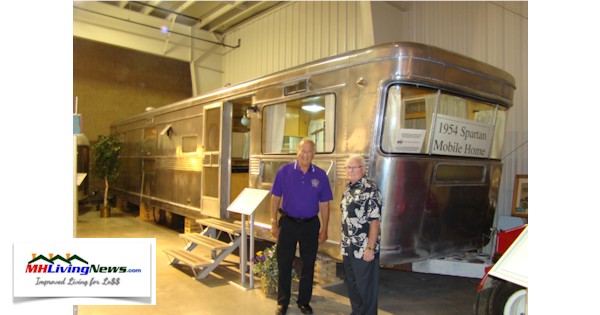 For more about the RV MH Hall of Fame, see the article linked above, or one of the related reports, at the end of this post.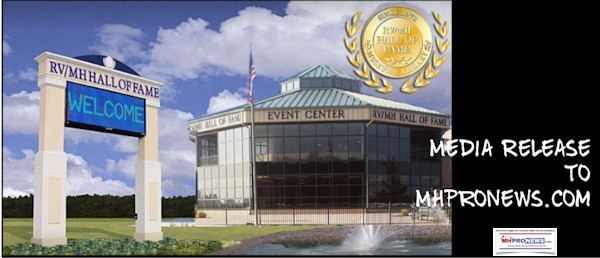 Extended Quotes from RV MH Hall of Fame
Spirit Award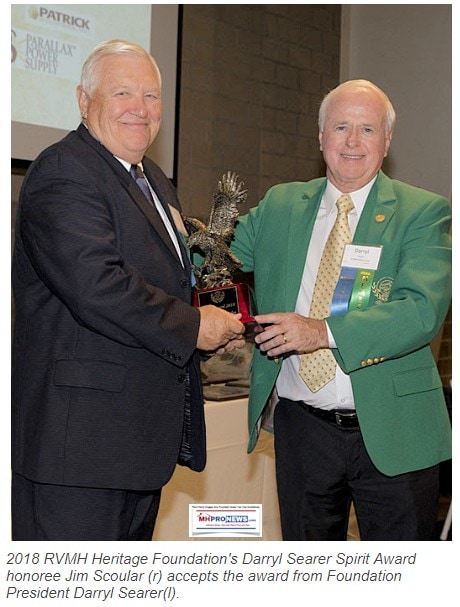 2018 RVMH Heritage Foundation's Darryl Searer Spirit Award honoree Jim Scoular (r) accepts the award from Foundation President Darryl Searer(l).
Searer also presented the 2018 RV/MH Heritage Foundation's "Darryl Searer Spirit Award" to Jim Scoular.  The Spirit Award is an annual award to honor the person who has demonstrated his or her desire and dedication to further the legacy of our great heritage.
In making the presentation Searer said, "Jim Scoular is no stranger to the Hall of Fame. He is the second generation to be involved on the board of directors and has been instrumental in making sure the Hall of Fame remains the shining star of both the RV & MH Industries for many years to come."
Searer pointed out that when it looked like the Hall of Fame could become a thing of the past. He said, "Jim rejoined the board of directors and did something about it. Today our financial worries are behind us thanks to this man's concern and love for the Hall.
"He also has been the driving force behind the temporary Scoular MH Museum now available for all to enjoy."
Extended Bios
Derald Bontrager
Jayco, Inc.
Indiana
RV
Derald Bontrager has dedicated his career to the advancement and betterment of the RV industry and has done so by leading with integrity, passion, and a desirable work ethic. He is one that many respect and admire as a mentor for his strength and determination to always do what is right, not just profitable. Not only has he led Jayco through several economic down turns to come out stronger on the other side, but has been actively involved in RVIA for many years, serving as members of various committees, the Executive Board, and Chairman of the Board.
Michael A. Cirillo
Star Management
California
Manufactured Housing
Mike Cirillo has been an institution in the MHRV world in California and Nevada for years, and now after 35 years he is dedicating a huge amount of time to educate a new generation of MHRV leaders with Pacific Current Partners. Whether with park residents, vendors, or clients, Mike consistently shows incredible patience and professionalism, striving always to make the right decision and treating his stakeholders with the utmost respect. With his hands-on approach, Mike leads by example every step of the way.
Darrel/Harrel Cohron
Dealer and Community Owner
Indiana
Manufactured Housing
Darrel and Harrel operate a manufactured housing dealership and have developed six different communities outside of Indianapolis. These communities represent 1800 sites. They were in at the start of the mobile home community business and worked hard to maintain a good image. Their communities represent a lifestyle that is attractive, clean, and safe for their residents. The Cohron's dealership and communities are ranked highly as a family owned Manufactured Housing business in America.
John Evans
CMHI
California
Manufactured Housing
John Evans definitely has earned the reputation for his values, morals, and hard work for the Manufactured Housing Industry. John began his career with Phillips Industry. After a stint with Elixir Industries, he returned to Phillips where he stayed until he joined the Kinro family in its west coast expansion. John was instrumental in helping the company's growth in the manufactured housing industry in California and Idaho. His hard work, perseverance, and many contributions have been recognized several times with industry awards from various associations.
Roger Faulkner
General Coach Canada
Ontario
RV
Roger Faulkner has been one of, if not, the most recognized individual contributor and influence of the Canadian RV Industry for over 25 years. Like in the United States, the great recession almost completely decimated RV Manufacturing in Canada, but Roger's vision, persistence and commitment towards maintaining the Canadian Recreational Vehicle Association ensured that the CRVA remained a vital component of the North American RV Industry. CRVA would not be in the same regard as it is today without Roger's dedication and tireless efforts in the RV Industry in Canada.
Gregg Fore
Dicor Corporation
Indiana
RV
Gregg's leadership as president of Dicor led to many new innovative products for the RV OEM and aftermakerts. He has distinguished himself during his 42-year RV Industry career as a highly successful businessman, community leader, National Industry Association volunteer executive, and RV Industry promoter. His During Gregg's term as RVIA Chairman he led the Association to be more inclusive of all interests in the industry resulting in much improved communication, cooperation and team effort leading to a much stronger RV Industry. Gregg has led with grace, humility and respect.
Rebecca Lenington
PA RV and Camping Association
Pennsylvania
RV
Rebecca Lenington is synonymous to RVing in Pennsylvania. She has truly dedicate her life to making sure Pennsylvania has one of the strongest RV and camping industries in the country. Whether it involves the RV show, education or legislative work, Rebecca made it her life's mission to see that the industry she cares so much about is a success. With Rebecca's leadership, PRVCA has been able to gather members from all segments of the industry to share a common table, put personal agendas aside, and work for the good of the industry.
Gub Mix
Association Executive
Utah
Manufactured Housing
There are state executives and then there is Gub Mix. He was the rare industry veteran that went on to become a state executive. In fact, at one time he simultaneously lead four state associations – Idaho, Utah, Nevada and Arizona. Gub was a voice of reason and a constant industry promoter. Northwest Pride was followed by the creation of the National Congress in Las Vegas. He correctly saw that there was no national convention for manufactured housing and Las Vegas was the perfect venue. The National Congress grew quickly and became the place to be each Spring.
Daniel R Pearson
Pleasureland RV
Minnesota
RV
Dan Pearson started his RV industry career at Pleasureland RV as a lot/parts runner in 1975, also did various jobs in the parts and detail area. He transferred into sales and eventually became Sales Manager. In 1982 he became president and has served in that role ever since. He has taken the dealership with one location to multiple locations. Time and again, he has proven to be a strong and loyal RV industry advocate. His years of service to RVDA and his skills in industry relations have always been impressive.
Bill Wilson
Cherry Hill Mobile Home Park and Indian Hill Estates
Kentucky
Manufactured Housing
Through the years, Bill Wilson unselfishly volunteered countless hours of personal time to represent KMHI and MHI, as well as the industry, on important issues and legislation that shaped the present and future of the industry. His expertise and very personal experiences in the retail business and industry was a great asset for his business, as well as the association and the industry. Bill has a passion to make this industry as great as it can. ## (News, analysis and commentary.)
(Third party images, content are provided under fair use guidelines.)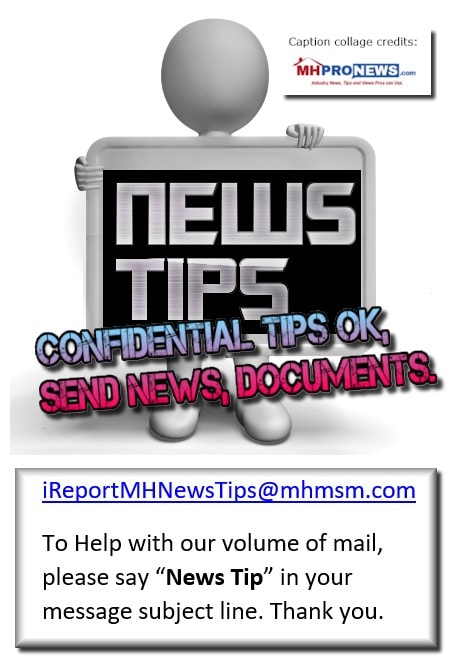 1) To sign up in seconds for our MH Industry leading emailed news updates, click here.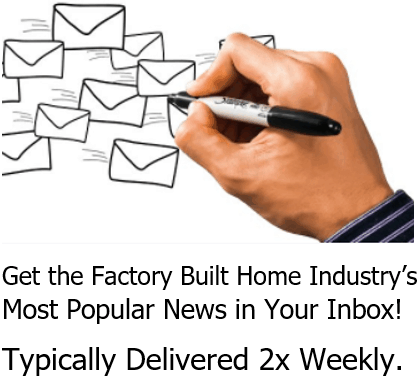 2) To provide a News Tips and/or Commentary, click the link to the left. Please note if comments are on-or-off the record, thank you.
3) Marketing, Web, Video, Consulting, Recruiting and Training Resources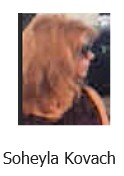 Submitted by Soheyla Kovach to the Daily Business News for MHProNews.com. Soheyla is a managing member of LifeStyle Factory Homes, LLC, the parent company to MHProNews, and MHLivingNews.com.
Related Reports:
The Class of 2016 includes: James (Jim) Miller, Nationwide Custom Homes; Joseph H. Stegmayer, Cavco Industries, Inc.; Ernie Friesen, All Seasons RV/Redding RV; Gary Bunzer, Bunzer Consulting, Inc. (second row l-r)Thomas R. "Tim" McGuire, The Coast Distribution System, Inc.; Ellen Kietzmann and Michael Hesse, Jay Hesse's son, accepting for Jay Hesse (deceased) (front row l-r)William (Bill) Overhulser, Del Rey Industries; Robert (Bob) Edward Richardson, Richardson Homes Corp.