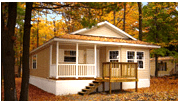 As incomes stagnate, leading to higher demand for low-cost housing, manufactured home communities (MHC) are becoming a larger draw, and MHC owners are raising rents. In addition, few new MHCs are being built, so the larger companies such as Equity LifeStyle Properties, Sun Communities and UMH Properties, Inc., all three public real estate investment trusts (REITs), are buying out the smaller players, reducing competition, as wsj tells MHPronews.
"I've been at this for about 10 years and I would say the demand right now for manufactured housing communities is at an all-time high," said Jonathon McClellan of the national manufactured home communities group at Marcus & Millichap. M&M is a large real estate investment firm that brokers many MHC deals.
For the twelve month period that ended in March, the three REITs earned a return of 44 percent, the top performer in all the REIT categories, according to the National Association of Real Estate Investment Trusts (NAREIT).
As MHProNews understands, the cost of owning a manufactured home is most often less than renting an apartment, depending upon the market. Apartment rents have increased almost 15 percent over the past five years, and now average $1,131 a month, according to real estate research firm REIS Inc. It should be pointed out that rents in MHCs are rising less quickly than apartment rentals.
The National Association of Realtors (NAR) reports the median price for a single-family home in the U. S. was $202,600 in Feb., while average price for an MH was $64,200 in Nov. 2014. An average manufactured home purchased with a mortgage runs about $800 a month, half for the mortgage, the other half for rent in an MHC.

UMH Properties, Inc. Chairman of the Board Eugene W. Landy states his company is doing well because it is renting MH to families who cannot afford to purchase a home due to tight credit. "For many years, what we tried to do was build established communities with good service to the tenants and tenants all own their own homes," he said. But now, "we're like an apartment company." It is also easier and less risky to rent units.

Last year UMH spent $42.6 million acquiring 14 MHCs with 1,600 homesites, and now owns 89 communities with 15,200 homesites. Occupancy for same site UMH homes increased from 81.5 percent in Q4 2013 to 83.2 percent for Q4 2014.
But if business is booming for manufactured home communities, who are so many operators, especially small ones, leaving the business? The answer in part is regulations. When federal regulations make it so hard for an independent operator to keep up with the requirements needed to sell homes and keep their spaces full, then only the larger operators can absorb that regulatory burden. The same trend is pushing smaller community banks out of business, namely, the high cost of regulatory compliance.
##
(Photo credit: UMH Properties, Inc.-manufactured home)

  Article submitted by Matthew J. Silver to Daily Business News-MHProNews.