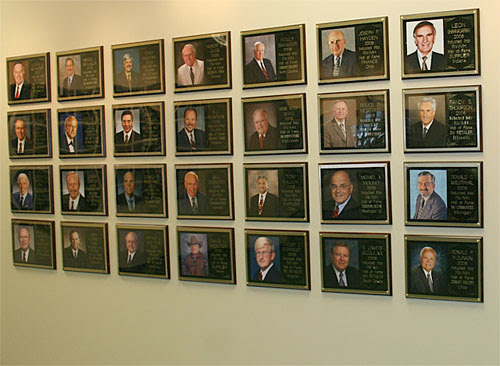 Reservations for the RV/MH Hall of Fame Induction Dinner honoring the Class of 2015 are already ahead of last year's, according to Committee Chairman Mark Wasson (Bluelinx Corp.), with over 153 registrations in the hopper for the Aug. 3, 2015 event.
Darryl Searer, president of the RV/MH Hall of Fame said 11 sponsors have signed on for the dinner and the golf classic, but that seating for the dinner is on a first-come, first-served basis at the Hall's Event Center in Elkhart, Indiana.
Those being honored in the Class of 2015 include: Bert V. Alanko, MBA Insurance; Patrica A. Fiederer, Latham Oneota Homes; Sherman Goldenberg, RV Business Magazine; Paul E. Hanser, HWH Corporation; Jerry W. James, Franklin Homes, Inc.; Joe Kelly, Iowa Mfg Housing Association; Richard A. Mendlen, Manufactured Housing: Marlene A. Sine, Marlene Sine & Associates, Inc.; Bill Thomas, and Bill Thomas Camper Sales; Robert West, Affordable Community Living.
Festivities begin with the RV/MH Golf Classic in the morning at The Bent Oak Golf Club in Elkhart. The evening's events begin with a cocktail reception at the Hall at 5:30 PM followed by the dinner. Searer tells MHProNews the Hall continues to seek sponsors for the various events to help offset the costs. ##
(Photo credit: RV/MH Hall of Fame, Elkhart, Indiana)

Article submitted by Matthew J. Silver to Daily Business News-MHProNews.