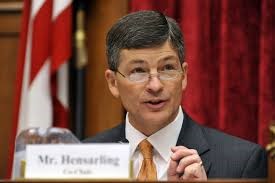 Housing Wire tells MHProNews that on Tuesday, March 3, Consumer Financial Protection Bureau Director Richard Cordray appeared before the House Financial Services Committee. At this time, Committee Chairman Jeb Hensarling (R-TX) continued his ongoing criticism of the CFPB as unaccountable.
"The CFPB undoubtedly remains the single most powerful and least accountable federal agency in all of Washington," Hensarling said. "When it comes to credit cards, auto loans and mortgages of hardworking taxpayers, the CFPB has unbridled power not only to make those less available and more expensive, but to absolutely take them away."
Hensarling continued by saying that he thinks that Americans are losing both their financial independence and the protection of the rule of law.  He said the Bureau is fundamentally unaccountable to the President, to Congress, and to the courts. Thus, the Bureau regrettably remains unaccountable to the American people. "That is why we need the CFPB on budget and led by a bipartisan commission," he said.
Democrats who worry that the CFPB is being unfairly attacked aren't seeing the big picture, Hensarling said.  "I was struck by a comment made by one of my Democratic colleagues who argued during the Committee's markup of our budget views and estimates that the Bureau must be protected from 'the whim of those are the legislators.'  I remind all of my colleagues that the legislators are chosen by the American people under the provisions of our Constitution," he said.
He said CFPB actions are hurting the financial industry, not protecting consumers. "Free checking has been cut in half. QM increasingly stands for 'Quitting Mortgages' as community bank after community bank finds they can no longer offer mortgages to many of their deserving customers," Hensarling explained.
Ranking member Maxine Waters, (D-CA), meanwhile, praised the CFPB's track record, saying it has delivered $5.3 billion in relief to 15 million American consumers and service members since its inception in 2011.
Waters highlighted the many ways she says Republicans have worked to harm the consumer agency, citing efforts to advance legislation that would undermine the agency's ability to shield consumers from duplicitous financial practices, end its autonomy, dismantle its leadership and bog down operations with countless requests for documents. ##
(Photo Credit: Bloomberg)
Article submitted by Sandra Lane to – Daily Business News – MHProNews.