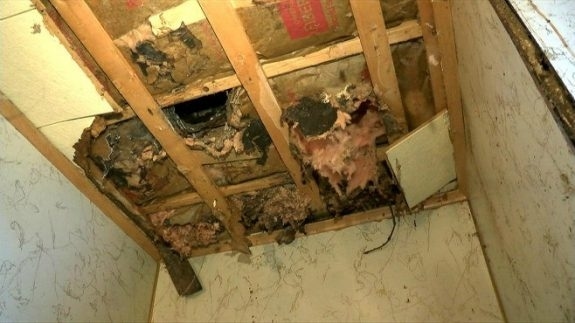 WYTV in Youngstown, Ohio, recently responded to a request to investigate the shoddy repairs done on  the roof of 88-year-old George Hazlett's manufactured home.  The work was done with state grant money for emergency home repairs for the elderly through the Area Agency on Aging. On Monday, WYTV 33 News learned its investigation last week is bringing about change to the program and putting in new protocols after it was discovered that the work performed by the contractor was not up to quality standards.
Hazlett helped defeat the Germans during World War II, but his mobile home with an addition he has lived in for the past 47 years  has become a new battle for the octogenarian.  The leaking roof is a continuing problem. "A lot of times I get a full bucket of water," he said.
Advertise with MHProNews to be seen
A contractor was hired by the Agency on Aging to repair part of the roof last year through a $7,500 state grant. But it is already leaking again. Paneling that was installed on the ceiling is falling down and there are also huge holes where Hazlett can see to the outside.
"Hazlett has huge gas bills because he is heating the outdoors," friend Donna Damis said.
Lisa Solley, chief of community resources for the Area Agency on Aging said, "It is very important for us to be transparent. We have always urged that with all of our providers. We do a lot of programming that uses taxpayer money, and we know we have to be an example in the community."
WYTV tells MHProNews that Solley also pointed out that with the emergency home repair money, they were able to help 40 senior citizens this past year with repairs such as replacing water heaters and furnaces and other problems in the home. This is one case that did not turn out as expected, and they hope that with those new protocols put in place, it will never happen again.
"I am glad the contractor stepped up to the plate and returned to correctly repair the roof. Up until the time you did that story, they wouldn't," Hazlett's friend, Donna Damis, said.  Part of the station's public records request to the Area Agency on Aging was to see pictures of the completed repair job on Hazlett's manufactured home that was approved by a case worker last year.
Solley stated that what the contractor said he did in his invoice did not appear to match what they saw in the pictures. "It appears the work that was done was not up to the quality standards we expect from our providers," she explained.
Because of this case, Solley said the case worker who signed off on the work is no longer in that position. In addition, because of WYTV's investigation, she said the Agency on Aging is changing the way they do business when using the Emergency Home Repair Grant
"We are implementing some new safeguards concerning the actual inspection of work so that the work is better inspected. If there is any question, then we would want to bring in another expert to look at it," she explained.
In addition to repairing the roof on Hazlett's home, she said her agency also plans to try and address several other problems in his home such as needed floor repairs. Hazlett said he is thankful to Damis and everyone else for their help because he would like to stay in his home.
"By golly, if I can make any changes for the good, I am very happy. I thank you guys from the bottom of my heart. It is really wonderful," he said. ##
(Photo Credit: WYTV)
Article submitted by Sandra Lane to – Daily Business News – MHProNews.