IN THIS REPORT:
MHARR INTENSIFIES CALL FOR CHATTEL SUPPORT

DODD-FRANK REFORM NOT IMMINENT

MHARR CAUTIONS ACCESS BOARD AND HUD

HOUSE PASSES REDUCED FUNDING FOR HUD PROGRAM

AO FUNDING "GLITCH" CONTINUES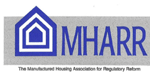 MHARR CALLS FOR FULL SUPPORT AND REVIVAL OF MH CHATTEL LOANS
With more than 70 percent of all manufactured homes titled as personal property, the widespread availability of chattel financing is crucial to the growth and future expansion of the industry. As a result, MHARR has taken major steps – and is working on multiple fronts — to seek expanded federal support for both public and private manufactured home chattel lending that would provide the capital, liquidity and expanded number of lenders that the industry and lower and moderate-income families need for a robust chattel financing market.
And with the ultimate fate of the two Government Sponsored Enterprises (GSEs) likely to be determined after the November 2012 elections by the 113th Congress, MHARR is now expanding and intensifying these efforts. As was previously reported, MHARR met recently with senior officials of the GSEs' federal regulator – the Federal Housing Finance Agency (FHFA) — to address the urgent need for chattel financing securitization and/or purchase (S/P) support both within and outside the context of the "Duty to Serve" (DTS). And now, with FHFA's unacceptable 2010 proposed DTS rule – which would exclude chattel loans — still pending, MHARR is taking the opportunity to once again raise this issue in comments on FHFA's proposed Affordable Housing Goals (AHG) for 2012-2014, which link these issues.
Like the proposed DTS rule, the 2012-2014 AHG proposed goals would exclude AHG credit for manufactured home chattel loans, thereby denying AHG credit for the single most affordable type of homeownership available to American families, while continuing to provide AHG credit for much more costly homes that present a significantly greater institutional credit risk and were the root cause of the GSEs insolvency in 2008. MHARR's comments, citing profitable chattel lending models within the industry — and the lack of any up-to-date data on the performance of manufactured home chattel loans — call on FHFA not only to provide full AHG credit for manufactured home chattel loans, but also to authorize full S/P support for such chattel loans by the GSEs.
With full federal S/P support for manufactured home chattel lending now a top industry priority, MHARR, within the next few days, will provide members of the industry's post-production sector (i.e., retailers, communities, finance companies, insurers, etc.) with a comprehensive packet of information encouraging them to take advantage of this opportunity to once again stress the importance of federal S/P support for manufactured home chattel loans by filing separate comments with FHFA. The filing deadline for comments is July 26, 2012.
REFORM OF DODD-FRANK HINGES ON NOVEMBER ELECTIONS
With activity moving forward on the implementation of the Dodd-Frank law by the Consumer Finance Protection Bureau (CFPB), MHARR has been fielding inquiries from the industry's post-production sector on the potential impact of that law and related CFPB regulations, as well as prospects for modification of the law, or even repeal.
With the law as an established fact and activity now moving into the regulatory phase, securing changes to the law itself would be extremely difficult according to congressional sources, particularly since manufactured housing is just one of a myriad of industries and interests with a stake in the implementation of Dodd-Frank. And, given the interlocking nature of the various provisions of the Dodd-Frank law, experts indicate that it would be extremely difficult, if not impossible, for one industry to successfully pursue or obtain major reform of the law without triggering an avalanche of similar demands from other industries, something that Congress is highly unlikely to embrace or risk with national election impending in November.
Thus, while no less than seven hearings will be conducted during July 2012 in the Republican-controlled House — by the Financial Services Committee and its various subcommittees — concerning the impact of the Dodd-Frank law on "job creation," "credit and financial institution customers," mortgage lending, "consumers" generally, "jobs and the economy" and "municipal advisors," and other highly diverse issues, those hearings are primarily informational in nature, as the status quo is likely to continue until after the November 2012 elections, when all concerned will have a better idea of political landscape and the prospects for potentially reforming the law or possibly even repealing it.
Based on all available information, the prevailing view in Washington, D.C. is that the likely outcome on Dodd-Frank will depend on which political scenario plays out in November. For example:
Republican White House / Republican control of Congress: unless Republicans win 60 or more seats in the Senate, reform of the law will be possible although not certain. Total repeal would be unlikely with less than a filibuster-proof Republican majority in the Senate.
Republican White House / Republican control of one House of Congress: adjustments to the law would be possible, but smaller in scope than under the scenario above.
Democrat White House / Republican House / Democrat Senate (i.e., status quo): major reforms unlikely.
Democrat White House / Democrat House and Senate: no major reforms except for possible "tweaks" to respond to proposed or adopted CFPB regulations.
In the run-up to the November 2012 elections, therefore, congressional reform activity concerning the Dodd-Frank law will have little or no practical impact, as the political landscape that emerges from those elections will ultimately determine what is possible or not possible to achieve. In the meantime, though, affected industries do have the opportunity to make the best of a bad situation by seeking de facto reforms via the Consumer Finance Protection Bureau rulemaking process as the implementation of the law takes hold.
MHARR WARNS AGAINST PRIVATE-SECTOR "ACCESSIBILITY" STANDARDS
On June 18, 2012, the U.S. Architectural and Transportation Barriers Compliance Board (Access Board) published proposed accessibility guidelines for Emergency Transportable Housing (ETH), including manufactured homes, provided to disaster victims by the Federal Emergency Management Agency (FEMA) and other government agencies. The guidelines are based on the November 2008 recommendations of an Access Board advisory committee comprised of representatives of disability rights organizations, affected federal agencies and ETH manufacturers, including MHARR.
While written comments on the proposed guidelines are not due until August 17, 2012, the Access Board held a hearing on the guidelines at its July 11, 2012 meeting in Washington, D.C., and invited MHARR to testify based on its participation in the ETH advisory committee. In that testimony, MHARR stressed two major points concerning the guidelines which, under the Americans with Disabilities Act and the Architectural Barriers Act, apply only to ETH purchased, constructed or altered by federal government agencies, or with federal funds.
First, MHARR voiced its support for the decision of the Access Board not to include a guideline addressing indoor air quality (IAQ), or "indoor environmental quality," which MHARR had opposed as a member of the Access Board Advisory Committee. Quite simply, manufactured homes – unlike other types of ETH — are already subject to stringent federal formaldehyde standards that have been effective in reducing the number of formaldehyde-related complaints in manufactured homes to minimal levels. Thus, there is no need for any other guideline or criteria for manufactured housing. And, even more importantly, a guideline or criteria for manufactured housing different from the existing HUD standard could raise serious compliance issues for manufacturers that could negatively affect their participation in ETH programs.
Second, MHARR warned the Access Board and HUD against any effort to extend the guidelines beyond the government sphere, stressing that although it has no objection the proposed guidelines as they relate to purchases of ETH by FEMA and other government entities, it does not and would not support the imposition of the same guidelines as federal standards applicable to homes sold or leased to private sector purchasers because: (1) the HUD Code is a construction and safety code, not an accessibility code, such that HUD's regulatory authority is limited to issues involving life safety and structural integrity, and does not extend to accessibility; and (2) it would be inappropriate to increase the cost of manufactured housing across-the-board (by as much as $1,135.00 per single-section unit based on the Access Board's Regulatory Impact Analysis and possibly more when re-design, design approval and inspection costs are included) for features that most purchasers would not use and do not need, particularly when any and all accessibility features needed or desired by private sector purchasers are available from industry manufacturers as design options.
In addition to this testimony, MHARR will submit written comments addressing the proposed guidelines and will make those comments available for the use of industry members that wish to submit their own separate comments.
FULL HOUSE APPROVES REDUCED HUD PROGRAM BUDGET
The full House of Representatives, by a vote of 261-163, has now approved the Fiscal Year (FY) 2013 Transportation, Housing and Urban Development and Related Agencies (THUD) funding bill. The bill approved by the House leaves intact a provision passed by the House Appropriations Committee on June 19, 2012 that would reduce overall funding for the HUD manufactured housing program to $4 million from the $6.5 million authorized by Congress for 2012. The bill would also end the direct appropriation of general revenue funds that began in 2009 and, in 2010, reached as high as $9 million. HUD, in its 2013 budget request and congressional justifications, had sought a program funding increase to $8 million, with the bulk of the increase ($1 million) allocated to re-procurement of the program monitoring contract.
This House action comes against the backdrop of intensive congressional engagement by MHARR since November 2010 to seek full accountability for – and proper oversight of — the HUD manufactured housing program budget. MHARR's message to Congress on this front has focused on three major points. First, program funding should correspond with industry production levels. Second, there must be proper congressional oversight and program accountability to ensure that program funds are used only for functions clearly authorized by – and established in accordance with – the 2000 reform law (e.g., fair and reasonable enforcement, proper funding for the Manufactured Housing Consensus Committee and the states and an appointed non-career program administrator). And third, MHARR has continuously stressed the need for additional funding for State Administrative Agencies (SAAs) through the re-allocation of program funds from make-work projects, such as expanded in-plant regulation, to the states as the first line of consumer protection for a growing number of new and occupied manufactured homes.
To date, there has been action by the full Senate on the parallel THUD bill approved by the Senate Appropriations Committee on April 19, 2012. That bill would authorize a 2013 HUD program budget of $5.5 million and a $1.5 million direct appropriation. Once the Senate acts, assuming the final bill maintains the funding levels recommended by the Appropriations Committee, the two bills will need to be reconciled by a conference committee to produce a final HUD program budget.
MHCC AO FUNDING "GLITCH" NOW INTO THIRD MONTH
The Manufactured Housing Consensus Committee (MHCC), the centerpiece reform of the Manufactured Housing Improvement Act of 2000, remains dead in the water for a third straight month, with the services of its Administering Organization (AO), the National Fire Protection Association (NFPA) suspended for lack of payment by HUD on invoices dating as far back as 2009. With AO services suspended, there have been no meetings of the full MHCC or any subcommittee and no meetings are currently scheduled or being planned. It is thus unclear whether the MHCC will hold even one in-person meeting this year.
According to sources at HUD, confirmed to MHARR by Assistant Secretary Carol Galante, the payment dispute is a "glitch" resulting from an update to HUD's system for processing payments for contract vendors, which is being phased in at different speeds by the offices responsible for compensation of the AO, leading to a delay. But with assurances from HUD – weeks ago – that the "glitch" had been addressed and with the suspension of AO services now extending to three months, it is beginning to appear more and more that this "glitch" could be yet another intentional effort to undermine a key element of the 2000 law … a development that would be totally unacceptable to MHARR as it should be to the entire industry.
MHARR is a Washington D.C.-based national trade association representing the views and interests of producers of federally-regulated manufactured housing.