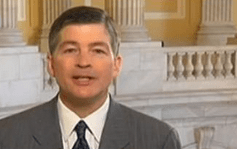 In his opening statement to the full House Financial Services Committee considering 11 bipartisan bills "designed to promote a healthier economy, preserve consumer choice and help our fellow Americans achieve the American dream of financial independence," Committee Chairman Jeb Hensarling (R-TX) acknowledged they all passed the House and/or the Committee, nine with no opposition whatsoever.
Noting that more than one community financial institution closes each day somewhere in the U. S., the dreams of a family seeking credit also dies due to unnecessary governmental regulations. MHProNews understands Rep. Hensarling invites bipartisan regulatory relief legislation for community financial institutions to markup and send to the House floor.
As to the bipartisan Task Force to Investigate Terrorism Financing, he says, "Republicans and Democrats alike on this committee are committed to making sure that our nation is doing everything possible to stop terrorists from using the global financial system to finance their acts of evil." Rep. Hensarling acknowledges that members from both sides of the aisle are working together to prevent terrorists from obtaining funds to carry out their attacks. ##
(Photo credit: Financial Services Committee.gov–Rep. Jeb Hensarling)

   Article submitted by Matthew J. Silver to Daily Business News-MHProNews.