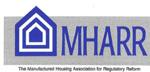 Washington, D.C., August 3, 2012 – The Manufactured Housing Association for Regulatory Reform (MHARR) reports that according to official statistics compiled on behalf of the U.S. Department of Housing and Urban Development (HUD), the manufactured housing industry production rebound that began during the second half of 2011 has now extended to eleven consecutive months. Just released statistics for June 2012 indicate that HUD Code manufacturers produced 5,075 homes, an increase of 1% from the 5,021 HUD Code homes produced during June 2011. Cumulative 2012 industry production now totals 27,715 homes, up 19.7 % from cumulative industry production of 23,152 homes during the same period in 2011.
A further analysis of the official industry statistics shows that the top ten shipment states for the period of August 2011 to June 2012 — with cumulative shipment totals as indicated — are:
1. Texas ——————————— 9,334 homes
2. Louisiana ————————— 3,972 homes
3. Alabama —————————- 2,517 homes
4. Florida ——————————– 2,271 homes
5. North Carolina ———————- 2,242 homes
6. North Dakota ———————– 2,196 homes
7. Kentucky —————————- 2,034 homes
8. Mississippi ————————– 1,796 homes
9. Tennessee ————————— 1,553 homes
10. Oklahoma ————————– 1,529 homes
With the latest shipment information, Maryland drops out of the top ten, while Florida moves ahead of North Carolina, breaking the tie in May 2012 and Tennessee moves up one notch, into ninth place, ahead of Oklahoma.
The Manufactured Housing Association for Regulatory Reform is a Washington, D.C.-based national trade association representing the views and interests of producers of federally-regulated manufactured housing.
Manufactured Housing Association for Regulatory Reform