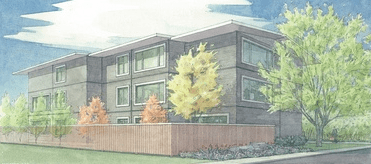 Architect Stuart Emmons of Portland, Oregon has designed a 265-square-foot, modular, mini-studio for homeless people called I'mHome. After seeing shipping containers converted into living quarters in China, Emmons, realizing a container could not comply with the Americans with Disabilities Act (ADA), took a different approach, designing the modular nine-unit Kah San Chako Haws (Chinook for East House) housing project for Native Americans, as MHProNews covered here Feb. 14, 2013. The Gold-Certified LEED apartments range from 375 square feet to 835 square feet, according to portlandtribune.com.
I'mHome units have a living room and bath with just a microwave and refrigerator for a kitchen, and are priced at $40,000, everything furnished. Emmons states there are 10,000 homeless in Multnomah County, including couch surfers, those living ten-deep in one-bedroom apartments and those on the streets.
Blazer Industries of Aumsville, Oregon will be making the affordable homes, which Brent Buchheit of Blazer says are earthquake-proof. "We've had these buildings fall off a trailer on the freeway and they're fine; we just load them back on," he says.
Susan Emmons (no relation to Stuart) of Northwest Pilot Project, which counsels people in danger of homelessness, noting the dire need for housing, says, "There's a shortage of 20,000 units for people at 30 percent of median income. That could be a family of four, people on limited Social Security, or veterans on a pension. We're not developing much housing for those people."
Stuart Emmons says he has the product needed, but so far, there has been more interest in San Francisco and Seattle than Portland for I'mHome.
(Image credit: oregonlive.com/Stuart Emmons–Kah San Chako Haws)