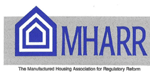 According to notices sent by the Manufactured Housing Consensus Committee (MHCC) Administering Organization (AO) — confirming information initially reported by MHARR on August 8, 2012 — the MHCC will hold an in-person meeting in Washington, D.C. on October 23-25, 2012.
The meeting, which has been scheduled but not yet officially announced either in the Federal Register or on the MHCC internet website, will be the first in-person MHCC meeting in over a year and the first significant MHCC activity since the resumption of AO services by the National Fire Protection Association (NFPA) on July 24, 2012, following a three-month lapse triggered by a payment dispute with HUD.
While a meeting agenda has not yet been distributed, given the extended period of MHCC inactivity and the length of time since the last full MHCC meeting in October 2011 — as well as the number of critical program issues that are currently pending — the upcoming full-committee and subcommittee meetings are long overdue.
As in the past, MHARR representatives will be at the meeting and will participate as non-voting program stakeholders to ensure that the interests of the industry and particularly its smaller businesses are fully protected. In this regard, MHARR will continue with information-gathering and other preparations for this meeting.
We shall keep you fully apprised on this matter as new developments unfold.
Manufactured Housing Association for Regulatory Reform