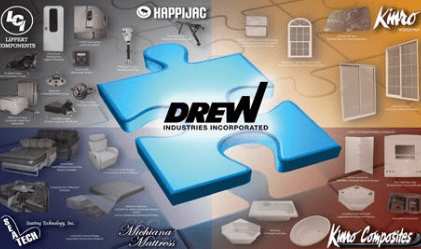 MHProNews has learned that another board director of Drew Industries, Inc. (NYSE:DW) has been involved in insider trading. James Gero purchased 10,000 shares of stock June 11, 2015 at $57.00 per share for a total of $570,000, according to insidertraderreport. The insider transaction was reported to the Securities and Exchange Commission (SEC) June 15, 2015 in a Form 4 filing.
On May 29, 2015 as MHProNews reported, board of directors member John B. Lowe, Jr. sold 10,000 shares of Drew stock at $60.57 for a total of $605,700 according to a filing with the SEC. Drew shares hit a one-year high of $65.21 on March 25, 2015, and a one-year low of $40.38 on August 1, 2014. Of the outstanding shares, 4.27 percent are held by company insiders and 95.8 percent are held by institutional investors.
Through its wholly-owned subsidiary, Lippert Components, Inc., Drew supplies components to the manufactured housing and recreational vehicle industries through 30 facilities throughout the country. ##
(Image credit: Drew Industries, Inc.)

Article submitted by Matthew J. Silver to Daily business News-MHProNews.