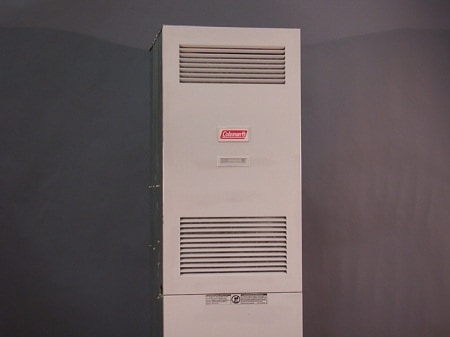 From Alabama and AL.com, MHProNews.com finds another article on the recalled gas furnaces used in manufactured homes. The furnaces, produced by York International under the names Coleman, Coleman Evcon and Red T, have resulted in nearly 400 incidents of smoke and/or fire. The initial recall for the units, about 223,600 in the United States, was made in November 2004. The U.S. Consumer Product Safety Commission reports the units can overheat and cause the heat-exchanger to crack and create openings that allow flames to be exposed. The furnaces are silver with white access panels. "Coleman," "Coleman Evcon" and "Red T" brand names are located on the middle of the front access panel. Models included in the recall are:
DGAM075BDD, DGAM075BDE, DGAM075BDF, DGAT070BDD, DGAT070BDE, DGAT070BDF, DGAT075BDD, DGAT075BDE, DGAT075BDF, DLAS075BDD, DLAS075BDE and DLAS075BDF
The units were manufactured between 1995 and 2000 and were sold nationwide between 1995 and 2000 as original equipment and replacement furnaces.
(Image Credit: U.S. Consumer Product Safety Commission)