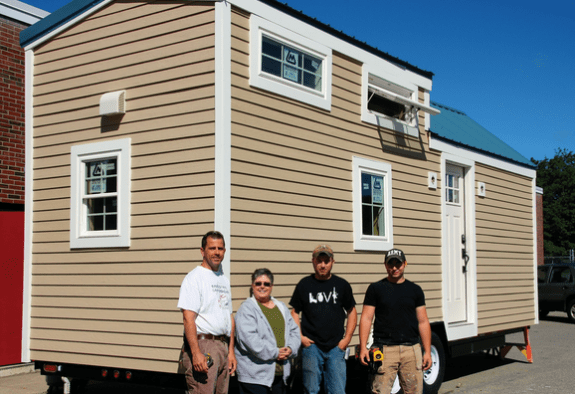 When first-grade teacher Deirdre Brackett of Sanford, New Hampshire retires she will move into a 196 sq. ft. tiny home she contracted with Sanford Regional Technical School in Sanford, Maine for the students to build the modular home, as journaltribune tells MHProNews. An average hotel room is 325 sq. ft.
Nearly completed for its eventual siting in New Market, NH, the home will have an apartment-sized stove and small refrigerator, cupboards, sink and wall-mounted drop leaf table. A sliding door leads to a bathroom, the bed doubles as a couch, and stairs lead up to a loft where her grandchildren can sleep when they visit.
The home will have a heat pump for heating and cooling and an air exchange system to keep the air fresh. Brackett said she has under $25,000 invested in the tiny home, not including the land.
Sanford is in the very southern tip of Maine, near the NH border. ##
(Photo credit: journaltribune/Tammy Wells–Standing in front of the tiny home are instructor Troy Hathaway, Brackett, and students Teddy Vrandenburg and Tony Parent. Another student who worked on the home, Mike Mackie, is not pictured.)

Article submitted by Matthew J Silver to Daily Business News-MHProNews.