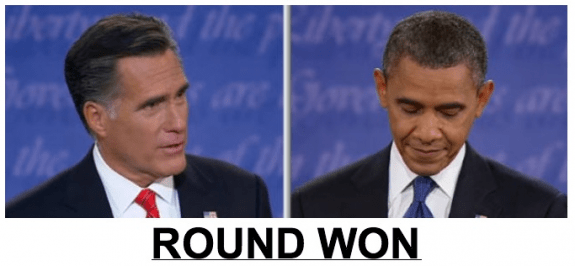 MHProNews reports that Mitt Romney grabbed momentum and took it to the incumbent president on a range of issues, including: Dodd-Frank, ObamaCare, Medicare, increasing domestic energy production, reforming taxes, education and of course creating jobs. Romney twice cited that the National Federation of Independent Businesses (NFIB) said that Obama's policies would cost the country another 700,000 jobs. Romney stressed free market vs. big government solutions and repeatedly corrected the president on claims Obama made about his policies, saying the president was entitled to his own plane, house and opinions "but not to your own facts."
In post debate commentary, ABC, CBS and NBC all essentially agreed that Romney was crisp and in command of facts, while Obama looked flat. The fact that Barack Obama was often hanging his head and grimacing seemed to capture the night, as the photo from Drudge reflects.
In samples of post debate media coverage, even very partisan MSNBC seemed frustrated with Obama's performance. Real Clear Politics stated:
"Tonight wasn't an MSNBC debate tonight, was it?" Chris Matthews said after the first Obama-Romney presidential debate concluded on Wednesday night.
"I don't know what he was doing out there. He had his head down, he was enduring the debate rather than fighting it. Romney, on the other hand, came in with a campaign. He had a plan, he was going to dominate the time, he was going to be aggressive, he was going to push the moderator around, which he did effectively, he was going to relish the evening, enjoying it," Matthews said.
The National Journal reported:
"Going forward with the status quo is not going to cut it for the American people who are struggling today," Romney said, stealing the mantle of change Obama wore so well in 2008.
The former Massachusetts governor also reminded voters repeatedly that the president has not lived up to promises he made four years ago. After Obama vowed to reduce the deficit in a second term, Romney replied, "You've been president four years."
"You said you'd cut the deficit in half. It's now four years later. We still have trillion-dollar deficits," he said. Time is up was the message for voters.
Privately, some Democratic strategists said the challenger got the best of the president. "We got our clock cleaned," said a Democratic strategist who spoke on condition of anonymity out of fear of retribution. The strategist had reviewed results of polls and focus groups of the debate.
As MHProNews knows, while all of the issues discussed impact manufactured housing professionals and the industry's customers, Dodd-Frank is certainly among the issues that impacts our industry the most. Romney has promised to repeal Dodd-Frank if elected. Gains in the Senate and holding the House by Republicans would make that promise possible.
One radio commentator pointed out in pre-debate coverage that of the over 40 promises that Romney made to voters in Massachusetts, he kept all of them. Governor Romney pledged to do what he did in Massachusetts, where he worked with both parties to get things done. During Romney's term, the former Governor asserted that he worked successfully with a legislature that was 87% Democratic.
Governor Chris Christie predicted on Sunday that the narrative of the race would be different Thursday morning.   There was surprising consensus even among often partisan pundits that the debate's Mo went with Mitt. ##
(Photo credit: Drudge)